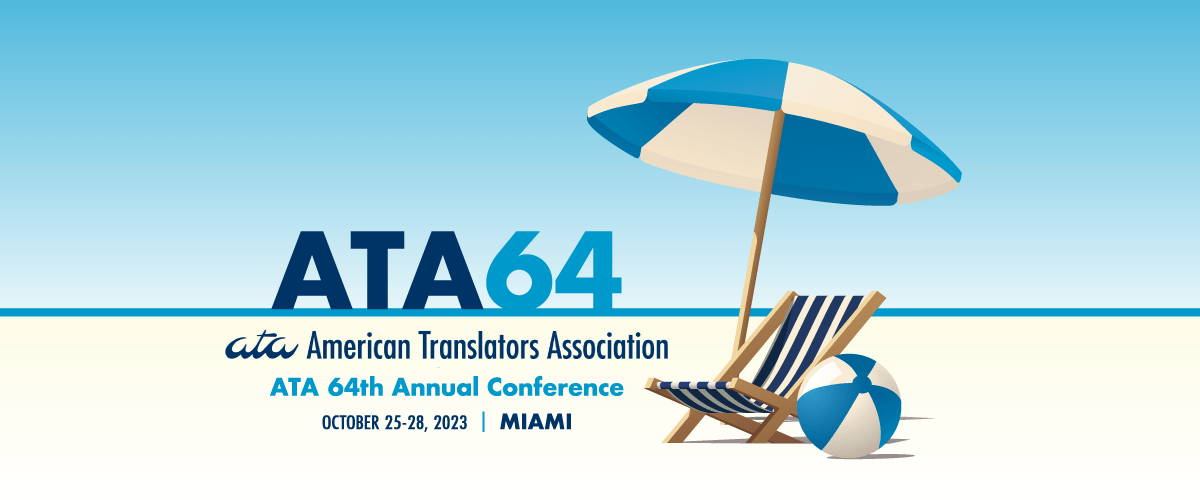 You may need a visa to travel to the U.S.
We encourage you to make the necessary arrangements as soon as possible.
This information will help you plan ahead.
Apply for Your Visa
General information, estimated wait times, photo requirements, and application forms are available from the U.S. Department of State. Learn More
Find Your Embassy or Consulate
Visa applications may vary depending on where you apply. Please follow the instructions available from your specific U.S. embassy or consulate. Learn More
Prepare to Travel
Get a recommended travel checklist, review any advisories, and find links for any special assistance you may require. Learn More
The American Translators Association invites you to register for
the ATA 64th Annual Conference (ATA64), being held
October 25-28, 2023 in Miami, Florida.
It's a Can't-Miss Event!
No matter what your language, specialty, or experience level, you'll discover ways to enhance your skills and grow your business. Get a glimpse of ATA64 in Miami, Florida.
Join us October 25 - 28, 2023.
Some of the Networking Opportunities
Agencies want to work with you!
Agency representatives will be recruiting for current and ongoing needs. Don't miss this opportunity to connect with people who are ready to meet, interview, and hire you!
Everything you need, all in one place!
Get a firsthand look at new products you will actually use. Visit schools offering programs designed for your development, meet with those who need your services, and learn more about the tools used in your business every day.
Pair up with a Buddie to learn the ropes!
Wouldn't it be nice to see a familiar face at your first conference? This mutually rewarding opportunity pairs "Newbies" (first-time attendees) with "Buddies" (seasoned attendees) to get the most from their conference experience.
Celebrate books and discover resources!
Chat with colleagues who also double as authors and purchase signed copies of their books to add to your bookshelf. You can also discover T&I podcasts, blogs, training, and other resources created and offered by translators and interpreters.