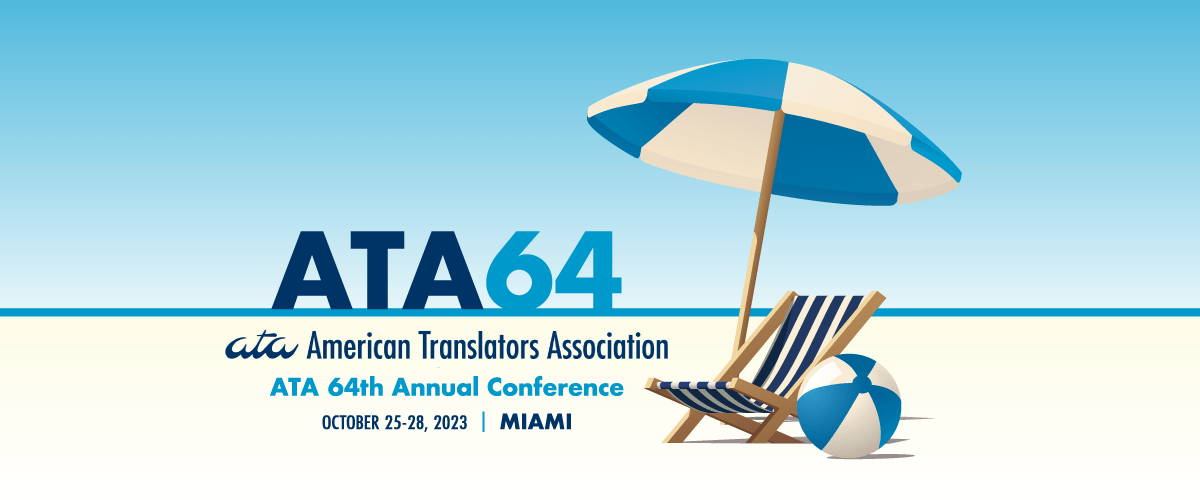 Education You Need
ATA64 provides a comprehensive selection of educational opportunities for professional development specific to your needs. You'll be inspired and challenged to consider new ideas.
Conference Sessions
Choose from over 160 sessions featuring a variety of languages and topics. Sessions will focus on practical skills and information to help you build, grow, and manage your translation or interpreting business at any career stage. Sessions are selected through a competitive peer-review process.
---
AST Courses
Advanced Skills & Training (AST) Day will offer a selection of specialized, interactive three-hour courses led by highly acclaimed instructors. Separate registration is required and space is limited.
---
MicroTalks
These engaging and dynamic talks in a 15-minute format will address various topics of interest for translators, interpreters, and language services providers.
---
Professional Forums
Take part in these one-hour, interactive forums to discuss important issues within specific language combinations or fields of expertise in a collaborative setting.
---
Committee Forums
Learn about ATA committee activities and initiatives, meet committee members, and see where your time and talents can provide the most benefit during these 15-minute forums.
I made new connections and attended engaging educational sessions specific to my field.
Had a great selection of educational opportunities for professional development.
Speakers
Being dedicated language professionals, speakers volunteer to share their experience and expertise. They are working translators and interpreters, educators, attorneys, physicians, CEOs, and managers. Speakers are selected through a competitive peer-review process.
---
Distinguished Speakers
Among the speakers, are a select group of Distinguished Speakers. Chosen by ATA leadership, they contribute a high level of advanced learning, experience, and excellence.
---
Continuing Education Credit
ATA-certified translators earn 1 CEP for each hour of Conference Sessions attended, up to a maximum of 10 CEPs, and 3 CEPs for each AST course attended, up to a maximum of 5 CEPs.
Certified interpreters may also earn continuing education credit.
Starting new in the industry can feel scary, but—through ATA—I saw light and direction.
The insightful sessions, quintessential networking, and friends and mentors helped point me the right way.
Languages Featured
Arabic
Chinese
Dutch
French
German
Italian
Japanese
Korean
Languages of Limited Diffusion
Nordic Languages
Portuguese
Slavic Languages
Spanish
Topics Featured
Audiovisual Translation
Book and Literary Translation
Business of T&I
Conference Interpreting
Diversity, Equity, and Inclusion in T&I
Educational T&I
Government T&I
Legal T&I
Localization
Medical T&I
Science and Technology T&I
T&I for the Business Sector
T&I Education and Training
Technology for Language Professionals
Other T&I Topics
Sessions were so empowering and speakers were enthusiastic and engaging!
Book Your Hotel
Discounted rates are available for ATA attendees at the Hyatt Regency Miami until September 29, 2023 or as space allows.
American Translators Association
211 N. Union Street, Suite 100
Alexandria, VA 22314
Phone: +1-703-683-6100
Fax: +1-703-778-7222
Email: ata@atanet.org
Website: www.atanet.org