By Jamie Hartz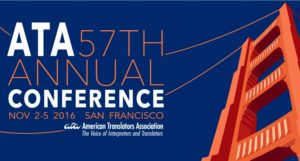 It's been just over two weeks since the 57th Annual American Translators Association Conference ended, and we're excited to report that it was, once again, a blast.
This year's highlights included Brainstorm Networking, an event where colleagues meet to discuss business practices-related scenarios in a quick but fun setting; the Job Fair, featuring a number of agencies searching for vendors as well as freelancers looking for work; and of course, Buddies Welcome Newbies.
At this year's session, we focused on topics such as handing out business cards, choosing what sessions to go to, and conference etiquette. At the Wednesday session we also distributed a "passport" and asked Newbies to interact with as many ATA Divisions and local chapters as they could, collecting "stamps" for their passports.
For those of you who missed the Buddies Welcome Newbies introduction session or would like a copy of the presentation, see below:
[slideshare id=69375023&doc=buddiesintroppt2016final-161121213523]
Our Buddies Welcome Newbies debrief session on Saturday involved an interactive discussion of methods for following up with contacts, with great suggestions from both Newbies and Buddies alike. We'd like to thank Wordfast and Johns Benjamins Publishing Company for their contributions of prizes to the most-filled Newbie passports: a Wordfast Pro license and two translation and interpreting resource books, respectively. We appreciate your support!
Readers, did you attend the Buddies Welcome Newbies or any other great sessions this year? We'd love to hear about your experience!
Subscribe to The Savvy Newcomer