No matter what your language, specialty, or experience level, you'll discover ways to enhance your skills and grow your business. Get a glimpse of ATA64 in Miami, October 25-28, 2023.
Attend educational sessions, job recruitment events, and networking opportunities, all designed specifically for professional translators and interpreters.
Learn More
Experience It All Over Again!
There is nothing like an ATA Annual Conference. Look back at these past events to find out why. These videos feature conference highlights and attendee interviews.
The ATA 63rd Annual Conference was held in Los Angeles, October 12-15, 2022. Relive ATA63 with event highlights and attendee experiences!
The ATA 62nd Annual Conference was held in Minneapolis, October 27-30, 2021. Relive ATA62 with event highlights and attendee experiences!
The ATA 61st Annual Conference was held online—virtually everywhere for everyone—October 21-24, 2020. Relive ATA61 with event highlights and attendee experiences!
Advertising Opportunities
Whether you want to reach 9,000 members, 1,500 conference attendees, or both. ATA offers a variety of options to fit any budget, including sponsorship, exhibiting, and print/online advertising.
Share your expertise by speaking at an ATA conference. Proposals are accepted January-March each year and submission is open to everyone.
Follow #ata64 for the latest conference updates, advice for newcomers, and other ways to gets involved.
Listen to Podcasts about the Annual Conference
Get a behind-the-scenes look at ATA's programs, events, and plans. Learn more about the dedicated volunteers that make it all happen.
Members Save on ATA Events
ATA membership is the most cost-effective way to stay current and grow your business.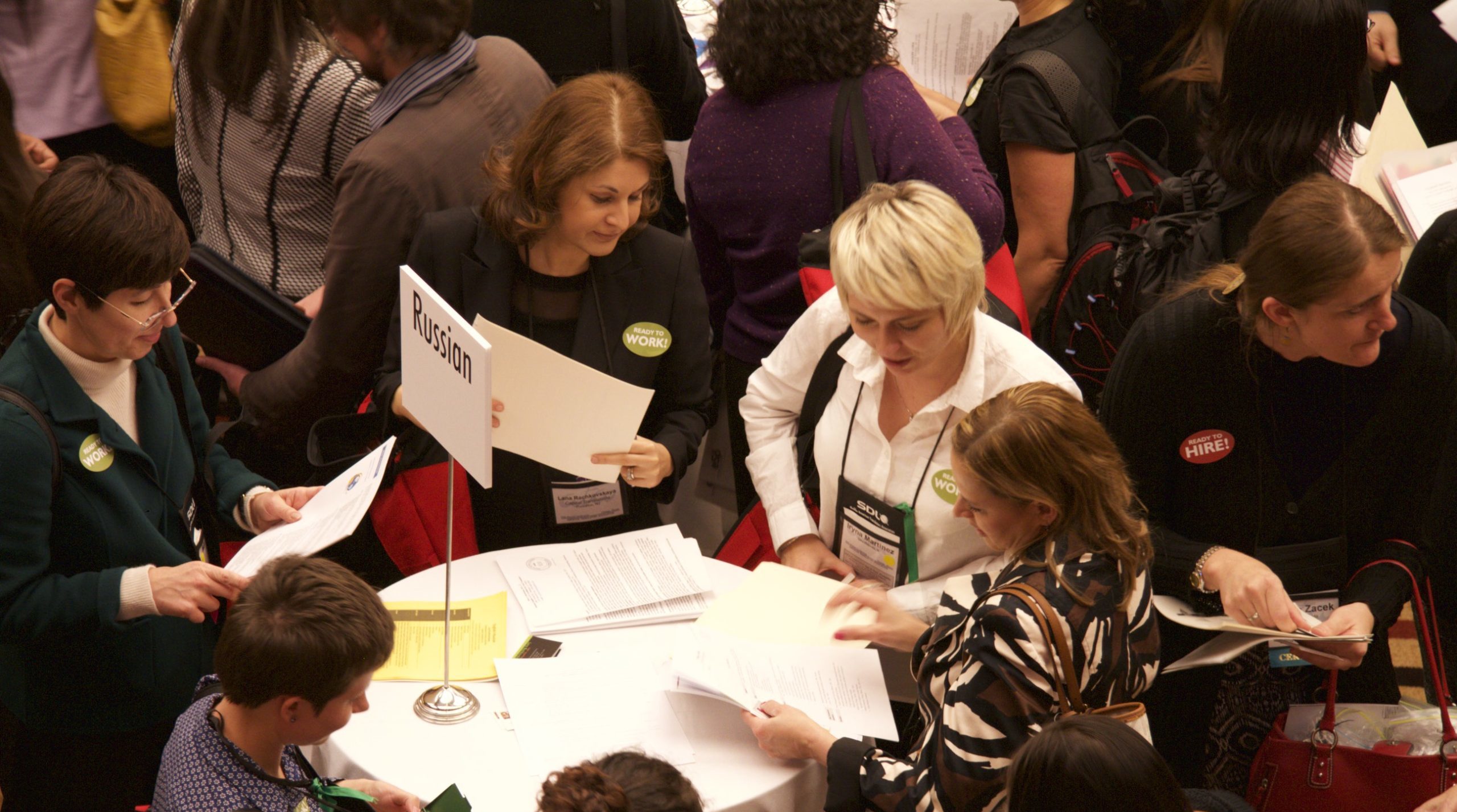 Future Annual Conferences
Check out these dates and locations so you can plan ahead!
ATA64: October 25-28, 2023 | Miami, Florida
ATA65: October 30-November 2, 2024 | Portland, Oregon
ATA66: October 22-25, 2025 | Boston, Massachusetts
Past Annual Conferences
Since 1959, ATA has provided the networking and education that its members need.
59th Annual Conference
October 24-27, 2018
New Orleans, Louisiana
58th Annual Conference
October 25-28, 2017
Washington, DC
57th Annual Conference
November 2-5, 2016
San Francisco, California
56th Annual Conference
November 5-7, 2015
Miami, Florida
55th Annual Conference
November 5-8, 2014
Chicago, Illinois
54th Annual Conference
November 6-9, 2013
San Antonio, Texas
53rd Annual Conference
October 24-27, 2012
San Diego, California
52nd Annual Conference
October 26-29, 2011
Boston, Massachusetts
51st Annual Conference
October 27-30, 2010
Denver, Colorado
50th Annual Conference
October 28-31, 2009
New York City, New York
49th Annual Conference
November 5-8, 2008
Orlando, Florida
48th Annual Conference
October 31-November 3, 2007
San Francisco, California
47th Annual Conference

November 1-4, 2006

New Orleans, Louisiana
46th Annual Conference

November 9-12, 2005

Seattle, Washington
45th Annual Conference
October 13-16, 2004
Toronto, Canada
44th Annual Conference
November 5-8, 2003
Phoenix, Arizona
43rd Annual Conference
November 6-9, 2002
Atlanta, Georgia
42nd Annual Conference
October 31-November 3, 2001
Los Angeles, California
41st Annual Conference
September 20-23, 2000
Orlando, Florida
40th Annual Conference
November 3-6, 1999
St. Louis, Missouri
39th Annual Conference
November 4-7, 1998
Hilton Head Island, South Carolina
38th Annual Conference
November 5-8, 1997
San Francisco, California
37th Annual Conference
October 30-November 2, 1996
Colorado Springs, Colorado
36th Annual Conference
November 8-12, 1995
Nashville, Tennessee
35th Annual Conference
October 12-15, 1994
Austin, Texas
34th Annual Conference
October 6-9, 1993
Philadelphia, Pennsylvania
33rd Annual Conference
November 4-7, 1992
San Diego, California
32nd Annual Conference
October 16-19, 1991
Salt Lake City, Utah
31st Annual Conference
October 17-20, 1990
New Orleans, Louisiana
30th Annual Conference
October 11-14, 1989
Arlington, Virginia
29th Annual Conference
October 12-15, 1988
Seattle, Washington
28th Annual Conference
October 8-11, 1987
Albuquerque, New Mexico
27th Annual Conference
October 15-18, 1986
Cleveland, Ohio
26th Annual Conference
October 16-19, 1985
Miami, Florida
25th Annual Conference
September 19-23, 1984
New York City, New York
24th Annual Convention
October 20-24, 1983
Atlanta, Georgia
23rd Annual Convention
October 21-25, 1982
Arlington, Virginia
22nd Annual Convention
October 15-19, 1981
Dallas, Texas
21st Annual Convention
August 28-September 1, 1980
San Francisco, California
20th Annual Convention
August 31-September 3, 1979
Kansas City, Missouri
19th Annual Convention
October 27-30, 1978
New York City, New York
18th Annual Convention
October 21-24, 1977
Pittsburgh, Pennsylvania
17th Annual Convention
August 1-7, 1976
Stanford, California
16th Annual Convention
October 11-13, 1975
Washington, DC
15th Annual Convention
October 12-14. 1974
Chicago, Illinois
14th Annual Convention
November 3-5, 1973
New York City, New York
13th Annual Convention
November 17-19, 1972
Washington, DC
12th Annual Convention
October 23-25, 1971
Boston, Massachusetts
11th Annual Convention
October 31, 1970
New York City, New York
10th Annual Convention
November 30, 1969
Washington, DC
9th Annual Convention
October 26, 1968
New York City, New York
8th Annual Convention
November 1, 1967
Philadelphia, Pennsylvania
7th Annual Convention
November 5, 1966
New York City, New York
6th Annual Convention
November 5-7, 1965
Washington, DC
5th Annual Convention
November 20-22, 1964
Philadelphia, Pennsylvania
4th Annual Meeting
November 23, 1963
Brooklyn, New York
3rd Annual Meeting
November 30, 1962
New York City, New York
2nd Annual Meeting
December 1, 1961
New York City, New York
1st Annual Meeting
December 2, 1960
New York City, New York
ATA General Meeting and Election of Officers
December 14, 1959
New York City, New York