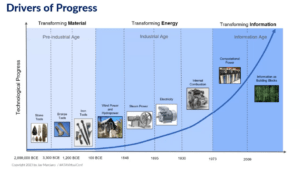 Jay Marciano, director of machine translation (MT) outreach and strategy at Lengoo, has spent 25 years at the forefront of developing and applying MT. He has held senior positions at SDL (2001-2010) and Lionbridge (2010-2020), where he was responsible for the global strategy of using MT to increase translation efficiency. He is president of the Association for Machine Translation in the Americas (AMTA) and presents widely on MT, AI, and the future of the translation industry. He is a leading figure in building understanding among language professionals of the power and potential of MT and other AI-driven technologies.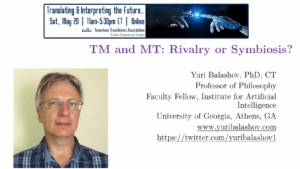 Yuri Balashov is an ATA-certified English>Russian translator. He is also a professor of philosophy and a faculty fellow in the Institute for Artificial Intelligence at the University of Georgia, where he is working on a project exploring the cognitive, linguistic, and philosophical dimensions of human and machine translation.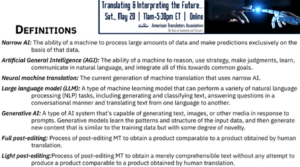 Hear fellow translators and interpreters discuss how they are using MT and AI technologies and adapting to the changes that are occurring.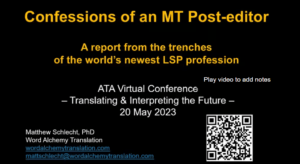 Confessions of an MT Post-Editor: A Report from the Trenches of the World's Newest LSP Profession - presented by Matthew Schlecht
Matthew Schlecht is a chemist and scientific/medical translator who works into English from Japanese, German, French, and Spanish. His main areas of expertise are chemistry, medicine, and pharmaceuticals. He spent 20 years in academia and industry as a researcher in chemistry and the life sciences, and left research in early 2002 to begin a freelance practice in medical/technical translation, editing, and writing. He is a member of the Leadership Council of ATA's Science & Technology Division and is also a member of the German, French, Japanese, Spanish, and Medical Divisions.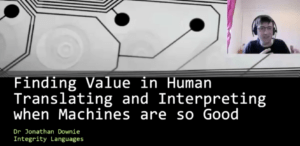 Jonathan Downie is a consultant church and conference interpreter (French <>English) and interpreting researcher based in Edinburgh, Scotland. He is the author of two books: Being a Successful Interpreter: Adding Value and Delivering Excellence (Routledge, 2016) and Interpreters vs Machines: Can Interpreters Survive in an AI-dominated World? (Routledge, 2019). He also co-hosts The Church Interpreting Podcast with Lauryn Albizu and edits churchinterpreting.com.