Newsbriefs: February 1, 2021
ATA62 Annual Conference: Call for Speakers
The American Translators Association is now accepting presentation proposals for ATA's 62nd Annual Conference. This is your chance to share your skills with others—and make a name for yourself in the process.
5 Tips for Writing a Proposal
Focus your session on providing relevant, practical education.
Define clear objectives for what attendees will learn.
Show how applying this knowledge will benefit them in their work.
Create a title that is short and conveys the usefulness of the presentation.
Keep your content targeted to a specific level of experience.
Watch How to Write a Winning ATA Conference Proposal to learn more about common pitfalls, proposal styles, and presentation tips. Free!

Proposals must be received by March 1, 2021.

Will ATA62 be a Virtual Conference?
ATA62 will be a hybrid (in-person and virtual) conference. All speakers should be prepared to present in person in Minneapolis.

Submission Limit
Please limit the number of submissions to three proposals. Additional submissions will be disregarded.
Industry News
---
Los Angeles Courts Urged to Do More to Protect Workers as Virus Ravages Los Angeles County
Courthouse News Service (CA) (01/25/21) Solis, Nathan

Attorneys and court workers are questioning whether Los Angeles County Superior Court leaders are taking adequate pandemic safety precautions. In the past month, three court employees—two Spanish-language interpreters and a court clerk—have died from COVID-19.

Sergio Cafaro and Daniel Felix worked as interpreters in separate courts, but their colleagues say they were exposed to COVID-19 while on the job.

"I knew Sergio for four years. He had this powerful presence among the other interpreters," Spanish interpreter Begonya De Salvo said. "I can't believe I'm not going to see him again."

De Salvo sent a letter to Los Angeles County Presiding Judge Eric Taylor about the conditions court interpreters have experienced while working during the pandemic. The letter included details involving another interpreter's exposure to two court employees who tested positive for COVID-19 in December. De Salvo said she has not received a response from the court regarding her letter but noted that grief counseling is now being offered.

Despite the pandemic, county courthouses in Los Angeles continue to hold indoor court hearings. The Los Angeles County Superior Court—the largest superior court system in the nation with a network of 600 courtrooms and over 5,000 employees and judicial officers—requires masks and limits people in its buildings to essential personnel and those appearing for their cases. The court encourages remote appearances and has made major changes to try and maintain regular services.

"COVID-19 affects each individual differently, and no person or agency can control individual outcomes following infection," said Ann Donlan, communications director for the Los Angeles County Superior Court. "Nevertheless, the court continues to track positive cases overall, which is more central to the issue of identifying potentially infected individuals and our efforts to prevent further infections."

But Kate Marr, executive director of the pro bono Community Legal Aid SoCal, said the rules are not always enforced.

"Court employees are blatantly violating the regulations, with staff walking down hallways without masks," Marr said. "You're smacked in the face as you walk into the courthouse building. This is not something the court is taking seriously."

Marr said her law clinic filed a complaint with the Los Angeles County Health Department. Several legal service groups are also considering filing some type of legal action against the court for the lax health policies inside county courthouses.

"We can expect many more infections and untimely deaths going forward if the court sticks to its current practices," said Michael Ferreira, president of the California Federation of Interpreters Local 39000 Board.

"Schools are not in session, but the courts continue to hold lots of hearings," said De Salvo. "Why can't they admit their mistakes? It's a disaster."
New York City Department of Investigation Considers Probe into Interpreting Company's Low Wages
New York Daily News (NY) (01/25/21) Elsen-Rooney, Michael

The New York City Department of Investigation is considering a probe into a language interpreting company contracted by the city after interpreters reported they earned as little as $4 an hour interpreting for the city's public schools and hospitals.

Linguistica International is one of several private companies that contracts with city agencies to provide remote interpreting services. The Utah-based company signed a $10-million, five-year contract with the New York City Department of Education in 2019. According to its website, the company employs interpreters covering over 350 languages and dialects.

A spokesperson for New York City Mayor Bill de Blasio called the allegations from former employees "reprehensible," and said officials referred the matter to the Department of Investigation for further review.

Some city teachers who rely on contracted interpreters to communicate with students' parents were disturbed by the accounts of former employees.

"These interpreters are vital for my students' parents, as well as my own immigrant parents who don't speak English," said Annie Tan, a Brooklyn elementary school teacher. "They are a lifeline and need to be compensated/treated far better than this."

"Every person deserves a living wage, especially during this pandemic," said Lindsey Boylan, former deputy secretary of Economic Development for New York State and special advisor to New York State Governor Andrew Cuomo.

"When my paycheck arrived every two weeks, I felt undervalued…like a second- or third-class citizen," said a Spanish-language interpreter for the city's hospitals who left Linguistica International in November. He added that a city investigation would be "a step in the right direction as far as a solution to figuring out a way to make wages fairer and hold companies accountable."
White House Adds American Sign Language Interpreter for Briefings
The Washington Post (DC) (01/26/21) Bellware, Kim

An American Sign Language (ASL) interpreter will now be a regular fixture at all White House news briefings. The move marks the first time a presidential administration will have regularly accessible news briefings using ASL.

"The president is committed to building an America that is more inclusive, more just, and more accessible for every American, including Americans with disabilities and their families," said White House Press Secretary Jen Psaki.

The announcement has been welcomed by the deaf and hard-of-hearing community.

"I felt a sense of greater equality," said Robert Weinstock, a spokesperson for Gallaudet University, where all instruction and campus life activities take place using ASL.

Weinstock, speaking through an interpreter, said the deaf and hard-of-hearing community is happy the White House is making briefings accessible and that having an ASL interpreter makes watching the news more enjoyable.

Traditional broadcasts of White House briefings often have closed captions, but Weinstock noted that captions and ASL aren't equivalent access. Weinstock explained that closed captions are unable to capture the full range of information and that they're not always accurate. Weinstock added that interpreters don't convey just words, but also nonverbal cues like tone and mood, which they relay with facial expressions and body language.

"The ASL rendition of the spoken English is more faithful and more conceptually accurate in many cases than the captions," Weinstock said.

President Joe Biden staked out the importance of accessibility starting with his inauguration. His presidential inaugural committee prioritized accessibility and provided ASL interpreting, live closed captioning, and audio descriptions for the inauguration events.

The focus on accessibility contrasts with the Trump administration, which was sued last year by the National Association of the Deaf (NAD) and other parties for not providing ASL interpreters during the White House briefings related to the pandemic.

A federal judge later ordered the Trump administration to make the briefings accessible. For that reason, NAD Chief Executive Officer Howard Rosenblum stated that he would give the previous administration a "failing grade" on accessibility but was encouraged by the changes he has seen under Biden.

"The Biden-Harris administration's willingness to provide an ASL interpreter at all press briefings should now be the standard for accessibility going forward for all presidential administrations," Rosenblum said.
U.S. to Resume Processing Thousands of Stalled Visas for Afghans Who Aided Americans
The Washington Post (DC) (01/21/21) Susannah, George

The U.S. Embassy in Kabul will soon resume processing thousands of stalled special visa applications for Afghans who aided U.S. forces after halting visa interviews in March because of the pandemic.

A U.S. Department of State official said the embassy would begin "a phased resumption" of in-person interviews in February. The official, who spoke on the condition of anonymity, would not comment on how many visas the embassy expects to process.

According to data from the U.S. Department of State, more than 7,000 special visas allocated to Afghans by Congress in 2020 went unissued, compared with about 5,000 the year before. According to an audit last year, nearly 19,000 visa applications were stuck in processing as of September 2019.

Created to support Afghans and Iraqis who came under threat for their work with the U.S., the special visa programs have lengthy applications processes that have prolonged the average wait time to three years. And as they wait, Afghan applicants to the program are increasingly vulnerable. The Taliban and other militant groups view them as traitors, putting them in a perilous position as the Taliban expands its influence at a time when thousands of U.S. troops have withdrawn from Afghanistan.

As security deteriorates in many parts of Afghanistan, that wait time is putting Afghan applicants at greater risk.

One applicant who did not want to be identified, a 37-year-old father of four who worked as an interpreter for the U.S. Army, said he began receiving death threats by phone in 2015.

"The voice on the line would say, 'We know who you are, that you are working for the enemy, and if we find you, we will kill you,'" he recalled. The threats were enough to spur him to begin thinking about ways to keep his family safe. He applied to the Special Immigrant Visa program in 2017.

For many members of the U.S. defense and diplomatic community, protecting Afghans who supported the U.S. mission in Afghanistan is not only a moral imperative but also a national security concern.

Daniel Elkins, a Green Beret who served in Afghanistan and founded the Special Operations Association of America, an organization that represents members of the Special Operations community, said he is hearing from more former interpreters who worked with the U.S. military in Afghanistan asking for help.

"These interpreters risked their lives and their families' lives by aiding the U.S. military," Elkins said. "If we abandon our side of the commitment now, people will be less willing to work with us in the future."
In Canada, Parliamentary Hearings over Zoom an Ongoing Headache for Interpreters
CBC (Canada) (01/20/21) Reynolds, Christopher

Each day, Nicole Gagnon, a federal interpreter for the Canadian Parliament, wakes up and heads to work worried she'll experience further hearing loss—a sense vital to her livelihood.

Gagnon said she and other federally employed interpreters are suffering from injuries ranging from tinnitus to headaches, nausea, and "acoustic shock" after nine months of interpreting parliamentarians online via fuzzy laptop mics and poor internet connections.

According to a recent survey conducted by the Canadian Chapter of the International Association of Conference Interpreters (AIIC), more than 60% of respondents have experienced auditory issues that forced them to go on leave. Parliamentary interpreters have reported injuries more than 100 times since April, triple the number of injury reports filed during the previous 20 months.

The strain of Zoom-based proceedings has prompted shorter shifts and more requests for transfer to non-virtual assignments during the pandemic, resulting in a shrinking pool of available interpreters.

A constant stream of low-quality sound and loud feedback loops create what AIIC calls "toxic sound."

"If you have to make an extra effort to try to make out what's being said—not to mention the stress you feel when you lose the sound midway or when the image freezes—all that breaks your focus," Gagnon said. "You have to concentrate more, and that concentration provokes excessive fatigue."

Periodic lags between video and audio and the lack of nonverbal communication are also taxing.

"There are fewer visual cues over Zoom, or if people are wearing masks, to help with communication, especially if the video is turned off," said Arran McAfee, an audiologist at Ottawa Hospital. "This contributes to a large increase in listening effort for the interpreter. And perhaps that fatigue is contributing to headaches and nausea."

A global study conducted by AIIC last fall found that Canada ranked 13th out of 81 countries in the number of acoustic shock incidents suffered by interpreters.
Arizona's Department of Child Safety to Get Federal Oversight for Failing to Serve Families That Don't Speak English
Arizona Republic (AZ) (01/15/21) Pitzl, Mary Jo

Arizona's child-welfare system is under increased federal scrutiny for failing to provide adequate translation services for families with limited English abilities.

Arizona's Department of Child Safety (DCS ) has entered into a voluntary resolution with federal officials, promising to take steps to improve services for families whose first language is not English. The agency will be subject to periodic reviews over the next two years by the Office of Civil Rights within the U.S. Health and Human Services Department.

The agreement resulted from complaints that DCS was not providing Spanish translations of documents and other services parents needed to comply with the agency's family-reunification process. The complaints were submitted by Arizona's Barrio Defense Committee and lawyers representing the panel.

Sylvia Herrera, a member of the committee, compiled many of the examples cited in the grievance. In one case, parents were not given Spanish-language versions of the documents DCS is supposed to provide when they remove a child from the family home, "even though they [DCS] knew they were Spanish speakers," she said.

Other examples included a lack of Spanish-speaking psychologists, which delayed assessments necessary for DCS cases to be resolved. Herrera also said parent aides overseeing parent-child visits would ban parents from speaking to their children in Spanish, concerned that they might say something inappropriate that the aide couldn't understand.

The Barrio Defense Committee also cited complaints that DCS staff occasionally relied on children to interpret for parents when language was a barrier.

Investigators from the Office of Civil Rights reviewed DCS data and made in-person visits. It concluded there are "systemic deficiencies in the agency's language programs and policies that are intended to prevent discrimination against non-English speakers."

DCS has agreed to follow "reasonable steps" to correct the problems, including a survey of all offices to ensure they can deliver adequate language assistance, the appointment of a limited-English proficiency coordinator, updates to its limited-English proficiency plan by mid-year, and language training for staff.

DCS noted in a statement that language services are critical to families with limited English skills and vowed to continue assessing and improving its services.

Herrera said DCS has also agreed to a resolution to have the Office of Civil Rights monitor its language services for the next two years. "However, the resolution does not address the fact that hundreds of families were destroyed by DCS practices that lead to foster care and eventual adoption to non-relatives instead of family reunification."
ATA News
---
New ATA Member Orientation Session Tomorrow
There's still time to register for tomorrow's new ATA Member Orientation session.

Start your ATA membership off on the right foot by learning how to take advantage of all the benefits the Association has to offer!

This one-hour member orientation session is a roadmap to the "what, why, and how" of ATA member benefits, including setting up your directory profile, joining and participating in divisions, and group-buying discounts. Don't miss out on benefits you can really use simply because you didn't know they existed! Registration is required.

More ››› | Return to top
What You Need to Know about the Second PPP and More
Now that the second draw on the Payment Protection Program (PPP) has rolled out, it's a good idea to review all the financial assistance options available to you from the federal government. ATA Business Practices Listserv member Robin Bonthrone has done just that in the Chronicle-Online. You'll find a top-to-bottom assessment of the first PPP, tons of information on the second, plus an update on the COVID-19 Economic Injury Disaster Loans (EIDL) and extended Pandemic Unemployment Assistance (PUA). Don't miss this! Click here to read now.

And there's more!
Robin's article is a preview of ATA's new advanced T&I business blog. Coming soon! Watch for it!
More ››› | Return to top
ATA Contacts the CDC Again
In December, following the release of the U.S. COVID-19 Vaccination Program recommendations, ATA and 20 other language organizations and associations petitioned the Centers Centers for Disease Control and Prevention to explicitly include onsite medical interpreters in Phase 1 vaccinations.
Read ATA's December 17 letter to the CDC.
The CDC has responded that its guidelines are recommendations only and that local jurisdictions have the authority to set their own vaccination priorities and schedules.
Read the CDC's January 20 response.
On January 22, ATA contacted the CDC again to request that all onsite interpreters be listed among the examples of frontline essential workers eligibility for Phase 1 vaccinations. ATA also asked that onsite court interpreters be moved from the 1c level to the 1b level, after receiving reports that they were being exposed to unsafe working conditions.
Read ATA's January 22 letter to the CDC.
What Can Interpreters Do?
Understand that the CDC guidelines are recommendations only. Each jurisdiction has discretion over its vaccination schedule.
Share ATA's letter and a personal note of your own with your state and local public health departments, your city's hospitals/clinics, and your health care provider.
In your note, point out that the CDC guidelines are recommendations and that each jurisdiction is allowed to make its own decisions on its vaccination schedule, based on the particular needs of its community.
If you are an onsite court interpreter and find yourself working in unsafe environments, explain what is happening in your personal note.
Send ATA's letter to your legislators, reminding them about the vital function you perform for their constituents.
Encourage your colleagues to do the same.

Advocacy Can Work!
We have heard from interpreters in California and elsewhere that they were able to receive early vaccinations with the support of ATA's letters to the CDC. Now is the time to stand up and speak out! And please let us know about your successes, failures, and responses.

Email the ATA Advocacy Committee at advocacy@atanet.org.

Return to top
Did You Remember to Renew Your ATA Membership?
Your ATA membership is an invaluable professional resource. Don't lose it! If you haven't renewed yet, click to renew online or download a renewal form.

Questions about your ATA membership? Contact ATA at +1-703-683-6100 or email ata@atanet.org.

And don't forget to grab your membership card!
Your ATA membership card is digital and available for download in the Members Only area of the ATA website. Just log in and click the Membership Card tab. And thank you for renewing!

New for 2021! Payment Plan Available
Take advantage of ATA's installment plan to pay your membership dues for 2021! Available to all members. Just renew online to choose this payment option.
ATA Webinars: Audiovisual Doubleheader
Check out ATA's back-to-back audiovisual webinars on February 24! Attend one or
click save $15
when you attend both!
Subtitling: How a Text Translator Can Become a Subtitler
Presenter: Deborah Wexler
Date: February 24, 2021
Time: 12 noon U.S. Eastern Time
Duration: 60 minutes
Level: Beginner
CE Point: 1 ATA-approved

Subtitling is a translation job. You're a translator. Shouldn't that be enough? Actually, it's not. When you're translating a book or document, you have a single stream of text to deal with. When you're translating a movie, you have two streams of information coming at you at the same time and are limited by reading speed and the number of characters allowed. And the differences don't stop there. Attend this webinar to learn more about this rapidly growing specialization!

Register now! ATA Member $45 Non-Member $60
Closed-Captioning and SDH: An Introduction
Presenter: Mara Campbell
Date: February 24, 2021
Time: 1:30 p.m. U.S. Eastern Time
Duration: 60 minutes
Level: Beginner
CE Point: 1 ATA-approved

This webinar will describe and compare the techniques of closed- captioning and subtitles for the deaf and hard-of-hearing, both tasks that can offer entry into the audiovisual translation industry. Presenter Mara Campbell will cover roll-up captions and pop-on captions with and without placement, as well as the pros and cons of available freeware and professional software.

Register now! Non-Member $60 ATA Member $45
Register for both and save! Click here to attend both webinars and save $15. Don't forget to log in if you're a member to get your member discount! Remember, if you can't attend, register now and you will receive a link to the on-demand recording after the live event.

More ››› | Return to top
Back to Business Basics Webinar: Phone and Email Etiquette
Presenter: Corinne McKay
Date: February 15, 2021
Time: 12 noon U.S. Eastern Time
Duration: 45 minutes
Language: English
Level: All

Communicating with clients is key to every freelancer's success. Still, it's a skill that few of us have studied—or even thought about in any strategic way.

In this sixth episode of ATA's Back to Business Basics Webinar Series, presenter Corinne McKay will start with the basics of professional email and phone communication. Then she'll move on to advanced communication issues and tactics, such as the strategic use of auto-responders, cultural differences in phone and email communication, and when to communicate with clients by phone instead of email … and vice versa.

Reserve Your Spot! Free! Limited to ATA members. Registration required.
Board Meeting Summary: January 23-24
The ATA Board of Directors met January 23-24 in a Zoom virtual meeting. A summary of the meeting's actions, discussions, and ongoing committee work is online in the Members Only area of the ATA website (login required). This is your opportunity to learn what the Association is doing for you! Take time to stay informed.

Read the latest ATA Board Meeting Summary now!

The Board of Directors meets four times a year to establish policy, develop goals and objectives, and oversee ATA finances. To learn more about the Association's governance, check out How ATA Works.

ATA Board of Directors 2020-2021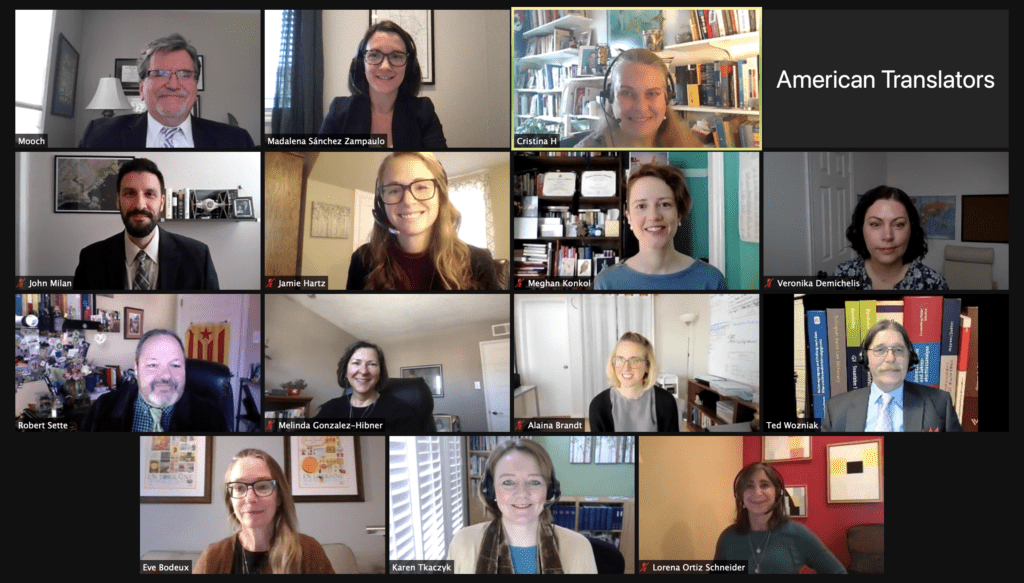 Top Row (from left): Executive Director Walter Bacak, President-Elect Madalena Sánchez Zampaulo, Director Cristina Helmerichs. Second Row: Treasurer John Milan, Director Jamie Hartz, Director Megan Konkol, Director Veronika Demichelis. Third Row: Director Robert Sette, Director Melinda Gonzalez-Hibner, Director Alaina Brandt, President Ted Wozniak. Fourth Row: Director Eve Bodeux, Secretary Karen Tkaczyk, Director Lorena Ortiz Schneider
ATA 2021 Elections: Call for Nominations
The 2021 Nominating and Leadership Development Committee is now accepting nominations to fill the positions of president-elect, secretary, and treasurer (each a two-year term) in addition to three directors' positions (each a three-year term).
Who is eligible to be a candidate?
Under ATA's Bylaws, all Active members are eligible to run for elected office. Active members are those who have passed an ATA certification exam or who have established professional status through either Active Membership or Credentialed Interpreter Review.
Who may make a nomination?
Any ATA member may make a nomination by completing and submitting the online nomination form. Self-nominations are welcome.
Help shape the future of the Association!
ATA's success depends on the leadership of its officers and directors. That leadership begins with nominations like yours. Click here to start.
The deadline for submitting a nomination is March 1, 2021.

More ››› | Return to top
ATA at the Interagency Language Roundtable February 26
ATA will be a featured at the Interagency Language Roundtable (ILR) meeting on February 26. David Stephenson, past chair of the ATA Certification Committee, will lead the plenary session with a presentation on ATA's Certification Program. Rusty Shughart, chair of ATA's Government Linguist Outreach Task Force, will review ATA's professional development programs during the ILR's Translation and Interpretation Committee meeting.

What is the ILR?
The ILR is an unfunded interagency organization that coordinates and shares information on language-related activities at the federal level. It is the primary resource for departments and agencies of the federal government that want to remain informed of the progress and implementation of techniques and technology for language learning, language use, and language testing.

Who can become a member of the ILR?
Any individual with a serious interest in language use, language learning, or language testing may join the organization. There is no membership fee. To become a member, you only need to sign up to the ILR-INFO email list.

ILR events and activities are open to the public at no charge, but you must register two days in advance. Contact Rusty Shughart for details.
More ››› | Return to top
New Year, New Design for The ATA Chronicle!
Surprise! As the old year was drawing to a close, we were hard at work giving The ATA Chronicle a new look. We're excited to finally do our big reveal.

The new ATA Chronicle is here!

In the January/February Issue of The ATA Chronicle

Call for Nominations: ATA Officers and Directors
Do you know someone who would make a good potential candidate for ATA's Board of Directors? If so, ATA's Nominating and Leadership Development Committee would like to hear from you. Any ATA member may make a nomination. Here's your chance to help shape the future of the Association!

How Did Your Work Change in 2020?
Given the many challenges 2020 presented, members of The ATA Chronicle Editorial Board reached out to their colleagues (both interpreters and translators) and invited them to answer the following question: How did your work change in 2020?

The Demands of On-Demand Interpreting
In a time of increased professional isolation with interpreters working from home, here's some light on the challenges and rewards of the essential work of on-demand over-the-phone interpreting. (Linda Pollack-Johnson)

Translation as an Art: How to Get Your Work in a Museum
Museums have evolved from rather stuffy places to lively multimedia experiences with exhibitions on anything from art and photography to fashion, film, and music. Here are some examples of the types of projects you might encounter when working for museums, including some challenges you're likely to face. (Percy Balemans)

Why Your Website Needs a Contact Form and How to Get It Right
Contact forms on websites are nothing new these days. But not all freelance translators or interpreters take advantage of them. (Madalena Sánchez Zampaulo)

2020 ATA Honors and Awards Recipients
ATA and the American Foundation for Translation and Interpretation present annual and biennial awards to encourage, reward, and publicize outstanding work done by both seasoned professionals and students of our craft. This year's recipients are…

Treasurer's Report
There tends to be a lag between when an economic shock takes place and when its effects are generally experienced. As such, while our finances still look fairly solid in this report, it's essential to bear in mind that rockier roads lie ahead. (John Milan)

Access to The ATA Chronicle's searchable archives is available online! And don't forget to check out the latest issue of the Chronicle Online.
News summaries © copyright 2021 SmithBucklin
February 1, 2021
---
On average, how many work-related email messages do you receive daily?
Vote
See the Results!
Previous Poll Results
Who does your business taxes?
40% = I do
0% = Family member
0% = Employee
59% = Accountant
0% = Tax preparation chain
---
In This Issue
ATA62 Call for Speakers
New Member Orientation
Second PPP
ATA Contacts the CDC
Did You Renew
Audiovisual Doubleheader
Business Basics Webinar
Board Mtg Summary
ATA Call for Nominations
ATA at ILR Mtg
The ATA Chronicle
---
ATA Members Only
Free ATA Webinar!
Proofreading Your Work Efficiently and Effectively
Click to watch
!
---
ATA Webinar Series
Subtitling: How a Text Translator Can Become a Subtitler
February 24
12:00 noon ET
Register
Member
Non-Member
Closed Captioning & SDH
February 24
1:30 pm ET
Register
Member
Non-Member
REGISTER FOR BOTH
Save $15 when you register for both!
---
Calendar of Events
Virtual Language Advocacy Days
February 3-5, 2021
Learn more!
ATA62 Annual Conference
Minneapolis, Minnesota
October 27-30, 2021
Call for Proposals
---
The ATA Chronicle January/February 2021
---
---
---
---
---
---
BE SURE TO FOLLOW ATA!
---
ATA is a professional association founded to advance the translation and interpreting professions and foster the professional development of translators and interpreters. With almost 10,000 members in more than 100 countries, the Association includes translators, interpreters, language services providers, educators, project managers, localization specialists, hospitals, universities, and government agencies.
---