Newsbriefs: November 2, 2021
Congratulations to the Newly Elected Officers and Directors
ATA held its regularly scheduled elections on Thursday, October 28, at the Annual Meeting of Voting Members during ATA62's Annual Conference.
Officers elected, each to a two-year term
President-Elect: Veronika Demichelis
Secretary: Alaina Brandt
Treasurer: John Milan
Directors elected, each to a three-year term:
Eve Bodeux
Manako Ihaya
Meghan Konkol
The ATA Board appointed Ben Karl and Robin Bonthrone to one-year Director terms to fill the positions vacated by the election of Veronika Demichelis to President-Elect and Alaina Brandt to Secretary.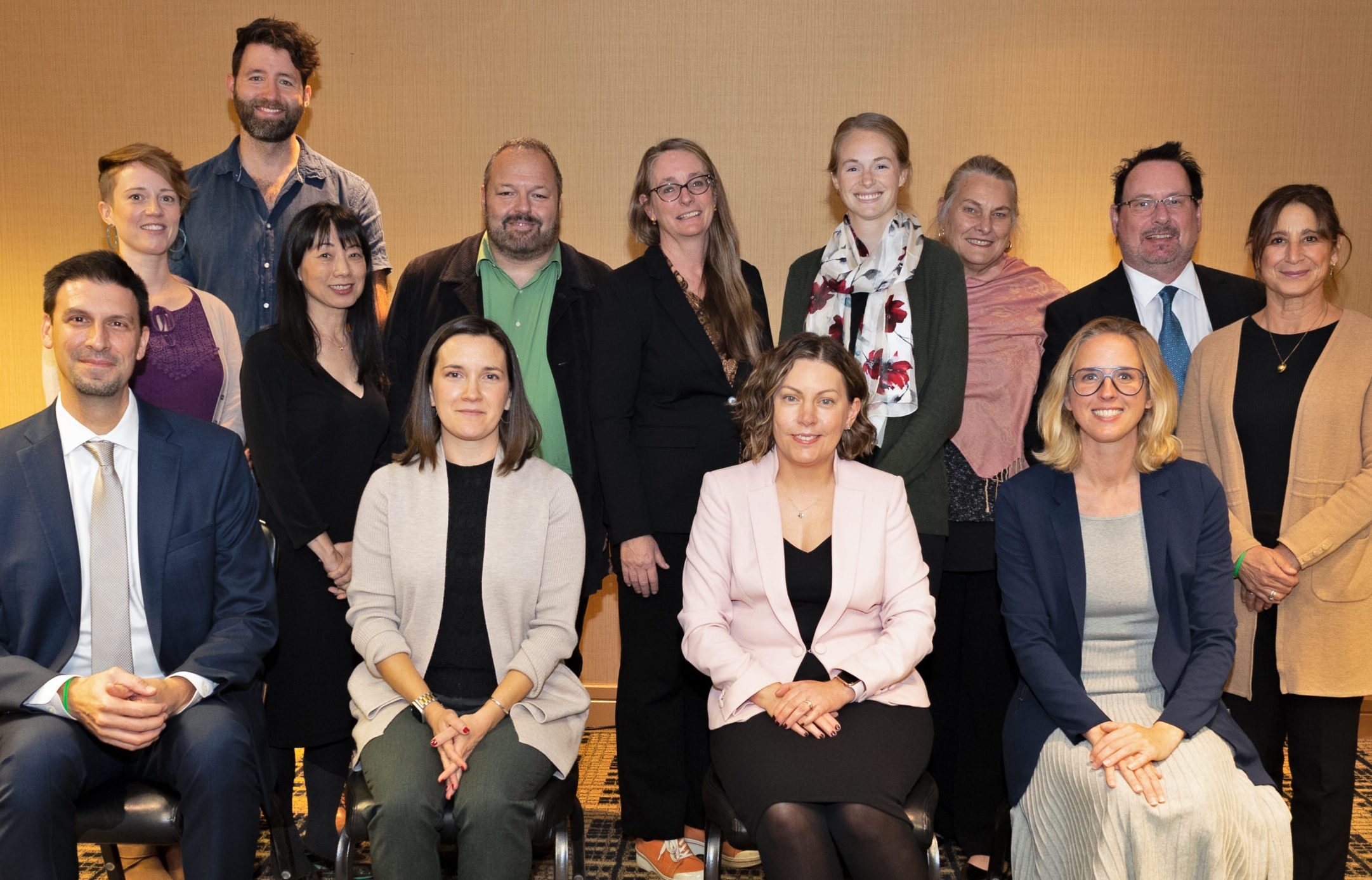 Top Row
(from left): Directors Meghan Konkol, Ben Karl, Manako Ihaya, Robert Sette, Eve Bodeux, Jamie Hartz, Cristina Helmerichs, Robin Bonthrone, and Lorena Ortiz Schneider.
Bottom Row:
Treasurer John Milan, President Madalena Sánchez Zampaulo, President-Elect Veronika Demichelis, and Secretary Alaina Brandt.
Industry News
---
Facebook has Language Blind Spots Around the World that Allow Hate Speech to Flourish
CNN Business (GA) (10/26/21) Iyengar, Rishi
According to internal documents viewed by CNN, Facebook's own researchers have repeatedly warned that the company appears ill-equipped to address issues such as hate speech and misinformation in languages other than English, potentially making users in some of the most politically unstable countries more vulnerable to real-world violence.

The documents are part of disclosures made to the Securities and Exchange Commission and provided to Congress in redacted form by Facebook whistleblower Frances Haugen's legal counsel. A consortium of 17 U.S. news organizations, including CNN, has reviewed the redacted versions received by Congress.

Many of the countries that Facebook refers to as "At Risk"—an internal designation indicating a country's current volatility—speak multiple languages and dialects, including Ethiopia, India, Iraq, and Pakistan. But, according to the documents, Facebook's moderation teams are often only equipped to handle some of those languages, so a large amount of hate speech and misinformation still slips through.

While Facebook's platforms support more than 100 languages globally, its global content moderation teams do not. A company spokesperson said that its teams are comprised of "15,000 people who review content in more than 70 languages working in more than 20 locations" around the world. Even in the languages it does support, the documents show several deficiencies in detecting and mitigating harmful content on the platform.

There are also translation problems for users who may want to report issues. A document dated months before the Taliban took over Afghanistan indicated that only a few "abuse categories" for reporting hate speech in the country were translated into Pashto. "Furthermore, the Pashto translation of Hate Speech does not seem to be accurate," the author wrote, noting most sub-categories of hate speech for a user to report were only in English. Instructions in Dari were described as equally confounding.

"The most fragile places in the world are linguistically diverse places, and they speak languages that are not spoken by tons of people," Haugen, who worked on Facebook's civic integrity team dealing with issues such as misinformation and hate speech, said. "They add a new language usually under crisis conditions," she said, which means Facebook is often training new language models almost in real time in countries that may be at risk of ethnic violence or even genocide.

Facebook relies on a combination of artificial intelligence and human reviewers (both full-time employees and independent contractors) to take down harmful content. But AI models need to be trained to detect and remove content such as hate speech using sample words or phrases known as "classifiers." This requires an understanding of the local languages.

"Our lack of Hindi and Bengali classifiers means much of this content is never flagged or actioned," Facebook researchers wrote in an internal presentation on anti-Muslim hate speech in the country.

"It does take time to develop the AI. It does take time to translate the community standards and things like that," said Evelyn Douek, a senior research fellow at Columbia University's Knight First Amendment Institute who focuses on global regulation of online speech and content moderation issues. "But instead of doing that before they enter a market, they tend to do it afterwards once the problems crop up."

Facebook's researchers agree in the documents that the company should proactively try to prevent potential crises before they occur, and specifically "improve our ability to get ahead of dangerous events, PR fires, and integrity issues in high-priority at-risk countries, rather than playing catch up."
South Dakota Courts Now Offer Language Help Statewide in Civil Cases for People with Limited English Skills
Keloland Media Group (SD) (10/21/21) Mercer, Bob
The U.S. Department of Justice (DOJ) announced it has resolved a review of the South Dakota Unified Judicial System concerning court access by people with limited English proficiency who take part in civil cases.

The state's courts received $50,000 from the South Dakota Legislature to provide language assistance and won approval for a new law that calls for state courts to find and appoint a "disinterested interpreter or translator" when a witness or party needs one in a civil action or special proceeding.

The DOJ opened the review after receiving a complaint from East River Legal Services in 2020 regarding the decision by Minnehaha County to no longer pay for interpreters in most civil cases.

"The department's review uncovered language barriers and higher court costs within the South Dakota Unified Judicial System that made it difficult for limited-English-proficient individuals to participate in state civil cases and proceedings," the DOJ said.

South Dakota Supreme Court Chief Justice Steven Jensen responded in part by introducing legislation on January 20 that makes the state's courts responsible for providing interpreters and translators in many civil matters. Not covered are those involving abuse and neglect, a juvenile, involuntary commitment, mental illness, or protection order proceedings.

Christine Stoneman, chief of the federal coordination and compliance section in the DOJ's Civil Rights Division, announced in a letter the department's decision to resolve the review. State Court Administrator Greg Sattizahn detailed other steps being undertaken in a July 31 letter to the DOJ. These include establishing a complaint process.

"Our goal is to convey the commitment of the South Dakota Unified Judicial System to ensure language access and interpreter services to those involved in the court system in South Dakota," Sattizahn wrote. "This is demonstrated by our prompt response to the DOJ inquiry with not just a verbal commitment to clarify our processes, but with the implementation of an action plan to continually improve our delivery of interpreter services to court users."
Grocery Chain Pays $280,000 to Settle Deaf Job Applicants' Equal Employment Opportunity Commission Claims
Reuters (NY) (10/18/21) Wiessner, Daniel
The Equal Employment Opportunity Commission (EEOC) announced that Arizona-based supermarket operator Sprouts Farmers Market will pay $280,000 to settle claims that it refused to hire three deaf job applicants or provide sign language interpreters during job interviews.

Sprouts, in a consent decree filed jointly with the EEOC in Colorado federal court, also agreed to overhaul its policies on disability accommodations and provide training to managers. Sprouts, which is represented by Ogletree Deakins Nash Smoak & Stewart, denied wrongdoing.

In a September complaint, the EEOC said Sprouts managers had contacted the three applicants to interview them for cashier positions at Colorado stores. But the company then failed to make arrangements for sign language interpreters and ignored the applicants when they followed up about their requests for accommodations.

Amy Burkholder, director of the EEOC's Denver field office, said in a statement that deaf workers face barriers to employment not encountered by others.

"This settlement highlights the EEOC's commitment to breaking down those barriers and ensuring that deaf and hard-of-hearing individuals are afforded equal employment opportunities," Burkholder said.
Nebraska School District Hires Students as Interpreters
Voice of America (NY) (10/31/21)
Facing staff shortages, public schools in Omaha, Nebraska, have turned to bilingual high school students to interpret when families speak with teachers during report card conferences.

The Omaha school district has some full-time bilingual liaisons, but students and their families speak more than 100 languages, and more than 18,000 students have received services for limited English speakers at some time while in the district.

Lisa Utterback, the district's chief student and community services officer, said that the district has about 20 students contracted as interpreters. The students are paid $18 an hour to help with middle and elementary school conferences.

"This is the first time that we've really looked at what our students can bring to the table as paid employees of the Omaha Public Schools," Utterback said of the recent student hires.

Utterback said the student interpreters are going through the same application process and training as non-student interpreters.

To protect the privacy of their classmates and peers, the high school interpreters are helping only with middle and elementary school conferences.

Utterback said communication between teachers and families is vital for them to work together to identify problems, provide any necessary help, and celebrate the success of students.

"The interpreters are getting professional experience," Utterback said, "but they're also bringing their experiences to the conversations."
New Multilingual Vaccine Sites Open to Cater to Foreign Residents in Japan
The Japan Times (Japan) (10/20/21) Tsukimori, Osamu
Japan's Immigration Services Agency (ISA) recently opened multilingual vaccination sites in three major cities—Tokyo, Osaka, and Nagoya—to help foreign residents book COVID-19 vaccinations. An interpreting service for 13 languages is provided via teleconference so that residents can understand what the doctors and nurses are saying. ISA's Foreign Residents Support Center started accepting reservations in 18 languages in October.

In addition to Japanese, the supported languages for making reservations are Bengali, Chinese, English, French, Indonesian, Khmer, Korean, Mongolian, Myanmar, Nepalese, Portuguese, Sinhalese, Spanish, Tagalog, Thai, Urdu, and Vietnamese. Interpreting in all those languages, except Bengali, Khmer, Mongolian, Sihalese, and Urdu, will also be available at the sites.

The program is for all residents, including short-term residents who are having difficulty returning to their home country and have stayed in Japan for three months or longer, and for those in the process of deportation. Eligible recipients do not need to live in the three cities to receive the shots.

Fifteen-year-old Filipino Dhara Huervana received her first dose after her parents heard about the vaccination centers. Her parents were vaccinated through a Japanese shipping company her father works for, but it was not available for the children of its employees.

"It feels good," Huervana said.

According to Cabinet Secretariat data, 75.8% of some 127 million people in Japan, including 2.81 million foreign residents, had gotten their first dose of the vaccine as of October 19, while 68% were fully vaccinated. The Tokyo site is accepting reservations for first COVID-19 vaccinations through the end of November, with the second dose available in December.
ATA News
---
Voters Pass Amendments to ATA Bylaws
In addition to electing officers and directors, Voting Members also approved the following proposed amendments to ATA's Bylaws. Use the More link below to review the text of each amendment.
Note: ATA's Bylaws may be altered, amended, or repealed by a two-thirds vote of the voting members.
Amendment 1: Ex Officio Membership of Ethics Committee – Passed
Amendment 2: Expanding Eligibility to Chair and Serve on Committees – Passed
Amendment 3: References to Committee Chairs – Passed
Amendment 4: Removal of Membership Facilities – Passed
Amendment 5: Two-Thirds of Board Votes – Passed
Inside Specialization: Medical Interpreting
So often medical interpreters make the job look easy, and yet it's anything but. There's the constant challenge of new terminology, the administrative procedures of different health care settings, and the stress of life and death situations—not to mention actually interpreting the patient-provider encounter itself. Join guest host Anne Connor in Episode 68 of The ATA Podcast to learn more about the skills, training, ethical standards, and commitment to lifelong learning needed to work in this very personally rewarding field. During the interview, Harborview Medical Center Interpreting Supervisor Yuliya Speroff also explains the specialty's ongoing quest for professional recognition within the health care community and what individual medical interpreters can do to support the effort. This episode includes two great resources you won't want to miss.
Back to Business Basics: Using Social Media to Market Your Services
Presenter:
Mireya Pérez
Date:
November 4, 2021
Time:
7:00 p.m. U.S. EDT
Duration:
45 minutes
Language:
English
Level:
All
CE Points
: None
Can you use social media to market your interpreting or translation services?
Yes, absolutely! But to take advantage of the power these marketing tools have to offer, you need to define your audience and plan a well thought-out approach, remembering that the goal is to boost your visibility to your ideal clients. Attend this webinar to learn how!
What will you learn?
What types of social media posts you can use as a marketing tool
What is visual storytelling and how you can use it on social media
How to identify your target audience
How to create identity on social media
What social media resources are available
Register now!
Free to ATA members, but you must sign up by 10 a.m. EDT on November 4.
ATA Webinar: Introduction to Mobile App Localization
Presenter:
Dorota Pawlak
Date:
November 9, 2021
Time:
12 noon U.S. ET
Duration:
60 minutes
Language:
English
Level:
Beginner
CE Point(s):
1 ATA-approved
Learn the ins and outs of mobile app localization!
The growing popularity of mobile applications has increased the demand for localization in the industry—and has opened up a world of opportunities for translators and localizers.
Attend this webinar to get an introduction to the role translators play in mobile app localization. Drawing on years of experience in this field, the presenter will explain what skills, tools, and qualities are needed to localize mobile apps and how to solve some of the most common problems in this line of work.
What will you learn?
What is mobile app localization
What skills are required to translate and localize mobile applications
What are the most common issues in mobile app localization from a translator's perspective
What tools can you use to translate apps
How to specialize as a mobile app translator
Register now!
ATA Member $45
|
Non-Member $60
Schedule your online learning!
Register now and watch this webinar on demand at your convenience! The link to the recording will automatically be added to the ATA Education section in your member record following the live event. Click
here
to learn how to watch purchased ATA webinars on demand!
Final Notes for ATA62 Attendees
Session Recordings Available Online
If you attended the conference, be sure to go back to the virtual portal and listen to any of the sessions you missed or replay those that you'd like to hear again. The recordings will be available through the portal for six months. For those who did not attend the conference, or who would like to purchase one of the Advanced Skills and Training Day (AST) sessions, look for the recordings to be available for sale later this year.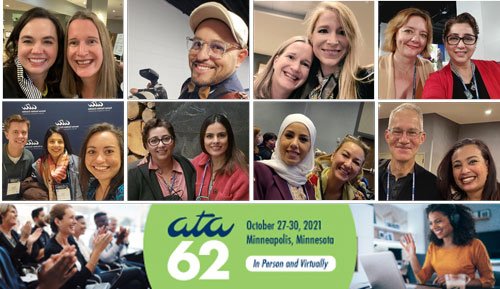 Submit Your ATA62 Survey for a Chance to Win
Your ideas and suggestions have helped shape the ATA Annual Conference over the years. So, please take the time to complete your overall ATA62 conference survey and tell us what you think. Surveys submitted by December 1 will automatically be entered to win a free registration for the ATA63 Annual Conference in Los Angeles, California (October 12-15, 2022). You can access and submit the survey on the virtual portal—look for the link at the top of the home page above the header.
ATA62 Continuing Education Points
ATA-certified translators earn 1 CEP for each hour of conference sessions attended, up to a maximum of 10 CEPs. In addition, ATA-certified translators may earn 1 CEP for each hour of AST courses attended, up to a maximum 5 CEPs per day. To receive your CEPs, retain the Certificate of Attendance that you will receive by email.
A number of interpreter credentialing organizations have approved select sessions. If you're a certified interpreter, you'll want to check to see if your organization is one of them. Visit
ATA62 Continuing Education Credit
for a list. Contact
Cristina Helmerichs
for any questions.
Watch the ATA62 Wrap-Up
If you missed the Closing Session on Saturday, then you missed the ATA62 video recap. Here it is again! Relive the moments or see what you missed.
Click to watch!
Interested in Presenting at ATA63?
Next year's
ATA Annual Conference in Los Angeles
(October 12-15) may seem like a long way away, but the call for proposals will actually go out in January, and the deadline to submit will be in early March. So, now's the time to start planning! Check out
"How to Write a Winning Conference Proposal."
ATA and AFTI Honors and Awards
Each year, ATA and the American Foundation for Translation and Interpretation present annual and biennial awards to encourage, reward, and publicize outstanding accomplishments by both seasoned professionals and students.
This year's award recipients were announced at the Annual Awards Presentation on October 29 during the ATA62 Annual Conference in Minneapolis.
Gode Medal
InterpretAmerica

Ungar German Translation Award
Philip Boehm

Dynamo Award
Shymaa Ebrahim

Mentoring Award
Ibrahim Alkhaldi

Rising Star Award
Céline Browning

Marian S. Greenfield Financial Translation Award
Liming Pals
AFTI Conference Scholarships
This year, the American Foundation for Translation and Interpretation (AFTI) awarded four scholarships to students/recent graduates of translation studies programs to help defray the cost of attending ATA's 62nd Annual Conference. The ATA62 scholarship recipients are: Yasmin AlKashef, Gabrielle Colonna, Anees Gharzita, and Marisa Irwin. Congratulations!
School Outreach Contest Winner
Majlinda Mulla-Everett
ATA's School Outreach Program encourages members to share their stories in schools around the world—in person and virtually. By showing students the varied opportunities available to professional translators and interpreters, members not only inspire them to consider a career path they may not have realized was a possibility, but also educate them as future clients. Plus, every School Outreach presentation offers members the chance to enter the School Outreach Contest with a chance to win a free registration to the
ATA63 Annual Conference
in Los Angeles (October 12-15, 2022)!
ATA's School Outreach Contest
There's no time like the present to start planning a School Outreach presentation and contest entry! Listen to
Episode 53 of The ATA Podcast
to learn more about the program and all the resources ATA has at the ready for putting together a presentation.
Coming Up in the November/December Issue of The ATA Chronicle
Member Opinion: Promoting Inclusion in Translation and Interpreting
The translation and interpreting industry, like all industries, is not immune to bias based on the deep-seated, preconceived ideas we all carry, many subconsciously. The tense social climate we're living in today forces us to reassess how inclusive our industry really is and what we can do to change.
(Cathy-Eitel Nzume)
Getting the Most from Your ATA Language Services Directory Profile
To enable potential clients to make the most effective use of the
Language Services Directory
, ATA members should strive to keep their profiles up to date. Members should also take advantage of all the directory options that allow an individual to highlight their services.
(Eve Lindemuth Bodeux)
LinkedIn Groups: How They Can Help You Meet the Right Clients
LinkedIn Groups are often overlooked, but they can truly be a gold mine for freelancers for growing their networks and conducting market research. If you really want to meet your clients where they are, making a plan to join and engage in LinkedIn Groups is an excellent way to add to your LinkedIn marketing strategy and get in front of the right people.
(Madalena Sánchez Zampaulo)
Cognitive Debriefing: A Challenging but Rewarding Project
What is cognitive debriefing and does this area have potential for translators? What skills are required to take advantage of this market niche? A translator shares his experiences working on cognitive debriefing projects, both as a recruiter and interviewer, including tips for success.
(Pham Hoa Hiep)
Access to
The ATA Chronicle's searchable archives
is available online! And don't forget to check out the latest issue of the
Chronicle Online.
Thank you to ATA62 Sponsors and Exhibitors!
Gold Sponsor

Silver Sponsor

Bronze Sponsors



SUPPORTING SPONSORS
Brand the Interpreter Podcast
UMass Amherst – Online Certificate in Professional Translation and Interpreting
MEDIA SPONSORSHIP
MultiLingual
---
EXHIBITORS
A. Calvin Design LLC
Alliant Insurance Services, Inc.
Coalition of Practicing Translators and Interpreters of CA
Cross-Cultural Communications, LLC
Fluent Audio
Hunter College MA in Translation & Interpreting
memoQ
Middlebury Institute of International Studies at Monterey
Mindlink Resources, LLC
National Language Service Corps
Plunet Inc.
Supertext USA, Inc.
SWITS, Ltd
The National Association of Judiciary Interpreters & Translators
The National Board of Certification for Medical Interpreters
TranZynergy
U.S. Department of State, Office of Language Services
University of Illinois at Urbana-Champaign Program in Translation & Interpreting Studies
Valiant Integrated Services
Wordfast
News summaries © copyright 2021 SmithBucklin
November 2, 2021

---
When was the last time you reviewed/updated your computer's anti-virus/malware protection?
---
Previous Poll Results
How did your business do in the third quarter of 2021 compared to the second quarter of 2021? 40% = Increased significantly
28% = Increased somewhat
8% = About the same
12% = Decreased somewhat
12% = Decreased significantly
---
In This Issue
ATA Elections 2021 Final
Bylaws Amendments
Medical Interpreting
Social Media Marketing
Localization Webinar
Final Notes ATA62
Honors and Awards
The ATA Chronicle
ATA62 Sponsors
ATA62 Exhibitors
---
Back to Business Basics
Social Media Marketing for T&I Services
November 4 @ 7 pm EDT
Free! Register now!
---
ATA Webinars
Introduction to Mobile App Localization
Nov 9 @ 12 noon ET
Registration open
memoQ for Intermediate and Advanced Users
Nov 12 @ 12 noon ET
Intermediate Tips and Tricks for Trados Studio
Nov 17 @ 12 noon ET
Member Orientation
Nov 18 @ 2 pm ET
Working with Termbases in Trados Studio
Dec 2 @ 12 noon ET
---
Calendar of Events
ATA63 Annual Conference
Los Angeles, California
October 12-15, 2022
Preview!
---
---
---
Continuing education anywhere, anytime!
---