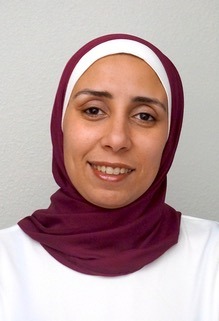 It is an honor to be nominated to run for reelection to ATA's Board of Directors. It is a privilege to serve ATA members in this capacity.
I am an ATA-certified Arabic>English translator, a certified court interpreter, and a conference interpreter originally from Cairo, Egypt. I have an MA and a PhD in translation and interpreting studies from Ain Shams University, Egypt. I worked in academia and as a conference interpreter for 10+ years in the Middle East before my family moved to the U.S. in 2015.
Faced with the challenge of market access, I thought the gateway to the U.S. market started with ATA, and I was right. Upon passing ATA's certification exam, clients started finding me through ATA's directory. I am grateful for all the opportunities and support ATA has offered me as a freelance translator and interpreter. Now I also teach interpreting at New York University and the University of Massachusetts as an adjunct faculty.
Over the past few years, I have volunteered for ATA in several capacities. I am a member of the Interpreters Division (ID) Leadership Council, where I help organize Interpreter Connections, a bimonthly casual meetup in which ID members discuss topics of interest to interpreters of all specialties.
I am the assistant administrator of ATA's Arabic Language Division (2021-2023). I help organize online events for members. I also proposed and helped organize the first ALD Arabic interpreting scenarios contest, an initiative aimed at addressing the scarcity of training material for Arabic interpreters. This year, I helped organize ATA's first professional development webinar on Arabic editing for translators.
Last year, I was elected to ATA's Board for a one-year term. I promised to work on growing the membership and continuing professional development (CPD) opportunities, especially those targeting newcomers to the profession and languages less commonly represented in leadership circles. As a member ATA's Professional Development Committee, I am working with colleagues on a new on-demand course for the newcomers to the T&I industry. As a member of ATA's Membership Committee, I am part of the team working on reaching out to T&I higher education programs and trying to promote ATA membership to students and graduates, a category of members that promises to shape our industry's future. I was also ATA's representative at the Mid-America Chapter of ATA's annual conference this year, where I delivered a keynote presentation in which I promoted ATA membership.
If reelected, I would like to see our organization forge ahead building on our passion for the profession, eagerness to volunteer, and current ATA strengths. I would like to work on increasing awareness of the profession via targeted outreach activities, growing the membership through PR initiatives, and offering members a real return on their investment through the visibility, networking, and CPD opportunities ATA provides as a community of practice. I would be honored to get your vote and represent you again on ATA's Board.