7 Marketing and Productivity Tools for Gmail and Google Workspace (G Suite) Users
This post is a reblog, originally published on Madalena Sánchez Zampaulo's blog. It is reposted with permission from the author.
---
As freelance translators and interpreters, we can spend a lot of time in our inboxes on any given weekday. This can be both distracting and a never-ending game of whack-a-mole, as you try to answer all your emails and keep your inbox in a manageable state.
Of course, we all know that living in our email inboxes is not the best use of our time. If we're not careful, it can keep us from getting the most essential work done. It can be a form of procrastination and a total time suck when we have more important things to do, like paid work or that big project we want to get done.
I have always used a Google mail option for my business email . . . okay, minus a few years when I was using SquirrelMail (yes, it's really called that), which I do not recommend.
I started with a simple Gmail address, but since I had a website domain, I was able to take advantage of the alias option when my website was hosted on another platform for many years. That said, I didn't love the alias feature because I had to remember to switch my "From:" email to my business one every time I sent an email to a colleague or client.
Once I moved my website to Squarespace, I quickly opted into the Google Workspace (formerly called G Suite) email plan. It seemed like the most straightforward shift to make, as the Google Workspace email looks nearly identical to Gmail but offers even more options for users.
I asked colleagues in a recent Twitter poll whether they use Gmail/Google Workspace (G Suite), Outlook, or another email option. The results were close to what I expected. Of the 45 people who responded to the poll, nearly 70% answered that they use Gmail or Google Workspace (G Suite) for their business.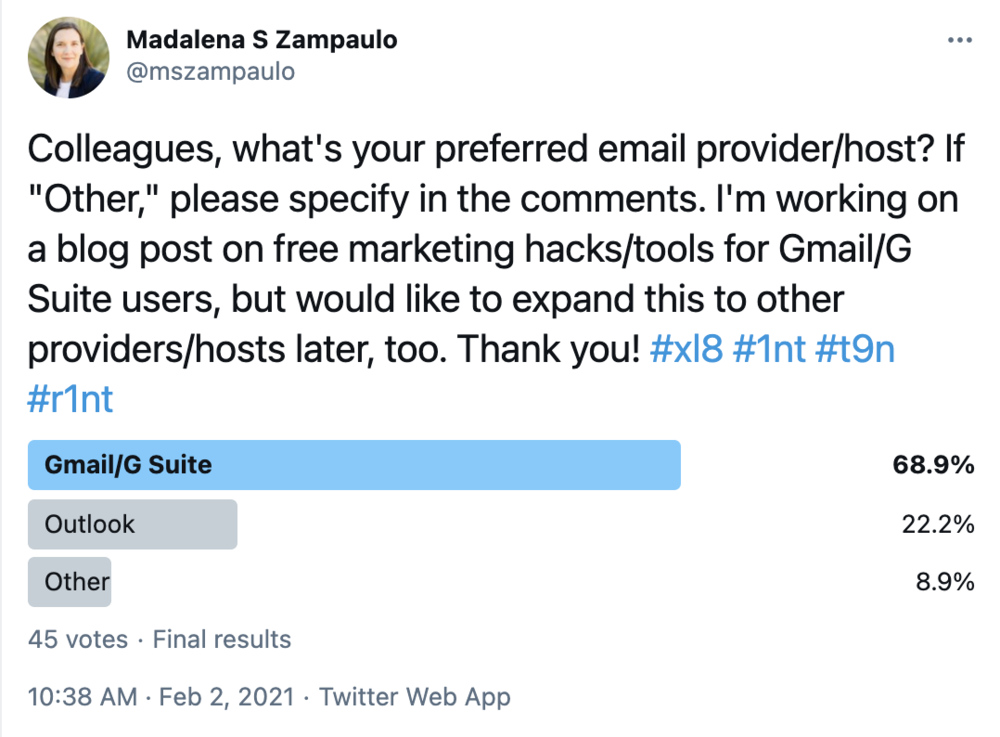 Since I've been experimenting with some of Google Chrome's extensions for Gmail, I figured I would share some marketing and productivity tools that could be beneficial to freelance translators and interpreters. I won't give you a full tutorial of any of these since they are already available online for each extension, but I will give you my take on them and how they might benefit your business.
7 Marketing and Productivity Tools for Gmail and Google Workspace (G Suite) Users
Before I jump into the tools, please note that you should decide which tools are best for your business. Consider whether any of the extensions mentioned here might not work for you due to privacy regulations or laws where you live and work, or where your clients are located (think the European Union's General Data Protection Regulation (GDPR) and the California Consumer Privacy Act (CCPA)). Some people prefer not to use Google Mail or extensions because they don't feel they are as secure as other options. Do your homework before you start using an extension for your business email.
It's also important to remember that if you are going to use any of these extensions, you will need to use Google Chrome as your main internet browser or the browser for sending and receiving emails. It makes sense, right? Google Chrome just plays more nicely with Google Mail. 😉
Here are some great extensions for freelancers (in no particular order):
Boomerang or Inbox When Ready
Both Boomerang and Inbox When Ready allow you to pause your inbox. This can be especially helpful if you find your inbox distracting when you need time to do deep, focused work.
Boomerang also lets you determine when you want to bring a message back (like a boomerang 🪃) to your inbox. This is great if you want to handle a message later or be reminded to follow up with someone you reached out to, like when you send a résumé, a warm email, or a new quote to a client. You can also schedule emails to be sent at a specific time.
Inbox When Ready is exactly what it sounds like. It lets you stop new emails and notifications from showing up in your inbox or schedule times when these lockdowns should occur during specific times. You can even set a specific amount of time that you allow yourself to check and handle emails. Both of these tools are great if you want to start limiting the time you spend in your inbox.
If you're someone who sends a lot of emails and wants an easy way to keep track of what you've sent and who you need to follow up with, Streak and Mailtrack are worth checking out.
Mailtrack is a simple tool that allows you to see when your emails have been read. This can be useful if you have clients who don't respond when you deliver projects or invoices. It also takes the guesswork out of the equation when you send a new quote. If a client has read your email, you can set a reminder to follow up with them in a few days to see if they would like to move forward with the new project.
Streak is much more robust than Mailtrack, essentially allowing you to create pipelines and workflows directly from your inbox, in addition to tracking emails you've sent and when they've been opened. This extension also allows integration with other Google tools like Drive, Sheets, and Chat. If you work with a team of colleagues or have other people helping you manage projects, you can share emails, notes, and set tasks and reminders. For an email extension, Streak is a promising client relationship management (CRM) tool that will help you stay on top of the moving parts in your business.
Sometimes messages are best sent "in person," i.e., not via a long-winded email or chat. Loom is a great plug-in for anyone who wants to add a more personal touch to email messages or who simply finds it easier to explain something by talking directly to the person they're communicating with. Loom allows you to click the icon at the bottom of a new email message to create and send a video recording to a recipient. You can preview the video and click to embed it in your email before you hit Send. I find that more and more people are craving in-person connections these days. If you're looking to freshen up your client or colleague communications, try using Loom to reply to emails that don't require as much back-and-forth or documentation of important matters. I can see how a tool like Loom could help a freelance translator or interpreter stand out to their clients!
DocuSign eSignature for Chrome
If you find that sending and receiving client contracts is cumbersome, try DocuSign eSignature for Chrome. You can sign contracts quickly from your inbox as well as upload new contracts and check the signature status before you start working on a new job. The number of contracts you can send before you have to pay for the service is currently limited to three, but you can sign an unlimited number of contracts you receive for free. If you require a new contract for each job you take on, this tool could be a game-changer.
If you tend to work with especially sensitive documents and feel that you could benefit from encrypting the messages or attachments you send, Digify for Gmail might be a good fit. The extension lets you encrypt the content of your emails, track who opens and views your files, and it even offers you the option to revoke someone's access after you've hit Send. These features can be handy if you accidentally send a message to the wrong person or if you want to limit someone's access and remove it after a certain period of time. If you're unsure whether you'd like to use an extension like Digify, you can sign up for a free trial to give it a test drive.
Please note that I am not being paid to share my thoughts on any of these tools. I simply think we could all use tools to make our workday run a little smoother.
To add or manage your Google Chrome extensions, go to chrome://extensions/. While many of these Google Chrome extensions are free, some require you to pay after you use them for a certain amount of time or if you want to take advantage of additional features.
Do you use any Google Chrome/Google Mail extensions to make your workday more efficient or your marketing more manageable? Please share them in the comments below!
---
About the Author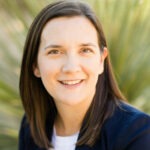 Madalena Sánchez Zampaulo is a freelance Spanish and certified Portuguese to English translator, owner of Accessible Translation Solutions (ATS), a boutique translation company based in Southern California, and an online presence coach for T&I professionals. With more than a decade of experience in the language professions, Madalena shares her knowledge and years of research to help freelance translators and interpreters improve their online presence—from their websites and LinkedIn profiles to copywriting and SEO—by refining their professional profiles to attract their ideal clients while collectively elevating and promoting our professions. You can find her on Twitter and LinkedIn.
Have an idea for us?
If you have feedback or ideas for future articles, contact the Business Practices Committee.