Global Expansion Can Be Hindered without Proper Translation Services
According to the U.S. Census Bureau, in the Atlanta metro area, 146 languages are spoken at home. As more businesses expand globally, it is no surprise that the U.S. Bureau of Labor Statistics predicts employment of interpreters and translators will grow 29% from 2014 to 2024—much faster than the average for all occupations.
Translation solutions and language services are vital to a business' global growth strategy.
"Having translation solutions in place is critical when your business is promoting a product or service in different parts of the world," says Florian Schwieger, head of marketing and business development at EVS Translations USA. "If you are engaged in business, at some point you are going to need scalable translation services to deliver quality and quantity on short notice."
A key component to growing a global business is communication.
"Circumstances when language and translations services are critical include negotiations, finalizing legal agreements, connecting with prospective customers, supporting worldwide employees and enhancing brand image," says S. Tamer Cavusgil, executive director at the Center for International Business Education and Research, Georgia State University's federally designated center of excellence.
Translation services are not always just a word-for-word conversion process. There are also localization needs. This means adapting and translating the material to fit within the target market's culture. This includes a company's brand, website, and product names.
Companies going global should neutralize the English content and design, as well as get input from their stakeholders in the particular country. "This involves avoiding graphics or icons that have a specific definition to the source market or language," Cavusgil says.
And, this is particularly true for marketing translations.
"The translation should capture the message and spirit of the original text, but it may need to use different phrases to evoke the same end result," says Hannah Lodge, vice-president of translation services at ALTA Language Services Inc. "This is especially vital for slogan and idioms."
Cavusgil shares an example of a straight translation that needed more than just a word-for-word translation. "When Kentucky Fried Chicken opened its doors in Beijing in the late 1980s, it accidentally translated its infamous slogan, 'Finger-lickin' good' to 'Eat your fingers off.'"
The translation industry has seen a surge of automated machine tools. But, Lodge cautions, these tools are not always effective for broader localization objectives. "Machine translations do help speed up work and make more content readily available, but it isn't the same sophisticated quality as human translators."
When looking for the right provider—define your goals
Finding the right translation service requires first thinking through your goals. Do you need a word conversion translation? Or, do you have more broad localization needs? Also, do you need a translation services company that can help provide guidance on legal and regulatory requirements for operating a global business? Once you define your objectives, find a service provider that matches your needs.
For projects with dimensions and tight turnaround times, businesses should look for a language services provider with ISO 9001 certification.
"This demonstrates that the company has an effective quality management system in place for its services," says Mary Maloof, chairperson at the Atlanta Association of Interpreters and Translators. "Or, choose an independent translator certified by the American Translators Association."
In addition, Lodge recommends finding a translator who not only speaks both languages, but also has the right subject matter expertise.
"It is important to choose a translator who has the education and background of the content they are translating," she says. "For example, engineering or medical text would require someone familiar with that terminology."
Meeting global standards requirements
For larger projects with translation, localization, and international standards requirements, consider a full-service translation company with real in-house translation teams.
"Doing business globally also means complying with local regulations. Things such as labeling, packaging, and documents that go along with a product need to be translated according to the law," Schwieger says.
The Americans with Disabilities Act is also making an impact in the interpreting industry.
"The ADA transformed accessibility for 48 million deaf and hard of hearing people in this country by requiring that businesses and state and local governments provide effective communication to this population," says Howard A. Rosenblum, chief executive officer at the National Association of the Deaf. "As a result, schools, museums, banks, employers, theaters, hospitals, doctors' offices, courts, lawyers' offices, and many others must provide qualified sign language interpreters to deaf and hard of hearing individuals who utilize American Sign Language to communicate effectively."
Regarding finding a quality sign language interpreter, Rosenblum provides this advice: "It is extremely important that entities procure interpreters who possess the proper qualifications and certifications, such as from the National Association of the Deaf or the Registry of Interpreters for the Deaf, and are properly licensed in those states that require it. In states that require licenses for sign-language interpreters, a list of such licensed interpreters is available. Across the country, entities can obtain interpreters from interpreter referral agencies that specialize in provision of sign language interpreting services."
According the Bureau of Labor Statistics, there are 61,000 jobs in the translator and interpreter industry and it continues to grow.
"Translation services, like interpreting services, build bridges, sell necessary and desired goods and services, protect people, and save lives, but when they are done well, you don't even know they've been utilized," Rosenblum says.
---
A Closer Look at the Translation/Interpreting Industry
Market size of the global language service industry from 2009 to 2018 (in U.S. dollars)
2009: $23.5 billion
2010: $26.3 billion
2011: $28.34 billion
2012: $33.05 billion
2013: $34.78 billion
2014: $37.19 billion
2015: $38.16 billion
2018: $47 billion
(Source: Statista 2016)
Interpreters and Translators Quick Facts
Median pay: 2015: $44,190 per year/$21.24 per hour
Number of jobs: 2014: 61,000
Job outlook, 2014-24: 29% (much faster than average)
Employment change, 2014-24: 17,500
(Source: U.S. Bureau of Labor Statistics Occupational Outlook Handbook)
---
By Karen Cohen – Contributing writer
(Note: This article appeared in the Atlanta Business Chronicle on October 11, 2016.)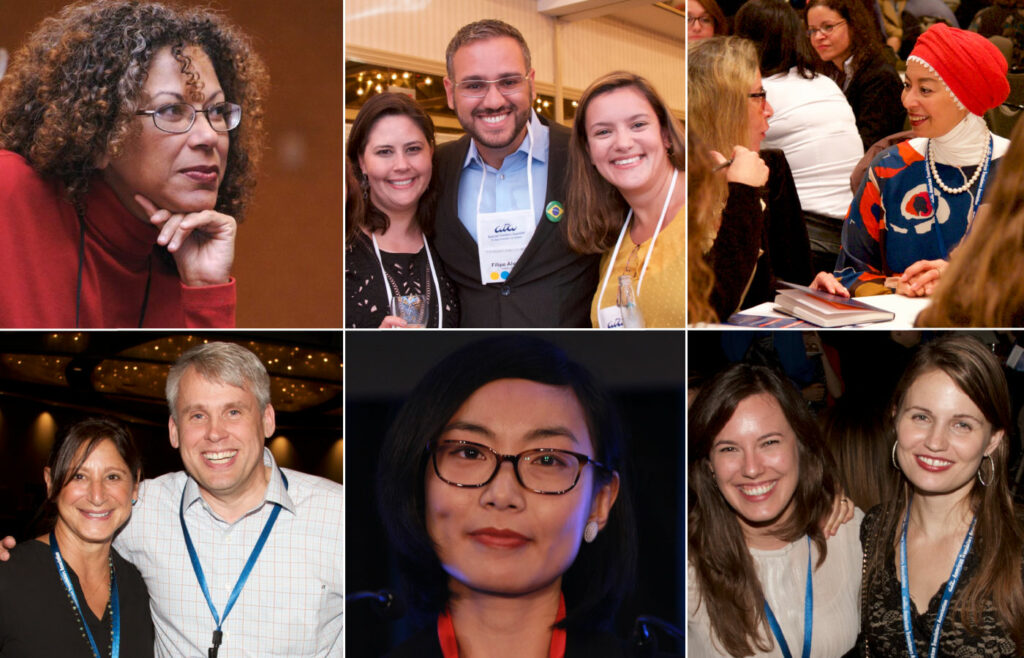 Find the translator or interpreter that meets your needs. Customize your search by language, specialties, location, credentials, and more.
Subscribe to The ATA Compass