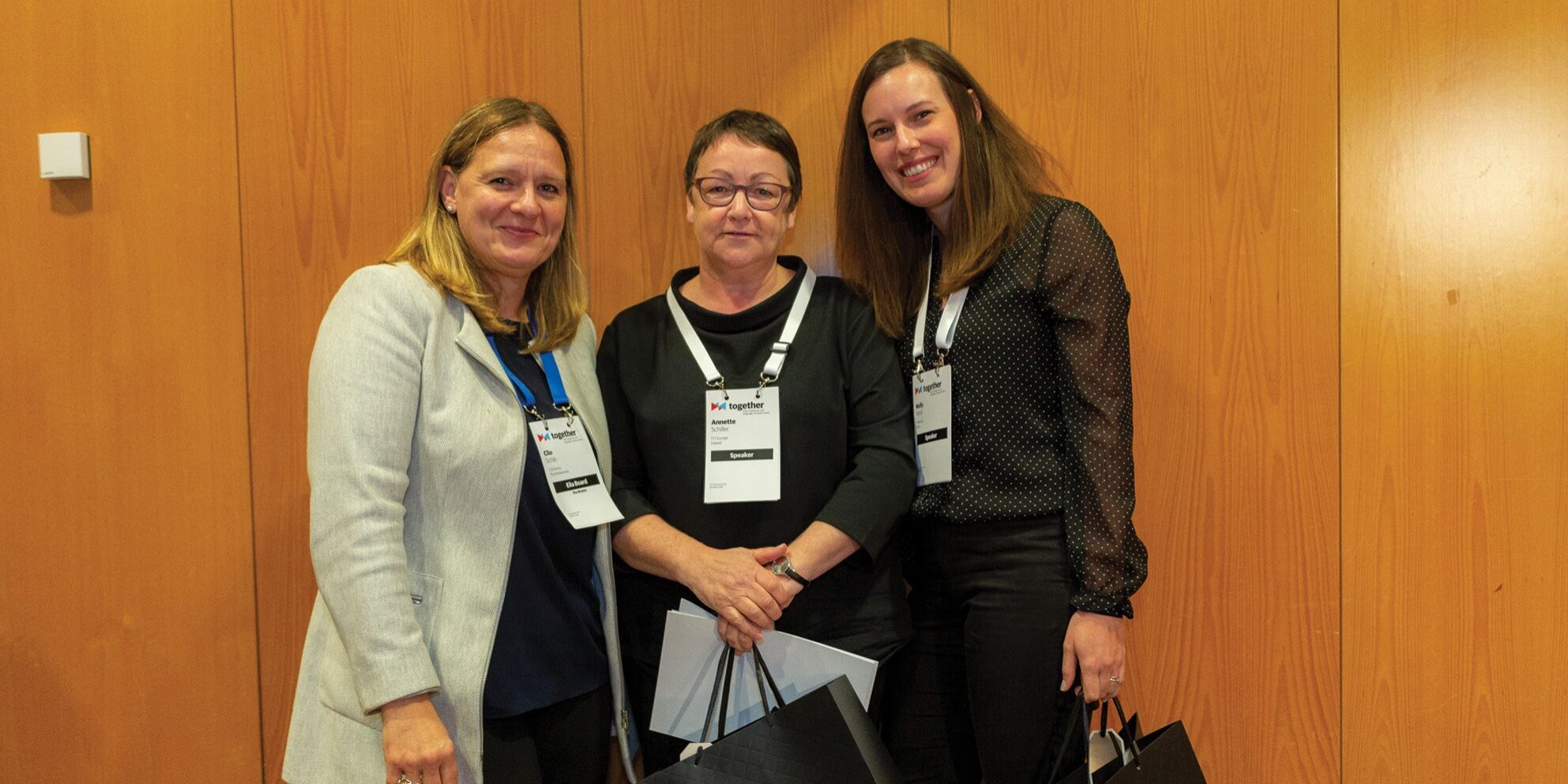 In February 2019 I had the pleasure of representing ATA at the European Language Industry Association (ELIA) Together conference in Barcelona, Spain. (ATA was a sponsor.) ELIA describes itself on its website as the "European not-for-profit trade association of language service companies with a mission to accelerate our members' business success."1
Throughout the year, ELIA hosts a number of events for language services companies, but the ELIA Together conference is a yearly event targeted to both freelancers and language companies. As defined on ELIA's website, the Together conference is a: "two-day event that brings together professionals from across the industry for an open dialogue on industry trends, to learn mutually-relevant new approaches, to update technical skills and, ultimately, serve our end clients better. Most importantly, it's a friendly, collaborative environment in which to develop lasting relationships."2 I couldn't agree more.
Mastering Digital Transformation
The theme for the 2019 conference was "Mastering Digital Transformation," which ELIA defined as: "Focusing on what your business needs to do to stand out from the crowd and how to provide solutions to the changing needs of our end clients."3
The event kicked off with keynote speaker Javier Zamora, senior lecturer in the Department of Information Systems at the Instituto de Estudios Superiores de la Empresa Business School of the University of Navarra in Barcelona. His presentation, "The Digital Mindset: Beyond the Technological Fads," was inspiring and eye-opening for those in attendance. Zamora started by providing a brief history of machine learning and artificial intelligence. He shared an illustrative anecdote about the Dartmouth Summer Research Project on Artificial Intelligence from 1955. That year, a group of researchers stated that they could discover and solve the problems of how machines use language in just two months if they could get the proper funding and build the perfect team of 10 scientists. Zamora got a good round of giggles and pats on the back from the translator-filled audience at that story.
Although Zamora emphasized that no one knows exactly where technology is heading—or if machines will ever reach singularity—he really drove home the importance of embracing new technologies instead of rejecting them. There is no denying that we, as humans and as translators, have to realize and accept that machines can now perceive and learn, but they can't yet abstract or reason. If we know the limits of artificial intelligence, we can figure out how to leverage its uses for our own competitive advantage. Zamora encouraged us to be knowledgeable and aware about the tools available to us. Whether we like it or not, machine translation (MT) is a reality in our industry. Zamora also reminded us that advancements in technology are affecting every sector on the planet, not just ours. He ended on a positive note, saying that technology will improve our sector if we're willing and able to use it appropriately and to our advantage.
Trending Topic: Machine Translation
Zamora's keynote speech set the tone for the conference. During coffee and lunch breaks, or in the hallway between sessions, I didn't hear much of the usual MT bashing I often hear at other translator and interpreter industry events. I participated in numerous conversations about MT that were quite refreshing. People talked about its advantages just as much as its disadvantages. I learned a lot, especially since I've not personally worked with MT before.
I had an incredibly enlightening conversation with an agency owner turned MT tool owner. He explained his current business process to me, saying that he trained specific MT tools for each of his clients. He said that once the machine was trained and put in place, he was back to square one—the same square one as any translation company: finding specialized translators that are good enough to work with the text at hand. He emphasized that the translation process really hadn't changed that much. He still needed specialized translators to post-edit specialized texts. He was on a mission to tell as many translators as possible to rest assured. We aren't being replaced by machines, we're just working faster because of them.

Freelancers, Language Companies, and Tool Representatives
ELIA welcomed a total of 236 attendees: 80 language services and computer-assisted translation tool companies and 119 freelancers. The remaining attendees were a mix of university professors, language consultants, and others. What I liked most about this conference was the great diversity of attendees interacting and mingling the entire time.
The two days of the conference were divided into two session tracks ("specialization" and "trends and technology"), which took place in separate rooms. As at most conferences, the sessions were hit or miss. The specialization track sessions were full of great ideas on how and why to specialize. Unfortunately, after two days of back-to-back sessions on specialization, they ended up being a bit repetitive. This was due to no fault of the presenters, since it's hard to spin specialization in a million different ways. The trends and technology track was more varied, touching on items of interest to both freelancers and language companies. Some of the sessions that were specific to language companies were quite insightful for freelancers as well. I learned why language companies ask freelancers to do free tests, how project managers select a freelancer for a job, and what the onboarding process looks like from the language company's side. One of my favorite sessions was about productivity, such as using email templates to save on typing time or the Pomodoro method to stay on track during the work day.
What Does the Future Hold for Freelancers?
The conference concluded with a panel session called "What Does the Future Hold for Freelancers?" I was honored to participate on the panel alongside such esteemed colleagues as:
Jerzy Czopik, a freelance translator and interpreter and the vice president of the Bundesverband der Dolmetscher und Übersetzer e.V., a professional association of interpreters and translators in Germany.
Clio Schils, president of ELIA and global director of life sciences at CQ Fluency.
Annette Schiller, chair of the International Federation of Translators (FIT) Europe, the Regional Centre Europe of FIT. She is also a professor of translation at Dublin City University and a freelance translator.
The ELIA conference app made it possible to survey the audience live to kick off the panel. Responses came up on the screen as they were submitted.
"Do you think the future will change your life?"

"Yes, positively" received 96 votes
"Yes, negatively" received 11 votes
"No, it will not change my life" received 3 votes
We were pleasantly surprised by the positive results, which set a great tone for the panel discussion. We answered tough questions from the moderator, Diego Cresceri, founder and chief executive officer of Creative Words, a localization company based in Italy. We spoke about our personal thoughts on the future, the most important skills that freelancers need to develop to remain relevant in tomorrow's market, and how language services companies and freelancers can work together to better tackle current and future challenges in our industry. I personally encouraged freelancers to keep an open mind regarding new technologies, to make the most of the technology our agency clients have to share with us, and to stay informed.
The panel was well-received by attendees, who engaged with us in a lively Q&A session at the end. For me, one of the highlights of the panel came from an ELIA member who stood up and said that she was a big fan of ATA. She explained that she had attended an ATA conference in the past, was extremely impressed with how it went, and hoped that ELIA would eventually grow to be as large as ATA.
Final Thoughts
I would highly recommend attending the ELIA Together conference. I met interesting colleagues and connected with potential clients while learning a lot along the way. Next year's date and location are still to be determined, but I hope to see you there!
Notes
ELIA website, http://bit.ly/Elia-Together.
About ELIA, http://bit.ly/Elia-about.
ELIA-Together Program, http://bit.ly/Elia-Together-program.
---
Molly Yurick is a Spanish>English translator specializing in the tourism, hospitality, and airline industries. She has worked as a medical interpreter in Minnesota and as a cultural ambassador for the Ministry of Education in Spain. She has a BA in Spanish and global studies and a certificate in medical interpreting from the University of Minnesota. She is currently living in northern Spain. Contact: molly@yuricktranslations.com.