5 Tedious Non-Translation Tasks ChatGPT Can Do Amazingly Well
Odds are you've heard the hype around the futuristic artificial intelligence-based tool currently taking the world by storm. But what is it and what can it really do for translators? The answers may surprise you.
What is ChatGPT?
ChatGPT is a large language model (LLM) designed and developed by OpenAI to generate human-like responses to prompts. LLMs are a type of artificial intelligence (AI) that have been trained on massive amounts of written text, including web pages, books, and articles, to predict the word or sequence of words most likely to follow a user-entered prompt. LLM-driven chatbots like ChatGPT are also trained on conversations from online forums and transcripts to engage in a back-and-forth dialogue with users and build on that conversation over time.
That Sounds Scary…
Will robots make language professionals obsolete? AI-induced anxiety abounds in our industry, like many others. But before you panic, remember that it's still the early days. These systems are new to everyone—even AI developers don't know everything they can do. And new use cases are being developed all the time, which is why the tools are being rolled out for the public to tinker with.
Also, LLMs like ChatGPT aren't ideally suited to machine translation (MT). Can they translate to and from multiple languages? Yes. But ChatGPT's output is painfully slow compared to the immediacy of MT-only tools like DeepL. ChatGPT's appeal is in what it can do for translators beyond translation.
Let's take a closer look at five tedious tasks it can take off your plate, starting today. But first, some housekeeping.
How to Sign Up
The basic version of ChatGPT (GPT-3) is free to use and signup is easy:
Click "Sign up"
Create an account
Use the "Send a message" field at the bottom of the screen to send ChatGPT a "prompt," which means asking it for information or to complete a task. Get creative!
For $20 a month you can also upgrade to ChatGPT Plus, which comes with GPT-4 under the hood. You get a more sophisticated tool trained on larger data sets, priority access during peak usage periods, and faster response times.
What ChatGPT Can't Do
 There are a few drawbacks and limitations to ChatGPT to keep in mind before you take it for a test drive.
It doesn't have a frame of reference for anything more recent than September 2021. Ask it who won the Super Bowl in 2023, and it gives a cagey answer about not being able to predict the "future." But ask it for the text of Chaucer's Canterbury Tales, and it responds in flawless Middle English.
It can't cull real-time data from a specific website. I want ChatGPT to tell me the five-letter-or-longer nouns used most frequently on The Harvard Business Review's website but alas, that's outside its scope for now.
There's no mobile app. For now, you can only use ChatGPT in a web browser.
There are no privacy safeguards. Be sure to check any non-disclosure agreements you have signed with your clients and err on the side of caution when it comes to the source content you paste into the tool.
 Best Practices for Working with ChatGPT
 Here are some tips on getting the best responses to prompts:
Don't treat it like a search engine. As the "Chat" in ChatGPT indicates, your interaction is in the form of a conversation, not individual one-off Google queries. You can train the tool by giving it more information or drilling down with follow-up questions. Sources are divided over whether the tool can "remember" and learn from earlier chats, but you are able to access and continue those conversations in the left-hand menu of the ChatGPT window.
If it's not a search engine, what is it? Think of ChatGPT as a high-level editorial assistant. It excels at doing tedious tasks that must be done right, but not necessarily by you.
Prime the pump. ChatGPT responds more accurately and relevantly when you ply it with information. Even if your prompt involves a fake scenario, make it as detailed as possible to get the best results.
Be skeptical. Artificial intelligence models are known to "hallucinate," or generate responses that are nonsensical, inconsistent, or just plain wrong, yet do it in a self-assured way. Fact-check any information it gives you.
Use the "Regenerate response" button and ChatGPT will give you a parallel response worded differently. (This may eventually make it the only MT tool you'll ever need, but that's not our focus today.)
5 Tasks You'll Be Happy to Hand Over to ChatGPT
So many of the steps in the translation process have nothing to do with translation. Ever wish you had an assistant to do research, prep files, create outlines, or draft emails? Now you do.
Terminology and glossary work


One of the first steps many of us take when starting a new project is to compile a list of terms in the target language so they're top of mind as we're working. That used to mean plucking terminology from individual websites, which takes a lot of time. Not anymore. ChatGPT is a virtuoso at compiling, defining, and reordering information.


Of course, this is all Googleable information, but you'd have to go to multiple sites to get comprehensive and varied terminology, whereas ChatGPT creates a lovely list of 20 slang terms and their definitions in seconds. This is a prime example of what AI can do that traditional search can't.

Tips:

Click "Regenerate response" for even more options.
Use this feature to realphabetize a glossary in the target language. Paste the glossary into the "Send a message" field and ask ChatGPT to reorder the entries, and voilà!

Caveat:

For technical terminology, slang, or jargon, run the output past a subject matter expert to make sure ChatGPT isn't hallucinating. For the example above, I conferred with a skier friend who vouched for its accuracy.

Comparing and contrasting multiple ideas, theories, words, etc. 

You can use ChatGPT to synthesize information instead of looking up individual concepts or words and comparing and contrasting them yourself.


ChatGPT delivers a nuanced response in seconds. Again, you could Google these individual terms, but then you'd have to work out the comparisons on your own. ChatGPT makes a great stand-in thinking cap on next-level tasks like this.

Drafting emails


Composing an email to a client can be an excruciating (and not billable) task, especially when you have to convey bad news about quality, deadlines, or cost. Fortunately, ChatGPT deftly handles awkward conversations.
And just like that, you have a viable draft email and you've saved yourself a ton of time and nail-biting. Clearly you can't hit Send without some editing, but at least you have a solid starting point and don't have to start from scratch. Plus, ChatGPT makes certain points that may not have occurred to you naturally.

Tips:

Ask follow-up questions to tailor the email to your specific client:

I've known this client for X years, so can you make the tone less formal? (Provide as many details as you have about your client)
Translate the email into [insert client's native language here].

Fixing punctuation, spelling, and word choice in a single step


a. Fixing punctuation and spelling
Let's say you've finished translating a document and are about to deliver it. You go back to skim the client-supplied style guide and realize they use Canadian English but not the Oxford comma. Meanwhile, your translation is in U.S. English and you used the Oxford comma. Uh-oh. In the pre-AI olden days, fixing this would have been an irksome, multi-step, manual process. Not so with ChatGPT.
To my knowledge, there is no other tool on the market that can strip Oxford commas out of text in a single pass.

Caveats:
– The first time I entered the prompt, ChatGPT took out the Oxford comma but didn't change the spelling. The second time, I capitalized the word AND to draw attention to the second part of my request, and that seems to have helped.
– ChatGPT will often provide a blurb at the end of a response telling you what it did and why. In this case, it told me that Canadian English generally uses the Oxford comma, which is an overreach and a generalization. (ChatGPT can be a bit of a know-it-all.)

b. Fixing word choice
The second, even more exciting, aspect of this functionality is changing word choice in a single step.

Whoa. You would not be able to do this cleanly using search and replace in Word, especially given the different suffixes and the fact that "observe" ends in an e and "watch" doesn't. This is where the multilayer language capabilities of ChatGPT really shine.

Formatting


a. PDF source files
Although PDF source files have become less common, they still land in our inboxes from time to time, especially in the form of government and official documents (again, consider any privacy concerns before pasting text into ChatGPT). They tend to be straightforward and repetitive, so it's usually in your best interests to get them into a format where you can use CAT and MT tools. You can use a robust optical character recognition (OCR) solution like ABBYY FineReader (which is, incidentally, AI-driven) to convert the PDF to an editable Word document. But when the source language has accents or complex characters, certain sections get blown out. Look at what ChatGPT can do to help you prep these problematic files for translation.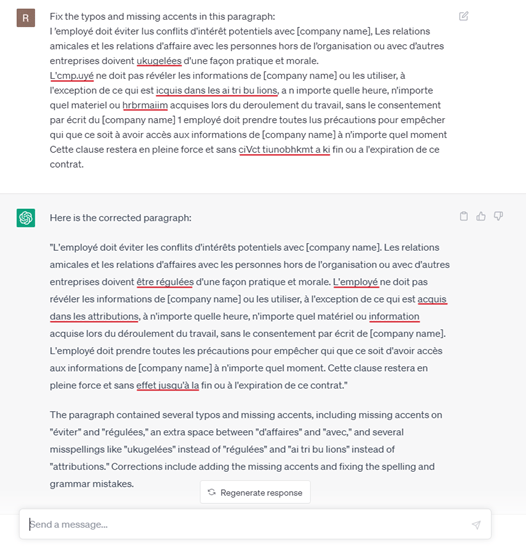 Some of the more obvious issues that ChatGPT fixed are underlined in red in the prompt and in the response above. It had no problem identifying the language, fixing the blown-out accent marks, and making sense of the gibberish.
Caveat:
The first time I entered the prompt, ChatGPT also reworded the paragraph for style. Obviously, you don't want to make changes to your client's source file, which is why I pointedly said "fix the typos and missing accents." Again, being as specific as possible in your prompts gets you the best results.
b. Figure and date formats
If you translate financial documents, you're familiar with the challenge of dealing with long tables of figures where you have to change the format of the decimal places between the source and target. This can be a slow and arduous task in a CAT tool, with minimal rewards in terms of improving your translation memory. Wouldn't it be nice to have a magic wand to be able to convert European decimal formats (point or space as thousands separator and comma as decimal separator) to U.S. decimal formats (comma as thousands separator and point as decimal separator), and vice versa? Enter ChatGPT.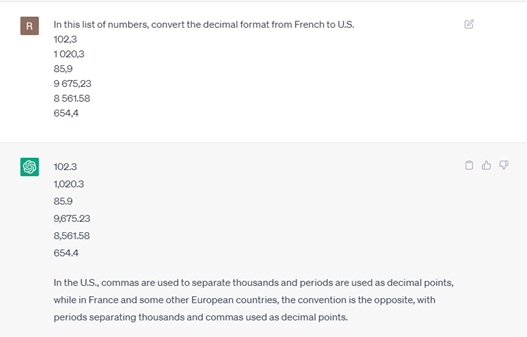 You are saved the dizzyingly dull task of replacing each space with a comma and each comma with a point.
Tip:
This works for date formats as well. (Sample prompt: "These dates are in European style and I need them for the U.S.")
Caveat:
The ChatGPT user interface is very basic and there are no special copy/paste functions yet. When you paste the numbers or dates into Word, you will likely have to do some wrangling to get them back into their original table layout.
So there you have it—five tedious tasks you can stop doing right away by using ChatGPT!
Your Turn To Test Drive
Language professionals should be at the forefront when it comes to exploring and experimenting with large language models. We are uniquely capable of analyzing their quality, accuracy, and sensitivity. So I encourage you to sign up to see what all the fuss is about. After all, the language industry has always embraced technology. From CAT to TM to MT, acronyms don't scare us, and AI shouldn't either. But the only way to know for sure is to take it for a spin yourself.
Find a cool new feature or trick ChatGPT can do? Drop it in the comments below or send me an email.
Want to learn more? Be sure to attend the ATA virtual conference on MT and AI in May!
RESOURCES
https://chat.openai.com/chat
https://www.nytimes.com/article/ai-artificial-intelligence-glossary.html
https://bard.google.com/ (Google's conversational AI service)
https://www.coursera.org/ (there are many, many courses on AI)
https://www.nytimes.com/column/hard-fork (Hard Fork podcast)
---
About the Author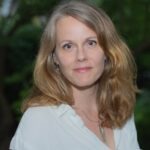 Rachel Pierce is a certified French to English translator and copywriter specializing in high-visibility marketing and communications content. Over the course of 20+ years in the language industry, she has been a localization project manager, an in-house translator and a freelancer. Drawing on a bachelor's degree in French Language and Literature (UMW), a master's degree in French Studies (AU) and armchair expertise in human psychology, she uses her creative language skills to help discerning agencies and businesses communicate with clarity, concision and credibility. To connect, email her at rachel@rachelpierce.com or visit www.rachelpierce.com.
Have an idea for us?
If you have feedback or ideas for future articles, contact the Business Practices Committee.