Email Best Practices: How Not to End Up in the Recycle Bin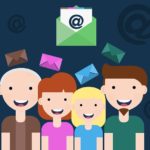 It's bound to happen sooner or later in our careers. That moment when someone thinks you have enough seniority and may be interested in subcontracting. Or your email address somehow ends up on a mass-distribution list. Or you just become the target of scammers.
Whatever the case may be, a message like the one below pops up in your inbox:
Complete with 14 attachments, this is a truly exceptional message that triggers an involuntary reaction in the recipient to hit "Delete."However, it makes a great specimen to learn about the traits of a fraudulent message, as well as what NOT to do when reaching out to potential clients.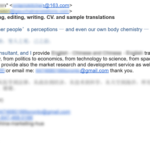 Let's dissect this message together, but first, a disclaimer: I know our readership spans at least six continents, and perhaps the formulas in this message may be acceptable in your culture. But for the sake of this exercise, I will be analyzing this message from the standpoint of an American-based recipient.
Email address. You've probably heard a million times that having an email address from a webmail provider as your work email doesn't look very professional. But sending a message from email address X, and asking the recipient to send responses to email address Z is a clear indication that a) this message is spam, and/or b) that this is a phishing scam. Notice the domain on the sender's email address is "@163.com", which is a known spam transmitter domain.
Result: Hit "Delete".
Subject. It is true that the purpose of our email should be clear in the subject line, but when approaching potential clients or prospecting, we need to be a little more creative. How about: "Professional interpreter looking for collaboration opportunities in Miami"? Perhaps I would not hit "Delete" so fast, and at least give them credit for coming up with a personalized subject.
In our sample message, notice how the subject was written. Capitalization is off and there are extra periods. That kind of sloppiness is another indication of a fraudulent message.
Being creative doesn't equal being weird. I'm big on creativity, and I'm all for doing things differently. But opening your email with a strange statement (quote?) that's supposed to be inspirational (or something) doesn't cut it.
Some people like citing famous authors, or including interesting quotes in their messages, and I think that's great and might work, depending on your audience. But it cannot be the first thing your reader sees when opening your email. Find a way to include it in the body of your email or at the end. Such messages should act as tasteful decorations to your main message.
On the other hand, scammers love to include intriguing quotes—often completely unrelated to the actual purpose of the email. I don't know if it's the shock factor, but I must confess that I've found myself staring at such quotes and trying to make sense out of them. But your prospective client won't waste their time; they will just hit "Delete".
Different fonts and colors. Due to the difference in color in the text, there is no doubt that this message is a Frankenstein of fragments. I don't like to realize that the sender might have copied and pasted the very message he is sending to me 50 times to 50 other people. If you want to make a good first impression, you need to make your recipient feel special.
I get it, we all draft templates that we then modify. And that's perfectly fine. But your reader can never find out that the message she is reading has had many incarnations before. So, be careful when you copy and paste your template in a new message. Some email clients change the font or its color when you copy and paste directly from another message, or when importing from a word processor.
Make it or break it in your opening paragraph. A memorable quote from our sample message is that this person is a business consultant who also acts as a translator, who then also provides market research. What?
Briefly stating who you are and what you specialize in is perfect. But then going on and on about yourself and the awesome things you could do is a big turn off. You must have a reason to send that message (a reason other than wanting a job, of course). That is, you must have something in common with that person. Why did you choose to send that message to Mary and not to Joe? If you are unable to answer this question, then I invite you to stop and think about it.
Sending messages out of the blue, without a clear purpose and for no reason other than distributing your résumé, is just as ineffective as going outside right now and handing out your résumé to any passerby.
See below for a simple checklist on what to include in your message.
Spelling and grammar. If you're reading this, then it's safe to assume you are a linguist, and I shouldn't have to say this, but I will anyway: Check your message multiple times and use the spellchecker.
This is another classic feature of spam emails: They're poorly written and plagued with errors, punctuation issues, broken sentences, you name it.
Attachments. The gentleman of the sample message sent 14 attachments, including his résumé, a few sample translations, a couple of inspirational memes, and so on. Needless to say, I didn't open any of them. Even if he had sent just one, I wouldn't have opened it either.
Nothing screams "spam" louder than receiving an attachment from a stranger. It's just a big no-no in today's netiquette. Even if the rest of the message didn't raise any red flags, I would never open an attachment from a sender I don't know.
Repeat after me: Thou shalt never send an unsolicited attachment.
What should you include in your message?
Here is a simple checklist to craft that very important first impression:
State your name, what you do (translator, interpreter, both), and briefly mention your areas of expertise.
Mention what you have in common with that person (i.e., you attended the same conference a few weeks ago, you both belong to the same group on LinkedIn, you read an article he wrote, etc.) This is your "hook", that is, something that catches the other person's attention and makes you stand out. It's the personal connection you have with that person or organization.
State the purpose of your email (to follow up after the conference, to connect, to learn more about the topic of his article).
Make sure to include how you think you can help, or your previous experience in the field, or any other piece of information to pique your reader's interest. It should provide additional information related to your opening paragraph.
If possible, include a call to action, that is, a question for your reader (i.e., "Is your agency interested in hiring in my field of expertise?" or "Are you looking for a French language editor?")
Include a link to your website, blog, LinkedIn profile, Facebook page, etc., and invite your prospect to learn about you and what you do. Remember: No attachments!
Close your email (i.e., "Looking forward to hearing from you").
Include your contact information in your signature.
The above recommendations apply not only when approaching other colleagues, but also if your target is an agency. Recruiters receive dozens of emails daily from people looking for opportunities. Your message should stand out, but in a positive way.
What would you do if you were on the recipient's end? If you received such a message, would you be interested in reading more about this person?
Think about these simple questions and ideas the next time you send a prospecting email. I promise it will make a world of difference and will increase your odds of achieving your goal. Let us know how it goes!
Image source: Pixabay
Subscribe to The Savvy Newcomer