Enhanced Productivity with Text Expansion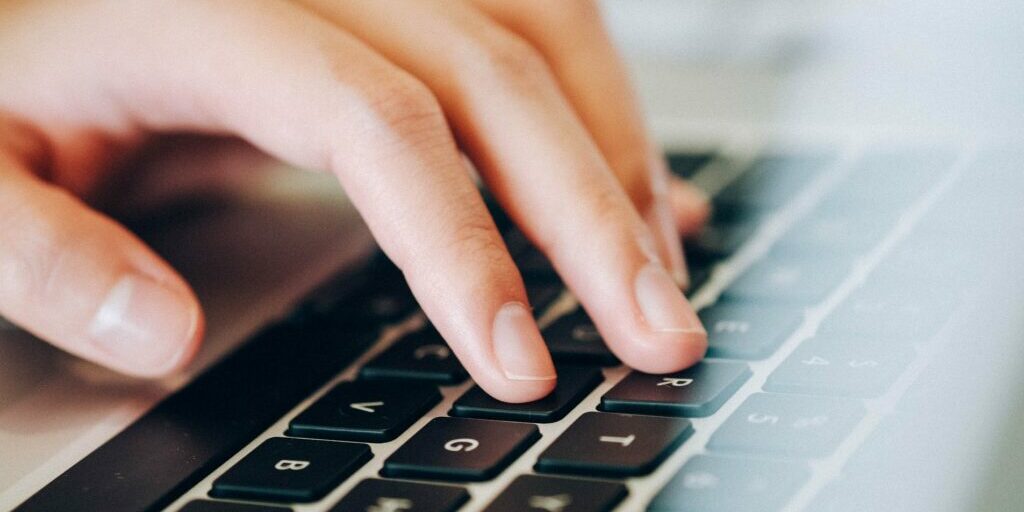 This post is a reblog, originally published in the Audiovisual Division Part of the American Translators Association's Deep Focus Newsletter, Issue 7 in 2020. It is reposted with permission from the author.
---
I haven't typed my full name or email address in years. Instead, I type abbreviations that get expanded after I type a punctuation mark or press a trigger key, such as the spacebar or Enter key. I also use text expansion for standard email replies, such as my reply when I receive a job that I can or can't accept, for the email body that accompanies my invoices and for phrases and long words in general. I use text expansion when translating, transcribing, and subtitling. I have abbreviations and expansions that I have used for years, but I also add new ones all the time, even when they will just be used for a short period of time, such as a company name that appears in a corporate video subtitling job.
Text expansion can be a great productivity boost, and given that it is so easy to set up and start using, I believe every language professional can benefit from it.
There are a number of text expansion solutions available, but in this article I will focus on two: PhraseExpress and TextExpander.
PhraseExpress
Not only is PhraseExpress easy to set up and use, it's also free for personal use. The user can set up keyboard shortcuts and abbreviations as triggers to input specific words and phrases. For example, for transcription work, it's easy to create an expansion with "i1" as the abbreviation that, when triggered, inputs "Interviewee 1: ", including the space after the colon, and even with any formatting required.
Abbreviations and expansions are set up in seconds, are immediately available in every program, and can be set up to use plain or formatted text. PhraseExpress runs in the background and can easily be opened to make changes to the existing list of abbreviations by clicking on its icon in the taskbar.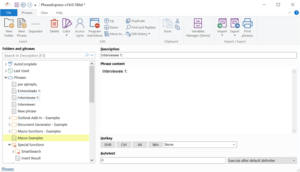 But PhraseExpress is much more than a simple text expander. It includes templates that can help the user get started, and there's a great smart search feature that will launch a search in a number of websites right from wherever we're editing text. The built-in autocorrect feature will smoothly fix any typos and spelling errors, and there are boilerplate templates to easily insert dates and times, a very handy feature that I have combined with an abbreviation so that whenever I type "td", today's date is automatically inserted wherever my cursor is. I use this all the time to quickly append the current date to the end of file names before sending them to clients.
Another favorite feature of mine in PhraseExpress is text prediction. The program can be set up to watch what we type and identify frequently used phrases, which are automatically memorized. After using the same string of words a number of times, PhraseExpress will offer them for insertion the next time we start to type the same words.
PhraseExpress can also keep track of everything that is saved to the clipboard, so we can use it later. This feature must be used with caution, though, as sensitive information will also be saved when enabled.
PhraseExpress is highly customizable, so the user has full control over how, where and when text will be expanded. For example, I like to keep text expansions off when I'm working in a CAT tool that has a great AutoSuggest feature, but I keep them enabled when working on subtitling and transcription programs, where there isn't much native help in terms of automated text suggestions.
TextExpander
TextExpander is a much simpler option than PhraseExpress. It doesn't have any of the additional features such as autocorrect or clipboard management, but its simplicity may actually be one of its strengths.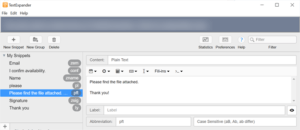 TextExpander does one thing and it does it very well: it stores and triggers text expansions. Adding new abbreviation + expansion pairs is simple and fast, and expansions are offered with a satisfying sound, which can be disabled if desired. The term used in TextExpander for expansions is snippets. Users can create snippets based on text, images and links. Text snippets can be plain or formatted. There are a number of customizations, such as hotkeys and triggering options, that are just enough to adapt the program to the user's preferences without making it overly complicated.
While the program has a free trial, using it beyond the trial period will require a monthly license, which can be purchased for individual users or for teams who can share snippets. This cloud-based feature can be very valuable when working on projects involving multiple people.
PhraseExpress and TextExpander are only two of a number of text expansion programs available today, and I hope this short article inspires you to look into the offerings and find the one that best suits your needs.
---
About the Author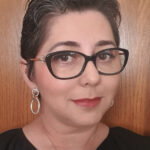 Nora Díaz holds a degree in English Language Teaching and Translation. She is a full-time published EN-ES translator and translation team leader, working for clients located around the world translating, editing or proofreading content on a wide variety of topics, including healthcare, marketing, technical and general texts, and leading teams of linguists, including translators, editors and proofreaders from Mexico, South America and Spain working together on large projects. Her interest in productivity has led to a constant exploration of technology to boost productivity, such as CAT tools, speech recognition, computer automation and custom macros. In her blog, Nora Díaz on Translation, Teaching and Other Stuff she shares what she has learned with translators from around the globe. She can be found online at:
Twitter: @NoraDiazB
LinkedIn: Nora Díaz
Facebook: Nora Díaz
Have an idea for us?
If you have feedback or ideas for future articles, contact the Business Practices Committee.