Newsbriefs: August 2, 2022
Show Your ATA63 Conference Spirit!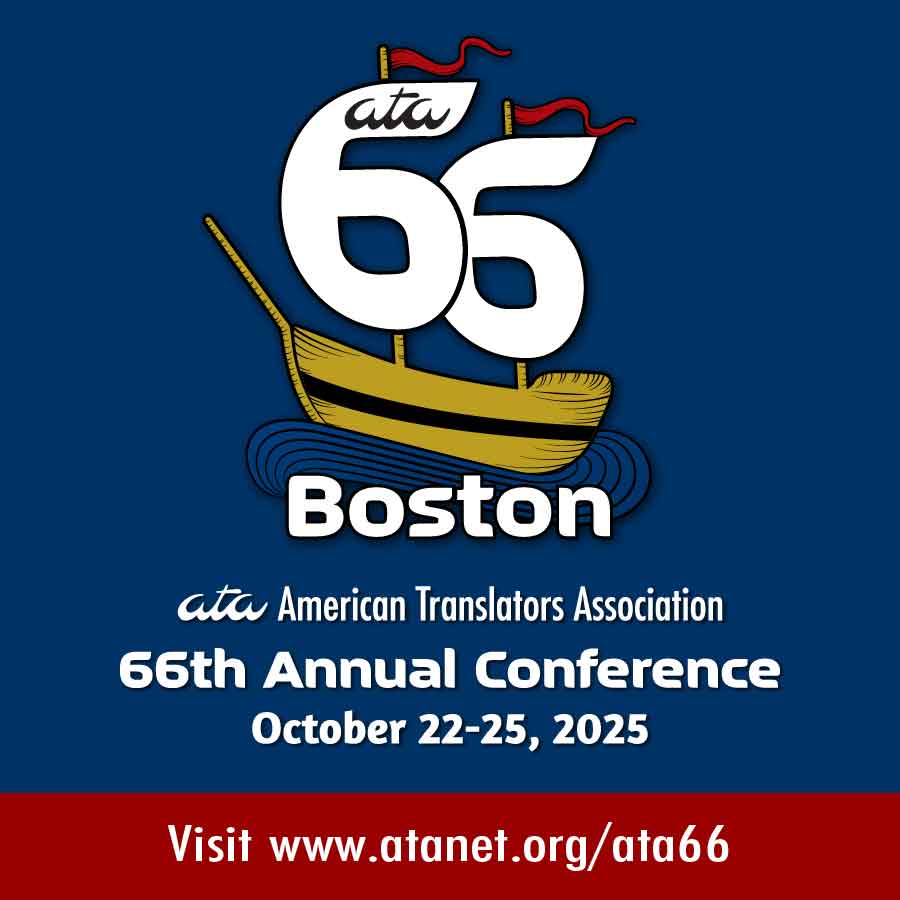 ATA is making a clickable conference button available for you to display on your website or blog. Whether you're attending the conference or not, this is a great way to support the Association.
Look for the source code in the footer of the
ATA63 Conference website
. Then just copy and paste into your website or blog.
There's No Better Value for the Money
Over 160 sessions, from practical skills to teaching theory, across all levels of experience—no other event provides translators and interpreters with this much professional development.
Early registration discounts are too good to miss!
Don't wait! Register by September 16 for the lowest rates.
Register now!
ATA63 Conference Quick Clicks
Conference Home Page
Advanced Skills and Training Day
Conference Sessions
Distinguished Speakers
Continuing Education Credit
Networking Events
Division Events
Job Fair
Tool Support Stations
Buddies Welcome Newbies
Hotel Reservations
Conference/Roommate Blog
Book Your Room in LA
ATA's 63rd Annual Conference will take place at the Westin Bonaventure Hotel & Suites (October 12-15). ATA has arranged for attendee room discounts at the hotel through September 16, or as space allows. Be sure to make your reservation early! It is not unusual for the room block to sell out before the end of the discounted rates.
Learn more and book now
.
Learn from the Locals
Members from the
Association of Translators and Interpreters in the San Diego Area
and
Northern California Translators Association
have put together an ATA63 Wiki with recommendations for where to go and what to do while you're in LA. Have tips to share? You can do that, too!
Learn more.
Industry News
Lawsuit: Largest Health Care System in the State of Washington Failed to Provide ASL Interpreters
U.S. News & World Report (DC) (07/26/22) Johnson, Green
According to a recent federal lawsuit, the largest health care system in the state of Washington failed to provide in-person American Sign Language (ASL) interpreters for deaf patients.
Disability Rights Advocates, a California-based nonprofit law firm, filed the class-action complaint in U.S. District Court in Seattle in July against Providence St. Joseph Health. The suit states that despite clients requesting in-person ASL interpreters well before their appointments, Providence's Seattle-area facilities frequently failed to provide them.
Instead, patients often had to rely on video remote interpreters on monitors that often froze or cut out, making it difficult for patients to receive and understand critical health care information. Staff sometimes moved the monitors around the room in an effort to find a better signal, which, according to the lawsuit, created a distraction from the serious medical conversations patients were attempting to have with their providers.
The lawsuit also states that patients sometimes resorted to communicating with health care providers by pen and paper, which was demeaning and left them without answers to all their questions.
"We deserve to be able to go to appointments, have procedures, and visit the emergency room without worrying about whether we will be able to communicate clearly or understand important medical information," plaintiff Kate Spencer said in a news release announcing the case. "We should never be forced to choose between our communication needs and our health care."
Providence said it was investigating the allegations. "The Providence family of organizations comply with all applicable state and federal accessibility laws and does not discriminate against anyone on the basis of disability, race, color, religion, national origin, sex, age, sexual orientation, or gender expression or identity," Providence said in a statement. "In addition, Providence believes every patient encounter is sacred and all patients have the right to considerate and respectful care."
Meredith Weaver, an attorney for Disability Rights Advocates, said video interpreting services can be useful, especially in rural locations where interpreters are unavailable, but "they require a high standard of technical capacity and staff capabilities—neither of which Providence ensured."
The lawsuit alleges violations of the Americans with Disabilities Act and the Affordable Care Act. It requests the court to ensure that Providence provide qualified interpreters when necessary, modify its policies to ensure deaf individuals are not discriminated against, ensure that the necessary technical requirements are in place to support video interpreters when appropriate, and train staff and doctors on interacting with deaf patients.
Interpreters Say Bilingualism in Canada's Parliament Threatened by Unaccredited, Off-Site Hires
CBC (Canada) (07/20/22) Kupfer, Matthew
A plan to hire non-accredited interpreters to address chronic staffing shortages among federal interpreters in Ottawa is raising concerns about the quality of bilingualism on Parliament Hill.
A decreasing pool of interpreters and an increase in hearing injuries associated with interpreting virtual proceedings have contributed to cancellations and delays.
The International Association of Conference Interpreters (AIIC) is denouncing a pilot program that would bring in interpreters who haven't been accredited through the rigorous process of the Translation Bureau, which is part of Public Services and Procurement Canada.
Nicole Gagnon, AIIC's advocacy lead and an interpreter herself, says the strategy is a quick fix that doesn't address the long-standing issues with training, recruiting, and retaining interpreters.
"It's an attack on the quality of the service we provide and the quality of bilingualism on Parliament Hill," Gagnon said. "These people are not qualified, so it's going to undermine quality, and it's going to be short-lived because these people are going to be working under the same conditions as we are."
Gagnon said there's also the risk it undermines trust between Parliamentarians, who need to understand each other for their work, and the Canadian public, who need to trust that proceedings are interpreted properly.
The Canadian Association of Professional Employees (CAPE), which represents staff interpreters on Parliament Hill, is also concerned that because the outside contractors will be hired by House of Commons administration and not the Translation Bureau, they will not be subject to the same quality control.
"We are shocked by this decision," said CAPE Vice President André Picotte. "Certainly, there are some people who are competent. The problem is we have no assurance of that. In an organization like the Bureau of Translation, there is verification."
U.K. Defence Ministry Struggles to Fill Interpreter Roles to Work with Ukrainian Troops
iNews (United Kingdom) (07/17/22) Parsley, David
The U.K. Ministry of Defence (MoD) is struggling to find sufficient interpreters to work with 10,000 Ukrainian troops being trained by the British Army. Some applicants who have attended recruitment sessions, however, are concerned that MoD might not be properly vetting new hires.
Worldwide Language Resources (WLR), a recruitment agency, recently posted an ad for interpreters on social media groups followed by Ukrainians who have sought asylum in the U.K. The ad emphasized the urgent need for interpreters to assist with military training being conducted across three unnamed army bases in England. The training involves weapons handling, battlefield first aid, fieldcraft, patrol tactics, and the law of armed conflict.
WLR also cited the immediate need for interpreters in an email to applicants. "We are urgently looking for linguists for an immediate start," wrote Mark Harry, a director at WLR's U.K. office. Applicants were invited to join a mass Zoom interview on June 22 "to help in speeding the recruitment process."
"There was a Zoom meeting with 100 candidates, but WLR claimed that they had about 250 candidates," said one applicant. "The agency was unable to even pinpoint the locations of the training facilities. You had to be committed for at least three months to go anywhere they send you."
The applicant also said some Zoom call participants were concerned about the level of English required, since the training includes instruction on weaponry. "There were only several people with interpreting experience there. The interviewers kept saying that you do not need to be an interpreter and that B2 level was more than enough. You just needed to be confident in your English skills.'" (B2 level English is designated as an "upper intermediate" ability to speak English as a second language.)
"The interviewers claimed they didn't need professionals, and this sounded crazy to me as we are talking about weapons, not toys," the applicant said. "You need people who speak fluent English and understand the responsibility for mistakes."
In response, a spokesperson for MoD said, "Soldiers from the armed forces of Ukraine training in the U.K. are under constant supervision by qualified British Army instructors and are assessed throughout the basic soldier training program on their ability to safely handle weaponry. All interpreters supporting the program must have a minimum of NATO Level 2 interpreter skills, and, as a result, have the abilities necessary to effectively communicate and explain instructions during the training."
Hip, Woke, Cool: It's All Fodder for The Oxford Dictionary of African American English
The New York Times (NY) (07/26/22) Harris, Elizabeth
English has many words and expressions that began in Black communities, made their way around the country, and then through the English-speaking world. Linguists say the process has been happening over generations, adding an untold number of contributions to the language. Now, a new dictionary—
The Oxford Dictionary of African American English
—will attempt to codify the contributions and capture the rich relationship Black Americans have with the English language.
A project of Harvard University's Hutchins Center for African and African American Research and Oxford University Press, the dictionary will not just collect spellings and definitions. Louis Gates Jr., director of the Hutchins Center and the project's editor in chief, said the dictionary will also create a historical record and serve as a tribute to the people behind the words.
"Just the way Louis Armstrong took the trumpet and turned it inside out from the way people played European classical music, Black people took English and reinvented it to make it reflect their sensibilities and to make it mirror their cultural selves," Gates said.
"The dictionary will contain words and phrases that were originally, predominantly, or exclusively used by African Americans," said Danica Salazar, executive editor for World Englishes for Oxford Languages. "Some of the research associated with making a dictionary involves figuring out where and when a word originated. To do this, researchers often look to books, magazines, and newspapers because those written documents are easy to date," Salazar said.
Researchers can also look to recorded interviews with formerly enslaved people, and to music, such as the lyrics in old jazz songs. Salazar said the project's editors also plan to crowdsource information, through requests on the Oxford website and on social media, asking Black Americans what words they would like to see in the dictionary and for help with historical documentation.
"You wouldn't normally think of a dictionary as a way of telling the story of the evolution of the African American people, but it is," Gates said. "If you sat down and read the dictionary, you would get a history of the African American people from A to Z."
"African American English is a variety with its own syntax, word structure, and pronunciation features, but it has long been dismissed as inferior, stigmatized, or ignored," said Tracey Weldon, dean of the graduate school at the University of South Carolina and a member of the dictionary's advisory board.
Gates said the dictionary will offer many insights, but one overarching lesson jumps out. "The bottom line of the African American people, when you read this dictionary, is that you'll say these are people who love language."
'Puzzle Piece of Inuit History': Duo Launches Translation Project of Historic Letters
Nunatsiaq News (Canada) (07/27/22)
Tagak Curley, an Inuk activist and politician, and Lydia Schoeppner, an assistant professor at Menno Simons College at the Canadian Mennonite University in Winnipeg, are working to translate more than 30 letters into English written by tribal elders during the 1960s and 1970s.
When Curley was in his 20s, he was worried that the Inuit were beginning to lose their identity and language to colonialism. So, he traveled throughout Nunavut and asked Inuit elders to write to him about how the Inuit culture could survive "in this generation of assimilation." The letters he received offer guidance on preserving Inuit language, identity, and culture.
"It's an understatement to say how important the letters are to me," Curley said. "In the 1960s and 1970s, I thought we were were getting to the point where if we didn't do something about it, the culture of the Inuit, as our forefathers experienced it and lived it for thousands of years, was going to end."
The project, called "Uppinaq–Letters from Nunavut: Inuit Culture Loss and Survival in the 1960s and 1970s," was funded by a $10,000 grant from Nunavut's Culture and Heritage Department. The translations are expected to take around six months, and once completed, Curely and Schoeppner hope to organize, catalogue, and possibly even publish them as a book.
It's the content of those letters that the project is really trying to preserve and make accessible for future generations, said Schoeppner, whose doctoral dissertation focused on the work of the Inuit Circumpolar Council and helped her connect with Inuit leaders like Curley.
The letters were also one of the factors that led to the establishment of the Inuit Tapiriit Kanatami, the national organization that works to protect and advocate for the rights and interests of the Inuit in Canada that Curley himself helped found.
"Those letters were basically the community mandate that was needed for the Inuit leaders to create an organization. Hearing from others, knowing that it's a critical situation, and that, yes, we need an organization, and, yes, we need a collective voice," Schoeppner said. "That's why the letters are so important, because they are a puzzle piece of Canadian history, a puzzle piece of Indigenous Canadian history, and a puzzle piece of Inuit history."
For Curley, the letters symbolize the Inuit elders and activists' tireless work to keep their culture alive. "We had to fight like hell to establish our identity and our rights, and we have in some measure, I think, achieved that," he said. "We couldn't do it all at once collectively, but that's why these letters are important. We need to hear from our group of elders, the wise people."
ATA News
B2BB: Business Technology for Interpreters
Presenter:
Elena Langdon
Date:
August 10, 2022
Time:
12:00 noon U.S. ET
Duration:
45 minutes
Language:
English
Level:
All
CE Point(s):
None
We need all the help we can get when it comes to running the business side of our interpreting services. Join this Back to Business Basics webinar for an update on the latest technology—from software addressing internal controls, such as accounting, scheduling, and communication, to on-the-job tools that can reduce fatigue and increase organization. This webinar will not only cover software but also show you how to evaluate and select the tools that are right for your business.
Register now:
Free to ATA members, but you must sign up by 10:00 a.m. ET on August 10. Click to learn more and
register
.
Stay for the Networking!
Immediately following the presentation, ATA's Membership Committee will host a 30-minute networking session. Make plans to stay awhile and get to know other webinar attendees one-to-one.
Other Upcoming Webinars
An Intro to Logo Design for Independent Translators and Interpreters
Presenter:
Amanda Calvin
Date:
August 4, 2022
Time:
12:00 noon U.S. ET
Duration:
60 minutes
Language:
English
Level:
All
CE Point(s):
1 ATA-approved
Learn how to create a unique logo and visual language that communicates your value and messaging effectively. Graphic designer Amanda Calvin will walk you through the concept of visual language and the process of crafting your logo, from sketch to final file. You'll also explore a variety of free and paid tools that you can use in your design process. Along the way, Amanda will share design tips and discuss common logo design pitfalls to avoid.
Register now!
ATA Member $45
|
Non-Member $60
Localization of Medical and Pharmaceutical Patent Translation – Challenges, Tips, and Pitfalls
Presenters:
Afaf Steiert, Matthias Steiert
Date:
August 9, 2022
Time:
12:00 noon U.S. ET
Duration:
60 minutes
Language:
English
Level:
All
CE Point(s):
1 ATA-approved
When the smallest error in medical and pharmaceutical translation can mean the difference between invalidation or a successful defense, localization is critical. Every little thing matters. Join this ATA webinar for a general introduction to the world of localization, intellectual property, and trademarks in patent translation, with examples from the fields of pharmaceutical and engineering patents.
Register now!
ATA Member $45
|
Non-Member $60
Top 20 Most Difficult Medical Terms to Translate
Presenter:
Pablo Mugüerza
Date:
August 11, 2022
Time:
10:00 a.m. U.S. ET
Duration:
90 minutes
Language:
Spanish
Level:
All
CE Point(s):
1 ATA-approved
There are always some medical terms that raise doubts when you're translating. They are often basic and appear frequently in medical translations. Some come to you almost automatically, and you know they work in the translation. Yet, you always have to look them up—or at least you should but can't always do so—because you aren't entirely sure of their meaning. Attend this webinar to learn how to master their translation and produce quality translation based on understanding, not repetition.
Register now!
ATA Member $70
|
Non-Member $90
If you have already registered for this webinar, check your inbox for no-reply@zoom.us to find your invitation to join. Email zoom@atanet.org if you cannot find it.
ATA Workshop: International SEO for Translators
Presenter:
Marion Rhodes
Date:
August 12, 19, and 26, 2022
Time:
3:00 p.m. U.S. ET
Duration:
6 hours
Language:
English
Level:
Intermediate, Advanced
CE Point(s):
6 ATA-approved
Search engine optimization, or SEO, is the new advertising. By following SEO best practices, businesses of all sizes and in all sectors strive to get to the top of online search results, including in international target markets. As a result, demand for qualified translators and copywriters who can localize keywords and provide optimized content in foreign languages is on the rise.
This 3-part, participation-driven workshop is for you if you are an experienced translator and/or a multilingual content/copywriter wanting to offer SEO services to direct clients or agencies, or simply optimize your own website.
Limited to 30 attendees.
Register now!
ATA Member $250
|
Non-Member $340
August Is Women in Translation Month
What began as a 2014 post on Meytal Radzinski's blog
Biblibio
has now grown into a global collaboration—with a month of its own—in support of women authors who write in languages other than English.
Women in Translation Month
pulls together diverse reading lists, reviews, and discussions to spread the word through #WITMonth on Twitter, GoodReads, and even a YouTube readathon. It's a personal challenge to read, share, and talk about new books and stories; to find unknown authors, and experience other cultures.
How can you participate?
Begin by following @Read_WIT and #WITMonth for book recommendations. Then check out Goodreads
Listopia for "Women in Translation,"
Seven Stories Press Women in Translation Collection
, and
PEN America Women in Translation Reading Series
, which is bringing together three panels of translators, and their authors, on Zoom. There's even a
WIT readathon on YouTube
August 8 to August 14. And finally, be sure to post your books and insights on social media with #WITMonth.
Free ATA Members-Only Webinar for August
ATA offers members one free monthly webinar, available on-demand. Don't miss this month's freebie!
Introduction to Mobile App Localization
The popularity of mobile applications has increased the demand for their localization—and opened up a world of opportunities for translators and localizers. If you're interested in checking out whether this specialty is something you'd like to add to your business services, then this webinar is for you.
You'll start with an introduction to this fast-growing market sector and the role translators play in the localization process. Next, you'll learn what skills, tools, and qualities are needed to localize mobile apps. And finally, you'll explore some of the most common problems for translators working on these types of localization projects and how to solve them.
About the Presenter
Dorota Pawlak is an English>Polish and German>Polish translator specializing in information technology and localization. She has an MA in translation and an MSc in multilingual computing and localization. Dorota teaches online localization courses and shares her tips for freelancers through her website. She is also a guest lecturer at the Katholieke Universiteit Leuven University in Antwerp, where she teaches website and mobile app localization.
Continuing Education Credit
Each free members-only webinar is approved for one ATA continuing education point (Category B), unless otherwise stated. After watching the webinar, complete and print the
Independent Study Verification form
. It will serve as your certificate of continuing education if your CE record is selected for audit at the time of your ATA recertification.
ATA Board Meeting: August 6-7
The ATA Board of Directors will meet August 6-7 in Chicago, Illinois. All ATA members are invited—and encouraged—to attend. This is your opportunity to learn what the Association is doing for you!
Can't attend? Then take time now to catch up on what ATA is doing!
Read the August 6-7 Board Meeting Agenda
Read the April 9-10 Board Meeting Summary
Submit Your Feedback to the Board!
We welcome comments and feedback from members. These are shared during every Board meeting and tracked over time to see what ATA programs and services are most valuable and where we can do better in the future. Feedback may be sent to any Board member. You'll find the contact information on
ATA's website
.
How ATA Works
The Board of Directors meets four times a year to establish policy, develop goals and objectives, and oversee ATA finances. To learn more about the Association's governance, check out
How ATA Works
.
Get Ready to Elect New ATA Board Directors!
Voting members of ATA will elect four directors to the Board in Los Angeles on October 13. The
slate is set
, the candidates are ready, and the opportunity for members to help shape the future of the Association is right there in front of them.
Not a voting member yet?
Find out how to become one through
Active Membership Review
. The review offers five ways to qualify for Voting membership—and none require ATA certification! The process is fast, free, and online.
Watch this video tutorial
to learn how to find and complete the application.
In the July/August Issue of The ATA Chronicle
Is Coaching Worth the Investment for Freelance Translators?
Entrepreneurship comes with many inherent challenges, and freelancers tend to face them alone. While there's a lot you can do on your own, at some point you'll probably need to look outside yourself for new ideas and solutions. Here's how hiring a coach can help your T&I business.
(Ingrid Holm)
Is the Pen Mightier than the Sword, or How Much Do Words Really Matter?
In recent years, people have become more aware of how language, and specifically inappropriate terms, further sustain inequalities. While replacing outdated terminology with new, more appropriate, and inclusive words seems straightforward enough and can solve concerns around racist, ageist, or ableist terms, using inclusive language to remove inequalities doesn't stop there.
(Isabell Otterbein)
Translators and Interpreters Working Together to Create a National Code of Ethics for Educational K-12 Settings
After years of borrowing from other fields of specialization, translators and interpreters working in K-12 educational settings are coming together to create a code of ethics and standards of practice that takes into account the reality of this environment and how multiple interpreting and translation specializations converge in this space. Find out how a multi-state team of professionals has taken the lead in a consensus-based approach to standardize practice and advance the recognition of the role of practicing professionals in this field.
(Loana A. Denis)
QuickTips: Get Started on a Style Guide Now!
Compiling a style guide is essential for translation and localization, but who has time to do it? Find out how creating QuickTips could help you address style and terminology issues right away.
(Mónica Adler, Carolina Torres Spencer)
Collaborating with Self-Published Authors: Another Option for Literary Translation
Can you make money working with self-published authors? Yes! Will you make as much per word as you would if you were translating a chemical patent or financial report? No, probably not, but it can still be worthwhile.
(Beth Smith)
How I Went from Translator to Subtitler in Just a Few Months: Tips to Start You on Your Way
The pandemic gave me something I desperately needed: a large chunk of time and a good reason to diversify my service offerings. Here's an outline of the four steps I followed to save my business and quickly transition from translator to subtitler.
(Molly Yurick)
Access to
The ATA Chronicle's searchable archives
is available online! And don't forget to check out the latest issue of the
Chronicle Online.
August 2, 2022

---
How often do you update your ATA Directory Listing?
---
Previous Poll Results
Are you planning to attend the ATA63 conference in Los Angeles?
52% = Yes
31% = No
17% = Undecided
---
In This Issue
ATA63
B2BB Webinar
Upcoming Webinars
SEO Workshop
#WITMonth
Free Monthly Webinar
ATA Board Meeting
Voting Membership
The ATA Chronicle
---
ATA Members Only

Free ATA Webinar!
Introduction to Mobile App Localization
Click to watch!
---
ATA Workshop
International SEO for Translators
Aug 12, 19, 26 @ 3:00 p.m. ET
Registration open
Back to Business Basics
Business Technology for Interpreters
Aug 10 @ 12 noon ET
Free to members!
Registration open
---
Calendar of Events
ATA Board of Directors Meeting
Aug 6-7, 2022
Chicago, Illinois
Learn more!
International Translation Day
A World Without Barriers
Sep 30, 2022
ATA63 Annual Conference
Oct 12-15, 2022
Los Angeles, California
Learn
more!
---
The ATA Chronicle July/August
"I've Always Done It That Way!" – Breaking Out of Old Habits
How I Became a Mobile App Localizer