Newsbriefs: March 15, 2021
ATA Asks Senate to Amend PRO Act
The Protecting the Right to Organize Act of 2021, also known as PRO Act, represents a dramatic change in U.S. labor law, including the adoption of the ABC worker classification test at the federal level. This will make it more difficult for individuals to claim independent contractor status. A similar ABC test proved disastrous for most professional translators and interpreters in California when the state's Assembly Bill 5 went into effect in 2020.

PRO Act is now under consideration in the U.S. Senate after being passed by the House of Representatives on March 9.

What You Can Do as an ATA Member
Protection from exploitation and misclassification is essential for some occupations. Ours is not one of them. We are calling on ATA members to contact their senators as soon as possible to inform them of the serious unintended consequences of PRO Act on our industry. Not only is the ability of professional linguists to practice as independent contractors threatened, but continued access to language services by those with limited English proficiency is also at risk.

Read ATA's letter to Congress: H.R.842 – Protecting the Right to Organize Act of 2021.

Contact Your Senator Today!
Go to the U.S. Senate to find your state's senators. Feel free to use ATA's letter to Congress as a basis for your communication and add your own personal appeal for amendment.

Questions?
Email the ATA Advocacy Committee at advocacy@atanet.org.
Industry News
---
Dutch and Catalan Translators of Amanda Gorman's Work Withdraw after Uproar that Black Translators Weren't Chosen
The Guardian (United Kingdom) (03/10/21)
Two translators who were commissioned by different publishers to translate The Hill We Climb, the poem American writer Amanda Gorman read at President Joe Biden's inauguration, have withdrawn following controversy that Black translators were not chosen for the job.

Victor Obiols, the Catalan translator, said he was contacted by a Barcelona publisher to produce the Catalan version of Gorman's poem. After he finished, Obiols said the publisher received word from the U.S. that he "was not the right person." He does not know if the rejection came from the original publisher or from Gorman's agent.

"I was notified that I am not suitable to translate it," Obiols said. "They did not question my abilities, but they were looking for a different profile, which had to be a woman, young, an activist, and preferably Black."

Obiols said the publisher promised to pay him for the work completed.

Acclaimed Dutch translator Marieke Lucas Rijneveld, winner of the 2020 International Booker Prize, said she withdrew from a project to translate Gorman's work after a similar backlash against her Dutch publisher for not choosing a Black translator.

"I am shocked by the uproar around my involvement to spread Amanda Gorman's message, and I understand the people who feel hurt by the publisher's decision to ask me," Rijneveld said.

Critics of Rijneveld's appointment questioned why a White translator had been chosen to translate the work of a Black writer.

"Gorman's work and life have been colored by her experience and identity as a Black woman," said Janice Deul, a Dutch cultural activist. "I'm not saying a Black person can't translate White work, and vice versa, but not this specific poem of this specific orator in this Black Lives Matter area—that's the whole issue."

"Gorman's team said that they still stand behind the publisher's choice, and I thank her for the trust that has been placed in me," Rijneveld said. "I happily devoted myself to translating Amanda's work, in which I saw the greatest task as keeping her power, tone, and style. I still wish that her ideas reach as many readers as possible and open as many hearts."

"It is a very complicated subject that cannot be treated with frivolity," Obiols said. "But if I cannot translate a poet because she is a woman, young, Black, and an American of the 21st century, then I cannot translate Homer because I am not a Greek, or Shakespeare because I am not a 16th-century Englishman."
U.S. Department of Justice Says South Carolina School District Must Provide Language Access for Limited-English-Proficient Parents
U.S. Department of Justice (DC) (03/02/21)
The U.S. Department of Justice (DOJ) announced it has settled an investigation over complaints that the Charleston County School District of South Carolina did not provide adequate language assistance to parents. The DOJ found that the district failed to communicate essential information to thousands of Spanish-speaking, limited-English-proficient (LEP) parents, denying their children full and equal access to education programs and services.

The investigation found that the district often failed to use qualified interpreters and did not consistently translate essential written information for parents into Spanish.

"Empowering parents and guardians with the information necessary to meaningfully participate in their children's education is critical to students' success in school and beyond," said Principal Deputy Assistant Attorney General Pamela Karlan of the DOJ's Civil Rights Division. "We look forward to continuing to work with the Charleston County School District to implement this agreement and fulfill its promise of equal treatment for all the district's students and their parents."

The DOJ said the district has committed to improve its practices through revised policies and professional development. The settlement agreement requires the district to use qualified interpreters and translators to communicate with parents about matters essential to their children's education and to cease relying on family members, untrained staff, and students for such purposes. The district will also provide LEP parents with access to documents and information about program offerings, including special education services, in a language they understand. The agreement also requires the district to provide interpreting and translation services at each of its 80 schools and programs.

The district said it is working to implement effective policies and procedures and provide employees with training so that schools can properly identify and provide meaningful communication to LEP parents and guardians. It will also ensure that all parents and guardians knowingly consent to or decline educational programming and services for their children. The district will contact LEP parents and guardians prior to holding special education meetings to notify them of the right to have a qualified interpreter at the meeting and translated special education documents, at no cost to the parent/guardian.
Mindestabstandsregelung: That's 6 Feet Apart to You
The Washington Post (DC) (03/01/21) Beck, Luisa
In a language known for its tongue-twisting words, Germans have coined over 1,200 terms to describe the rules and realities of the pandemic.

They're not alone, of course. Over the past year, languages all over the world have had to expand and adapt to address the pandemic and the lives it has upended. But in German—which has a grammar that lends itself to the formation of long, composite words and which borrows heavily from English—the rate and number of words added during the pandemic have no precedents in recent times.

"I can't think of anything, at least since the Second World War, that would have changed the vocabulary as drastically, and at the same time as quickly, as the coronavirus pandemic," said Anatol Stefanowitsch, a professor of linguistics at the Free University of Berlin. "I can think of many other examples of a huge cultural shift that changed the German vocabulary, but they didn't happen within a few months."

According to Christine Möhrs, a researcher at the Leibniz Institute for the German Language, part of the need to find words so quickly is psychological. "By being able to talk about the crisis, I think, we reduce fears," she said. "We can share our insecurities. But that means we have to find many new words because so many things happened during the past months."

Möhrs and her team have tracked more than 1,200 new coronavirus-related words as part of their ongoing effort to document changes to the language. As in most places, though, their use and meaning are also political. At the start of the pandemic, for example, the prohibition on going outside was called Ausgangssperre (going-out curfew). But German politicians soon realized that was a misnomer because people could still go outside to exercise, shop for essentials, or meet up with another person to go for a walk. The word changed to Ausgangsbeschränkung (going-out restriction) before later being subsumed by the more general English term "lockdown."

After some restrictions to slow the spread of the virus were eased in the fall, German media started using the term "lockdown light," while critics of the lockdown's multiple extensions dubbed the new regimen Salamilockdown, meaning a lockdown that happens in slices rather than at a single stroke. The list of new words that Möhrs and her colleagues compiled includes more than 30 versions of the term.

In recent months especially, with debates over vaccines flaring, words such as "Coronadiktatur" (corona dictatorship) and "Impfzwang" (forced vaccination) have been shared widely on social media and at anti-government demonstrations.

"By using such words, a meaning is suggested that was never intended," Möhrs said. "Even if a politician says, 'Vaccines are not mandatory, and there is no Impfzwang,' the sentence still contains the word."

Möhrs and her team are evaluating hundreds of new words for their list, with frequency of use among the criteria. It will take at least another year or two to determine whether any of them will make it into a dictionary.
Minnesota Governor Proclaims Day in Honor of His ASL Interpreter
Twin Cities Pioneer Press (MN) (03/09/21) Ferguson, Dana
Governor Tim Walz proclaimed March 9 as "Nic Zapko Day" in honor of the American Sign Language (ASL) interpreter who has appeared at nearly all of the governor's in-person press conferences during the pandemic to help convey the latest updates.

Governor Walz made the announcement at the end of that day's COVID-19 press conference and presented Zapko with a framed version of the proclamation.

"There's been somebody here since the beginning, ensuring that every single Minnesotan had access to this information, and that person is by far the most popular person on this podium and the most well-known," Governor Walz said. "I would like to make a proclamation today for Nic Zapko, who we've all come to really appreciate and enjoy."

Zapko's animated delivery has earned her much positive attention on social media and a growing fan base.

"Nic's interpreting has ensured that the Minnesotans who identify as deaf, deafblind, or hard-of-hearing receive real-time information about health and safety," Governor Walz read from the proclamation.

Zapko was visibly surprised by the announcement, which she interpreted to the audience just seconds after Governor Walz announced it. She and the governor then posed for photos with the framed proclamation.

Zapko, who is deaf, said she reads each of the tweets and Facebook messages fans send her. "I feel somewhat overwhelmed," Zapko said. "This is all so unexpected because I was just showing up to work and I certainly didn't expect to go viral. So, I'm touched, I'm inspired, and I'm inspired that they are inspired."
'Special and Beautiful' Whistled Language Echoes Around This Island
The New York Times (NY) (02/18/21) Minder, Raphael
On La Gomera, one of the Canary Islands in Spain, a whistling language is still in use thanks to mandatory classes for schoolchildren.

The language, officially known as Silbo Gomero, substitutes whistled sounds that vary by pitch and length for written letters. In 2009, the United Nations Educational, Scientific and Cultural Organization added Silbo Gomero to its list of the Intangible Cultural Heritage of Humanity. The United Nations agency described it as "the only whistled language in the world that is fully developed and practiced by a large community."

With its distinct geography, it's easy to see why whistling came into use on the Canary Islands. On most of the islands, deep ravines run from high peaks and plateaus down to the ocean, and plenty of time and effort are required to travel even a short distance overland. Whistling developed as a good alternative way to deliver a message, with its sound carrying farther than shouting—as much as two miles across some canyons with favorable wind conditions.

Some other islands have their own whistling languages, but their use has faded. "Silbo was not invented on La Gomera, but it's the island where it was best preserved," said David Díaz Reyes, an ethnomusicologist.

Older residents on La Gomera recall how Silbo was used as a warning language, particularly when a police patrol was spotted searching for contraband. In a recent fictional movie, The Whistlers, Silbo is used by gangsters as their secret code language.

But with whistling no longer essential for communication, Silbo's survival mostly relies on a 1999 law that made teaching it an obligatory part of La Gomera's school curriculum.

Since last spring, however, the coronavirus has forced schools to limit their whistling instruction. As a precaution against spreading the virus, students now spend their weekly whistling lesson listening to recordings of Silbo, rather than whistling themselves. An added difficulty for students is that they don't always have much opportunity to practice Silbo outside of school.

Still, some teenagers enjoy whistling greetings to each other and welcome the chance to chat without many of the adults around them understanding. Some had parents who went to school before learning Silbo became mandatory, or who settled on the island as adults.

Erin Gerhards, 15, said she is eager to improve her whistling and help safeguard the traditions of her island. "It's a way to honor the people that lived here in the past," she said. "And to remember where everything came from, that we didn't start with technology, but from simple beginnings."
ATA News
---
Translating in the Age of Neural Machine Translation
Presenter: Jay Marciano
Language: English
Level: Beginner, Intermediate

Part 1:
Date: March 23, 2021
Time: 12 noon U.S. EDT
Duration: 60 minutes
CE Point: 1 ATA-approved

Part 2:
Date: March 30, 2021
Time: 12 noon U.S. EDT
Duration: 60 minutes
CE Point: 1 ATA-approved

Artificial intelligence and neural networks are disrupting many industries, and translation is no exception. The question is not whether these technologies will impact the day-to-day work of translators and interpreters, but instead how language professionals will adapt to them over the course of their careers.

Prepare for the future by attending this two-part webinar series on neural machine translation (NMT)! The presenter will provide an essential overview of artificial intelligence (AI), neural networks, NMT, adaptive MT, predictive MT, and quality estimation systems.

An in-depth tutorial on revising NMT output with a hands-on exercise to be completed as homework will also be included. Discussions of language professionals' changing roles and the job opportunities created through new AI and NMT technologies will be central to the presentations.

What will you learn?
An understanding of AI, neural networks, NMT, adaptive MT, predictive MT, and quality estimation
An understanding of why professional translators should embrace the appropriate use of MT
A thorough introduction to revising NMT output (also known as post-editing)
An appreciation for the new career opportunities for language professionals created by improving technologies
A strategy for adapting to a continually changing translation market
Register now! ATA Member $90 Non-Member $120

Special Notes
This is a 2-hour webinar presented in 2 parts.
When you register for Part 1, you are automatically registered for Part 2.
ATA New Member Orientation Session
Attend this free one-hour member orientation session for a roadmap to the "what, why, and how" of ATA member benefits.

The session will answer questions on everything from how to set up an online ATA Directory listing and how to join and participate in ATA divisions to where to find ATA on social media and how to contact ATA Headquarters staff for assistance.

Be sure to bring your questions for our question-and-answer period!

Note: ATA's new member orientation is an interactive experience with networking and sharing via the chat feature. It will not be recorded. There will be additional sessions later this year if you can't make this one.

Free, but registration is required.

Don't miss out on benefits you can really use simply because you didn't know they existed. Even if you joined ATA years ago, this presentation is for you!
ATA Endorses H.R. 1009
ATA has written a letter endorsing H.R. 1009, a bill in the House of Representatives requiring all federal agencies to translate COVID-19 material into multiple languages no later than seven days after the material is made available in English. ATA's endorsement pointed out that the work of many limited-English proficient individuals puts them on the front lines of the pandemic response, leaving them more vulnerable to the virus and in critical need of information in their native language. Read the letter.
ATA62 Annual Conference Website Now Online!
It's never too soon to start planning for the ATA Annual Conference!

Whether you attend in person or virtually, you'll find the education you'll want to get ahead, the connections you'll depend on to grow your referrals, and the strategies you'll need to stay competitive.

What will ATA62 look like?
Conference Sessions: More than 12O, in person and virtually
Advanced Skills and Training Day: Interactive, in-depth three-hour courses
Speakers: Selected through a competitive peer-review process
Continuing Education: Up to 10 continuing education points for ATA-certified translators
Job Fair
In-person attendees can meet with agency reps at their hosted tables. Virtual attendees will be able to schedule appointments with agency reps through the virtual platform.

Book Your Hotel
Discounted rates at the Hyatt Regency Minneapolis will be available through October 1, or as space allows. Check out the hotel and book here.

Networking, Networking, Networking
Virtual Speed Networking
An exciting, effective, and fun way to generate more business and connections.
Stronger Together Networking
Where both in-person and virtual attendees will meet to share ideas and get to know one another. A popular new event from ATA 61!
Brainstorm Networking
A way to develop business insights and tackle common problems through small teams working together. Open for virtual and in-person attendees. A conference favorite!
And there's more! Head to the ATA62 Annual Conference website for details. Plus be sure to follow #ata62 on social media for updates as they become available.
ATA Mentoring Program Enrollment Ends March 31
Advice, encouragement, lessons learned, career guidance—the benefits of being a mentee can be critical to the success of a career or business.

What's it like to be an ATA mentee?
Applications from interested mentees and mentors will be accepted through March 31. This will be your only opportunity to enroll in the 2021 program. Submit your application now.

Want to an ATA mentor?
The ATA Mentoring Program is a chance for experienced translators and interpreters to give back to their profession. Click here to learn more about becoming an ATA Mentor.
Where Can I Find ATA's Back to Business Basics Webinars?
Sometimes it's the simple things that trip you up or hold you back in business. That's the point behind ATA's Back to Business Basics webinars—a series of 45-minute webinar sessions offering practical advice on common translation and interpreting business problems.

Where can I find the Back to Business Basics Webinars on demand?
Click Events in the main menu bar on ATA's website and find Webinar Series in the drop-down. Scroll down the page until you see Back to Business Basics listed.

Next Back to Business Basics Webinar: Personal Branding Basics

Presenter: Ben Karl
Date: April 6, 2021
Time: 12 noon U.S. EDT
Duration: 45 minutes
Language: English
Level: All
CE Points: None

Developing a personal brand is a classic "work smarter, not harder" technique. When done well, it can showcase your specific expertise and skill set, bring focus to your marketing, and target your ideal clients. Far more than a logo or a slogan, your personal brand will tell your story, from who you are and what you do to why you are the right person for the job.

Attend this webinar to learn how to build a brand that is practical for you and your clients. Limited to ATA members. Registration is required.
The ATA School Outreach Experience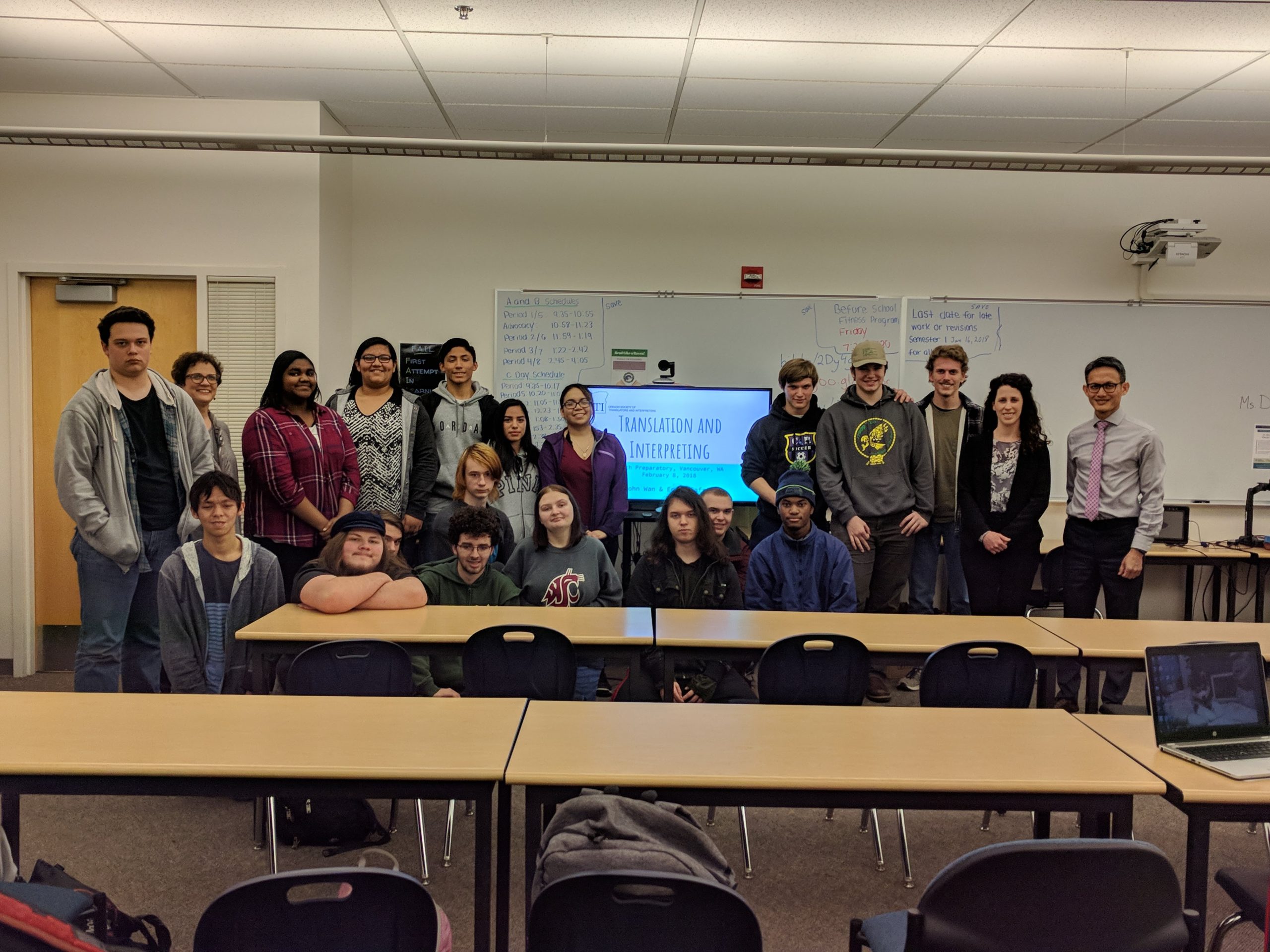 What's it like to participate in ATA's School Outreach Program?

In 2018, Emily Safrin and John Wan spoke to high school students in Vancouver, Washington about translation and interpreting.⁠⁠ John and Emily started the session off with a discussion about what it takes to be a translator or interpreter, centered around the question, "Is being bilingual enough?"⁠⁠ Next they described a day in the life of a translator versus an interpreter and shared a clip from a TED Talk on consecutive note-taking to demonstrate the intricacies of interpreting.⁠⁠
⁠⁠
"Seeing students so engaged with our work reminded me of how lucky I am to love what I do." Emily Safrin⁠⁠
⁠⁠
What's it like to win ATA's School Outreach Contest?
Let Denise Fisher, winner of the ATA 2018-2019 School Outreach Contest, tell you her story! Read It in the ATA Chronicle-Online.

How can you enter ATA's School Outreach Contest in 2021?
So, don't miss Episode 53 of The ATA Podcast to discover how you can share your passion for language with students—and possibly win a free registration to ATA's 62nd Annual Conference in the process.
ATA Webinar: Doing Business with Law Firms
Presenter: Paula Arturo
Date: April 14
Time: 12 noon U.S. EDT
Duration: 1 hour
Language: English
Level: All
CE Points: 1 ATA-approved

Legal translators are expected to master both law and language in a market with its own unique, and often rigid, set of rules. This is not a field you jump into unprepared.

So how do you know if this field is right for you? How do you prepare to cater to this demanding market? Should you sub-specialize? If so, in what? How do you get your foot in the door with top law firms? And once inside, how do you keep them happy and coming back?

Presenter Paula Arturo will draw on her 20+ years of experience and current role at a top law firm to help get you on track for doing business with law firms.

What will you learn?
Six essential steps to take before marketing to law firms
How to earn client trust
How to manage the cost of doing business without lowering your fees
How to foster long-lasting relationships with law firms
How to provide the full range of services law firms typically expect
Register now! ATA Member $45 Non-Member $60
Have You Watched this Month's Free ATA Webinar?
There are only 15 days left to watch this month's members-only free webinar. Don't miss it!

Editing Non-Native English Scientific Writing
How do you produce scientific texts that read as if they had been written by a native English speaker? Watch this webinar to find out! With these techniques, you will become a valued collaborator and go-to-editor for scientific publications. More than theory! "Before" and "after" examples provide you with a solid learning experience.
Coming Up in the March/April Issue of The ATA Chronicle
ATA Joins Forces with the Association of Language Companies to Bridge the Education/Career Gap
Language services companies increasingly need qualified talent to fill positions in translation, interpreting, localization, language instruction, testing, and more. Unfortunately, too few language majors enter the marketplace with real-world skills. The ALC Bridge project came into being to close the gap between the needs of academic institutions that are looking for job opportunities for their language students, and the business world, which is seeking students who are well prepared for careers in the language services industry. (Caitilin Walsh)

ATA's New Mastermind Program for Members: What Is It and Who Can Benefit
Do your fellow ATA members know business practices, resources, and techniques you would never hear about in a class or webinar? ATA's Mastermind Program may just change that! (Tess Whitty and Dorothee Racette)

Terms and Conditions of Service: The Key to Future-Proofing and Protecting Your Translation Business
From the buyer's side, I can't imagine working with a professional who doesn't put their promise in writing. From the translator's side, I can't imagine doing business without protecting my interests. A well-drafted contract is such a win for both sides in any line of business that the thought of doing business without one is, to me, simply inconceivable. (Paula Arturo)

How to Build Resourcefulness as a Freelancing Parent
Freelancing parents constantly face multiple challenges, especially during the current pandemic. Although there's no one-size-fits-all recipe for success, there are a few simple steps you can take to transition smoothly into the life of a freelancing parent. (Dorota Pawlak)

Translating Humor Is a Serious Business
Puns, regionalisms, wordplay, and cultural references can make the literal translation of humor a joke in itself, not to mention a seemingly impossible challenge for the translator! (Marina Ilari)

Access to The ATA Chronicle's searchable archives is available online! And don't forget to check out the latest issue of the Chronicle Online.
News summaries © copyright 2021 SmithBucklin
March 15, 2021
---
How did your business do in 2020?
---
Previous Poll Results
Have you received at least one dose of the COVID-19 vaccine?
19% = Yes
81% = No
---
In This Issue
PRO Act 2021
Webinar: Neural MT
New Member Orientation
ATA Endorses H.R. 1009
ATA62 Website Online
ATA Mentoring Program
Back to Business Basics
School Outreach
Webinar: Law Firms
Free ATA Member Webinar
The ATA Chronicle
---
ATA Members Only

Free ATA Webinar!
Editing Non-Native English Scientific Writing
Click to watch
!
New Member Orientation Session
Your roadmap to ATA member benefits!
March 24, 2021
Register now!
---
ATA Webinar Series
Neural Machine Translation
March 23 & March 30
12:00 noon EDT
Registration open!
Doing Business with Law Firms
April 14
12:00 noon EDT
Registration open
Inclusive Language
April 21
12:00 noon EDT
Back to Business Basics
Personal Branding Basics
April 6, 23021
12 noon EDT
Free! Register now!
---
Calendar of Events
ATA Mentoring Program
Deadline: March 31
Next ATA Board of Directors Meeting
April 24-25, 2021
Virtual
ATA62 Annual Conference
Minneapolis, Minnesota
October 27-30, 2021
---
Watch This!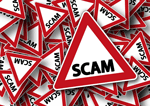 Free ATA Webinar!
Don't Fall for It! Scams Targeting Language Professionals
---
The ATA Chronicle March/April 2021
---
---
---
---
---
BE SURE TO FOLLOW ATA!
---
ATA is a professional association founded to advance the translation and interpreting professions and foster the professional development of translators and interpreters. With almost 10,000 members in more than 100 countries, the Association includes translators, interpreters, language services providers, educators, project managers, localization specialists, hospitals, universities, and government agencies.