2021 ATA and AFTI Honors and Awards
ATA has acknowledged outstanding service and professional distinction in the translation and interpreting fields since 1964, when it awarded its first Alexander Gode Medal. By recognizing colleagues who, through their daily work, volunteer activities, and careers, exemplify the qualities that define excellence in our industry, the association not only salutes their achievements but also honors their substantial impact on our community.
Learn more about ATA's Honors and Awards Program!
Click to listen to Episode 56 of The ATA Podcast.
In this episode, Honors and Awards Committee Chair Karen Tkaczyk talks with Host Matt Baird about what's on tap for this year's awards season and announces the opening of nominations for the ATA Dynamo, Mentoring, and Rising Star Awards!
ATA and the American Foundation for Translation and Interpretation are now accepting nominations for the following awards:
ATA Dynamo Award recognizes a person or entity that has worked in a particularly energetic way to benefit ATA and/or the language professions. (Deadline May 31)
ATA Mentoring Award recognizes a person or entity that has provided outstanding mentoring to the next generation of translators and interpreters, either through the ATA Mentoring Program or another channel. (Deadline May 31)
ATA Rising Star Award recognizes an early-career translator, interpreter, or entity that has already "made a mark" on ATA and is seen as having great potential to positively impact ATA and the language professions in the future. (Deadline May 31)
Alexander Gode Medal recognizes an individual or institution for outstanding service to the translation and interpreting professions. (Deadline June 1)
Student Translation Award recognizes a student for a literary or sci-tech translation or translation-related project. (Deadline July 31)
Questions? Need more information?
Check out
ATA's Honors and Awards Program
online or email honors_awards@atanet.org.
Industry News
---
In First, White House Provides American Sign Language Interpreting for Biden Address to Congress
The Hill (DC) (04/28/21) Schnell, Mychael
The White House livestream of President Biden's address to a joint session of Congress included an American Sign Language (ASL) interpreter, the first time in history an administration has provided ASL interpreting for such an address.

While it was not the first time a presidential address to Congress has been interpreted in ASL, Biden's speech did mark the first time the White House has provided it.

"To the best of our knowledge, this is a historical first for the White House to have an ASL interpreter during a presidential address to Congress," said Howard Rosenblum, chief executive of the National Association of the Deaf, a civil rights group. "We commend the White House for taking steps to ensure accessibility for all who are watching, including deaf and hard-of-hearing people."

White House Press Secretary Jen Psaki announced in January that an ASL interpreter would be a regular fixture at daily press briefings as part of the administration's "accessibility and inclusion efforts."

"The president is committed to building an America that is more inclusive, more just, and more accessible for every American, including Americans with disabilities and their families," Psaki said.

The White House only began including ASL interpreters alongside its briefings in the fall, under then-President Donald Trump, following a successful lawsuit filed by the National Association of the Deaf and five deaf Americans. In November, a federal judge said the White House had to provide ASL interpreting at coronavirus briefings.
New Contract Keeps Distance Interpreting Definition Deemed Problematic by Association
The Hill Times (Canada) (04/21/21) Ryckewaert, Laura
New contract terms for federal freelance interpreters released by Public Services and Procurement Canada (PSPC) have been criticized for keeping a definition of distance interpreting that's likely to expose interpreters to greater health and safety risks.

The new one-year contract has an option for the government to extend it for an additional year. The core issue is its definition of distance interpreting as specifically involving events "where the interpreter is in a different location than the majority of participants in a given event."

How an event is defined changes how it will be staffed. For in-person events, teams of two interpreters work up to four-hour shifts, while teams of three work up to six hours. But for distance interpreting, that's reduced to three-hour shifts for teams of two and to four-hour shifts for teams of three.

"Because they're putting it down in the contract for the very first time, it's important that they get it right, and, unfortunately, they've not changed the definition, and it's not right," said Nicole Gagnon, a federal freelance interpreter and Canadian advocacy lead for the International Association of Conference Interpreters (AIIC).

As part of health and safety measures adopted to protect interpreters during COVID-19, Canada's Translation Bureau has reduced shift hours to cut the amount of time individual interpreters are being exposed to the lower-quality audio transmitted by Zoom. However, the demand for interpreting services for virtual meetings continues to rise.

Gagnon said while the definition for distance interpreting isn't troubling right now as most meeting participants are remote, she expects virtual meetings will continue more often after the pandemic. She said the definition establishes a "loophole" whereby even if witnesses are tuning in online, if most participants are in the same room as the interpreter, it will be staffed as an in-person event. This would still mean extended exposure to low-quality audio.

"We just want to reduce the exposure, and they're not going far enough in this case," Gagnon said.

Gagnon said the AIIC issued a statement in April mentioning that the contract does not stipulate limits on overtime for distance assignments, and that when such events go "overtime, interpreters are expected to soldier on without regard to any health impacts they may suffer."

"The PSPC has chosen a short-sighted option that is not sustainable. When the already short supply of freelancers is burned out, where will Parliament turn to ensure it is functionally bilingual?" said Gagnon.
Maryland House Bill Proposes Licensing Requirements for Sign Language Interpreters
WDVM (MD) (04/15/21) Lewis, Nordea
Maryland House Representative Gabriel Acevero is sponsoring legislation to promote the regulation of sign language interpreting systems and authorizing the State Board of Sign Language Interpreters to establish licensing requirements.

According to a study by Johns Hopkins University, there are about 1.2 million Marylanders aged 12 years or older who are deaf or hard of hearing, but there are no licensing requirements for sign language interpreters and transliterators in the state. Proponents warn this can restrict the community's equal access to communication.

House Bill 535 aims to provide the community with reliable resources to ensure the accurate interpreting of information.

"The sign language interpreters bill is designed to ensure that we are not just protecting consumers, but that we have a standard," Acevero said. "A standard that allows for clear communication so that deaf and hard-of-hearing people are not being misinterpreted."
Department of Children, Youth, and Family Services to Pay $300,000 for Not Providing Services to Deaf Families in Washington
The Seattle Times (WA) (04/20/21) Quinlan, Maggie
Washington State's Department of Children, Youth, and Family Services has agreed to pay a $300,000 settlement after an investigation found it failed to provide appropriate services for deaf family members during meetings with social workers.

The Department of Justice's (DOJ) probe of the agency's Child Welfare Program found evidence of failures to provide assistance, including providing sign language interpreters, in more than 100 instances between 2017 and 2019. Some unaided communications with deaf or hard-of-hearing family members included interviews during investigations that could lead to termination of parental rights. The DOJ also found a lack of legally required services for deaf family members during court-ordered treatments and counseling required for reunification with children.

The DOJ also learned that when interpreters were not provided, social workers were often forced to rely on note-taking, which limited communication. Caseworkers also seemed to have negative views about the willingness of deaf and hard-of-hearing parents to cooperate in the agency's investigations when parents asked for services.

Although the agency will pay $300,000 to complainant families, it has not admitted to failures in the settlement agreement. The agency also agreed to establish new communications policies to comply with Americans with Disabilities Act (ADA) requirements and publicize those policies.

The agency will also appoint an ADA coordinator, train workers on the new plan, and maintain a log to track when social workers use auxiliary aids and services, including interpreter services. The U.S. Attorney's Office will review this log to ensure compliance.

"No individual should be denied or delayed access to public services because of a disability," said Acting United States Attorney Joseph Harrington for the Eastern District of Washington.
Deaf Woman Says NLVPD Told Her 11-Year-Old Twins to Interpret while Detained
Fox 5 KVVU-TV (NV) (04/14/21) Passoth, Kim
Andrea "Dre" Hollingsworth, who is deaf, was handcuffed in North Las Vegas in front of her twin girls, who were asked to interpret for police. Video of the incident has provoked outrage nationwide.

Because the officers were wearing face masks, Hollingsworth couldn't lip-read or understand what was being said.

"I'm being pulled over and the officer is interrogating me. I am black, I am deaf, and George Floyd just happened," Hollingsworth said. "The police officer pulled my arm, and I was like, 'whoa, why?' I have never experienced anything like that in my life."

The video shows the officer instructing Hollingsworth's 11-year-old daughters to also get out of the car to interpret for her. "I'm saying, 'Look at this. We need to text, we need to write,' and he just kept on talking," Hollingsworth said.

The officer then tells the girls he is investigating their mother. Hollingsworth said she was in the area to get rent money back after moving out early, but the landlord called police. "She is just here because she needs her money back from her friend," one of her daughters tells the officer on the video.

Hollingsworth said she was forced to sit on the curb, with the officer pushing her to sit down. "Tell her to put her hands behind her back," an officer is recorded saying to the twins. "One of you guys need to talk some sense into her," the officer said shortly after.

Andrew Rozynski, a deaf rights lawyer with Eisenberg & Baum in New York, said "requiring an 11-year-old to interpret in a police situation is against the Americans with Disabilities Act. There are regulations in there that expressly prohibit children from being used as interpreters."

He said the children were forced into a position they shouldn't have been in, as many police departments have 24-hour interpreting services for multiple languages, including sign language. "There are services out there such as video relay, in which someone can bring up an interpreter on an iPhone or iPad," Rozynski said.

Hollingsworth is calling for change so others can avoid her experience. "I really want the Las Vegas police to change, because it is really scary how deaf people are treated," she said. "If my kids weren't with me, then I would have died that day. My kids saved my life."
ATA News
---
ATA Joins Red-T in Advocating for Interpreters
ATA has joined Red-T's international language coalition and Amnesty International to request the urgent relocation of interpreters who assisted American forces in Afghanistan. In a letter to the U.S. Department of State, the coalition noted that the complicated and often problematic Special Immigrant Visa process has left many local civilian linguists and their families waiting for years while facing retribution from insurgents.
Read Red-T's Open Letter Requesting the Urgent Relocation of Afghan Interpreters.
With the scheduled withdrawal of U.S. troops on September 11, time is running out to save those interpreters who supported the U.S. and its allies in the global fight against terrorism. The coalition also reminded U.S. Secretary of State Antony Blinken that a similar evacuation was undertaken near the end of the Vietnam War, when thousands of Americans and Vietnamese were airlifted to safety by U.S. forces.
ATA Workshop: Consecutive Note-Taking
Presenter:
Andy Gillies
Date:
May 13, 2021
Time:
9:00 a.m. U.S. EDT
Duration:
4 hours
Language:
English
Level:
Advanced Only
CE Points:
ATA 4 CEPs; CCHI 4 CE hours; IMIA/NBCMI 0.4 CEUs
This interactive workshop will include a presentation of the main elements of a note-taking system for long consecutive interpreting followed by one-on-one practice. There will be two, two-hour sessions with a one-hour break in between.
Come prepared to participate!
Attendees will be expected to actively participate in practice sessions encompassing the techniques introduced during the workshop.
This webinar was organized with the assistance of ATA's Interpreters Division.
What will you learn?
Review and practice a complete note-taking system
How structure in notes can be used to present meaning
How to use notes to improve delivery
How to use symbols in notes effectively
How to note less and remember more
Register now!
ATA Member $180
|
Non-Member $240
Attention!
This workshop is limited to 14 advanced-level interpreters. Credentialed interpreters will receive priority. Confirmation of payment does not guarantee you a seat as we will vet all attendees for credentials and/or experience before finalizing a registration and issue refunds for those who are not selected to attend. We will maintain a waitlist once we reach 14 attendees.
Board Meeting Summary: April 24-25
The ATA Board of Directors met April 24-25, 2021 via Zoom. A summary of the meeting's actions, discussions, and ongoing committee work is online in the Members Only area of the ATA website. Login is required.
Read the latest ATA Board Meeting Summary now.
The Board of Directors meets four times a year to establish policy, develop goals and objectives, and oversee ATA finances. To learn more about the Association's governance, check out
How ATA Works
.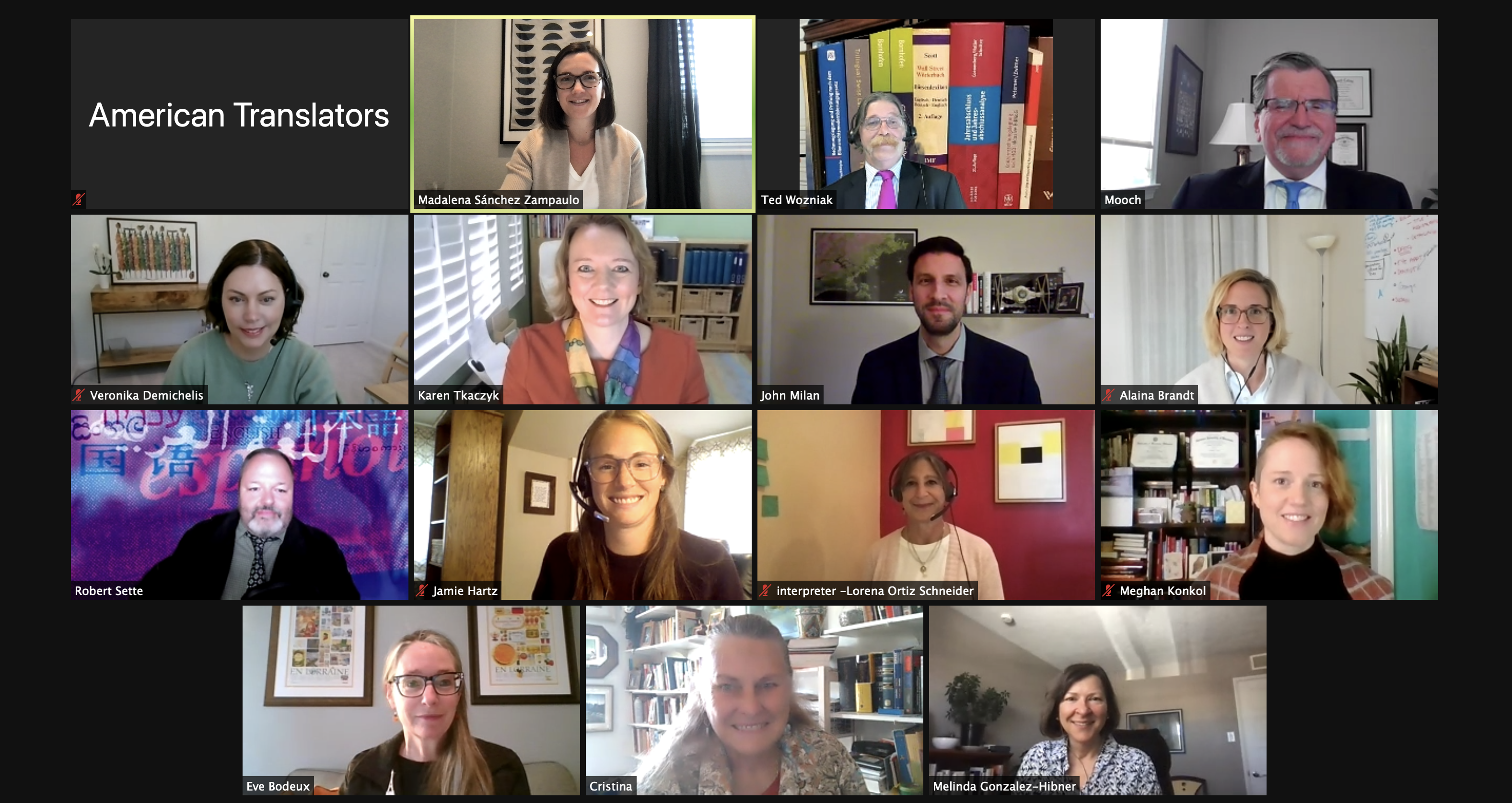 Top Row
(from left): President-Elect Madalena Sánchez Zampaulo, President Ted Wozniak, Executive Director Walter Bacak.
Second Row:
Director Veronika Demichelis, Secretary Karen Tkaczyk, Treasurer John Milan, Director Alaina Brandt.
Third Row:
Directors Robert Sette, Jamie Hartz, Lorena Ortiz Schneider, Megan Konkol.
Fourth Row:
Directors Eve Bodeux, Cristina Helmerichs, Melinda Gonzalez-Hibner.
ATA 2021 Elections: Announcement of Candidates
ATA will hold its regularly scheduled elections at ATA's 62nd Annual Conference in Minneapolis, Minnesota, to elect a president-elect, secretary, treasurer, and three directors.
The candidates proposed by the Nominating and Leadership Development Committee are:
President-elect (two-year term)
Veronika Demichelis
Geoff Koby
Secretary (two-year term)
Alaina Brandt
Cristina Helmerichs
Treasurer (two-year term)
Ben Karl
John Milan
Director (three positions, three-year terms)
Robin Bonthrone
Céline Browning
Aaron Hebenstreit
Manako Ihaya
Meghan Konkol
Carol Shaw
Additional nominations, supported by a written petition signed by no fewer than 60 voting members and the nominee's written acceptance statement, must be received by the Nominating and Leadership Development Committee by June 1. Acceptance statements and petitions should be submitted to Nominating and Leadership Development Committee Chair David Rumsey.
Candidate statements and photos will appear in the September/October issue of
The ATA Chronicle
and on ATA's website.
Become an ATA Voting Member
ATA Associate Members who can demonstrate that they are professionally engaged in translation, interpreting, or closely related fields may apply for Voting Membership. How? Just complete and submit the
ATA Active Membership Review application
. No additional paperwork required. It's fast, free, and easy!
Free ATA Orientation Session May 12!
Attend this free one-hour member orientation session for a roadmap to the "what, why, and how" of ATA member benefits.
The session will answer questions on everything from how to set up an online ATA Directory listing and how to join and participate in ATA divisions to where to find ATA on social media and how to contact ATA Headquarters staff for assistance.
Note: ATA's new member orientation is an interactive experience with networking and sharing via the chat feature. It will not be recorded. There will be additional sessions later this year if you can't make this one.
Free, but registration is required.
Don't miss out on benefits you can really use simply because you didn't know they existed. Even if you joined ATA years ago, this presentation is for you!
National Language Museum
The National Museum of Language
will present an
Overview of the National Foreign Language Center: Programs, Products, and Research Initiatives
as part of the virtual museum's ongoing speaker series on May 8 at 2:00 p.m. Eastern Daylight Time. To register, please visit
http://languagemuseum.eventbrite.com
.
Change in ATA61 Virtual Conference Access
The ATA61 conference portal closed on May 1.
All three-day attendees
, however, will continue to have unlimited access to the virtual conference sessions through ATA's server.
How? We've made it easier than ever this year. Just log into
ATA's Members Only area
and scroll down to the section labeled ATA Education. You'll find a link to "Watch your Virtual Conference sessions" as well as a clickable button to print your conference certificate.
Did You Miss Attending the ATA61 Virtual Conference?
Get it now on demand! When you want it, where you want it—the ATA61 Annual Virtual Conference recordings offer you 118 hours of continuing education at your convenience. You'll find sessions for both translators and interpreters covering a range of topics in finance, law, medicine, science, technology, and more.
Available for purchase!
Advanced Skills and Training Day Sessions On Demand
Advanced Skills and Training (AST) Day sessions are also available for on-demand streaming at an ATA member-discounted price. Each three-hour AST course was chosen to provide intensive, interactive instruction presented by industry leaders.
Legal Translation Boot Camp
Paula Arturo, presenter
Advanced Research Skills for Medical Translators
Danielle Maxson, CT, presenter
A New Advanced Approach to Terminology Management and Compilation
Sameh Ragab, presenter
Financial and Life Planning for U.S.-Based Freelancers
Ted Wozniak, CT, presenter
Effective Techniques for Teaching Interpreting Modes in Short-Course Settings
Katharine Allen, presenter
Special Education Interpreting
Holly Silvestri, presenter
Introduction to Post-Editing: Working with Machine Translation to Improve Efficiency
Jay Marciano, presenter
Interpreting for Depositions
Judy Jenner, presenter
Writing Skills to Enhance the Value of Medical, Technical, and Scientific Translators
Romina Marazzato Sparano, CT, presenter
Negotiating Skills and Value-Based Pricing Strategies for Translators
Michael Schubert, CT, presenter
Hands-on Subtitling Workshop: Tips and Tricks
Deborah Wexler, CT, presenter
Achieving Real Improvement in Simultaneous Interpreting: Insights and Exercises for Practicing Professionals
Barry Olsen, presenter
Professional development is a great way to show clients you're on top of your game. And the ATA61 Virtual Conference plus AST sessions is your opportunity to do just that. Purchase one or purchase all—the price is right!
Click now for details.
Get ready for ATA62!
It's not too soon to start making plans for
ATA's 62nd Annual Conference
in Minneapolis, Minnesota.
Start by booking your hotel room now
, and then be sure to follow #ata62 on social media for updates as they become available. Remember, this will be a hybrid event, so if you can't join us in person, you'll be able to attend online.
So, mark your calendar, save the dates—October 27-30, 2021. We'll see you there!
AFTI Scholarships for the ATA Annual Conference
To help defray the costs of attending the ATA62 Annual Conference in person (Minneapolis, October 27-30), the American Foundation for Translation and Interpretation (AFTI) is offering a limited number of $500 scholarships to students and recent graduates of translation or interpreting studies and related fields. The program must be leading to an academic degree or certificate.
Eligibility
To be eligible, individuals must have never attended an ATA Annual Conference in person; attendees of the ATA61 virtual conference are eligible to apply. Applicants must also not be previous AFTI scholarship winners, with the exception of those who received scholarships to attend the ATA61 virtual conference.
Recent graduates must have completed their program within 12 months of the start date of the ATA62 Annual Conference (October 27-30, 2021).
How to Apply
You'll find all the details and the
application form
on the AFTI website. The deadline to apply is July 31.
Free Members-Only Webinar for May
ATA offers members one free webinar every month. Don't wait to watch this month's freebie!
Building Entrepreneurial Skills for Interpreters and Translators
Find out how to minimize the risks and maximize the results when starting a freelance translation or interpreting business. The webinar covers how to market yourself competitively, develop successful relationships with clients, and increase revenue. You'll also learn what language services providers expect from linguists and how you can align your business goals to theirs.
About the Presenter
Rosanna Balistreri is an educator and translator working in Spanish, Italian, and English. She served as president of the California Healthcare Interpreting Association (2010-2011) and is the current president of the National Council of Interpreters in Health Care. In 2008, Rosanna founded REACH, a consulting and training company committed to increasing patient safety and enhancing the quality of health care.
Coming Up in the May/June Issue of The ATA Chronicle
ATA's Virtual Advocacy Trip to Capitol Hill
Every year, ATA lends its voice as one of the advocates from the language professions to meet with Congress and request legislation and funding in support of language education and industry priorities. This year, the Association had the opportunity to do so twice!
(Caitilin Walsh)
ATA Member Orientation: A Bird's-Eye View of All ATA Has to Offer
As an association with members around the globe and a wide variety of interest groups, programs, and events, ATA might seem like somewhat of a puzzle to members. That's why ATA's Membership Committee began to consider how it could offer an easy-to-digest snapshot of everything ATA offers so members could choose where to get involved and avoid feeling lost. Our answer: the ATA Member Orientation sessions!
(Jamie Hartz, Meghan Konkol)
A Sense of Hope: Interpreters/Translators Share Their Vaccination Journey
As the vaccination distribution program kicks into high gear in the U.S., we asked interpreters and translators what getting vaccinated means to them both personally and professionally. We also asked them if the advocacy efforts of translator and interpreter organizations had an impact on their eligibility for early vaccination.
6 Ways to Stop Self-Sabotaging Your Online Marketing Efforts
We've all been guilty of self-sabotage at some point during our entrepreneurial journey. We often make online marketing much harder than it really is. The stories we tell ourselves about why we can't do something can cause us to stall our marketing efforts, whether we realize it at first or not. The key is to make your marketing feel like you.
(Madalena Sánchez Zampaulo)
Getting Started with Terminology Management
Terminology management makes or breaks the success of globalization and localization efforts in terms of both budgets and sales. Despite its strategic value, however, many are unaware that terminology is key to producing solid, well-performing products. And once they are aware, many don't know where to start. If you find yourself needing a little help in this area as well, then read on for some guidelines for getting started with terminology management.
(Alaina Brandt)Access to
The ATA Chronicle's searchable archives
is available online! And don't forget to check out the latest issue of the
Chronicle Online.
May 4, 2021
---
Do you offer rush services?
---
Previous Poll Results
How many hours per day do you work on average?
29% = Less than 6 hours
9% = 7 hours
29% = 8 hours
33% = Greater than 9 hours
---
In This Issue
Podcast: Honors/Awards
ATA Joins Advocacy Effort
Workshop: Note-Taking
Board Mtg Summary
ATA Orientation Session
Nat'l Language Museum
Change in ATA61 Access
AFTI Conf Scholarships
Free ATA Member Webinar
The ATA Chronicle
---
ATA Member Orientation Session
Your roadmap to ATA member benefits!
May 12, 2021
Register now!
ATA Members Only

Free ATA Webinar!
Building Entrepreneurial Skills for Interpreters and Translators
---
ATA Workshop
Consecutive Note-Taking Workshop
May 13
9:00 a.m. EDT
Register now
---
ATA Webinars
Back Translation: A Specialized Market for Spanish to English Medical Translators
May 18
Accent Improvement for Asian-Language Speakers
May 26
Taking Care of Your Style Set
June 8
---
Calendar of Events
ATA Honors and Awards
Dynamo, Mentoring, and Rising Star nominations
Deadline: May 31, 2021
Make a nomination now!
Next ATA Board of Directors Meeting
August 7-8, 2021
ATA62 Annual Conference
Minneapolis, Minnesota
October 27-30, 2021
Check out the website!
---
---
---