Networking at a Conference: Chris Durban on and off stage

By Cynthia Eby & Bianca Dasso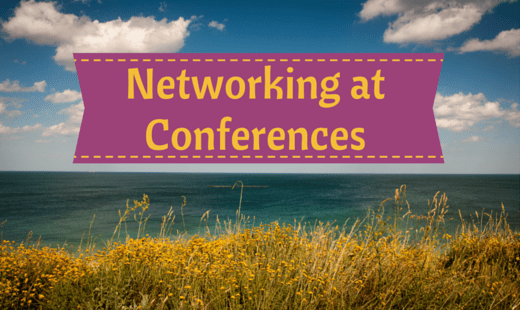 This April, I attended the VI Congreso Latinoamericano de Traducción e Interpretación: El traductor después del mañana (6th Latin American Translation and Interpreting Congress: Translator after tomorrow) in Buenos Aires. I was there watching and learning as I often have this year in my job as an administrative assistant for my mom, Helen Eby, and then we spent some time visiting family.
ATA member Chris Durban was also there—as a speaker in the opening roundtable and also for her own presentation: "The Business of Translation: 8 ideas to implement as soon as you exit this room." Over the three-day conference, I had the opportunity to get to know her as both a speaker and a friend, and it made me more aware of how newcomers to the profession can—and should—take full advantage of opportunities that might otherwise pass them by. In a nutshell: by all means attend official sessions and make note of ideas and concepts that can shape your practice. But also make a point of connecting with speakers—actually going up and talking with them. Because most are far more approachable than you'd think, and genuinely interested in feedback on their talks, which in turn leads to connections and new ideas for you.
I'll use Chris as an example—keeping in mind that I was meeting her in person for the first time in Argentina.
Chris: The Speaker
When you attend one of Chris's presentations, probably the first thing you will notice is her energy. She brings life and passion to her speaking, a sense that she really believes what she says.
But what, exactly, does she say? Well, in Buenos Aires her main topic was how to grow your business—a subject that seemed to resonate with many attendees, students and others. Here are the five points she made which I consider most important:
Get out of the house. Go to places where clients gather, like the local chamber of commerce or a relevant association. Don't be afraid to phone a client. Be proactive in looking for customers and also getting to know the ones you already have.
Look for GOOD clients, not BAD ones. The good ones are reliable, the bad ones are not. The good ones pay well, the bad ones go for the lowest bidder. The good ones will also force you to raise your own bar, which is all for the better.
Don't go it alone. Have a mentor, a reviewer, or a small group of people in your language pair that you meet with to discuss and compare translations. You need the feedback to grow, and you need the community to remind you that you aren't the only one.
Go out of your way to help clients and colleagues. Point out mistakes to potential clients in published translations courteously—but be sure to congratulate people on translations that are well done, too. Generosity sets the stage for all sorts of interesting developments: for example, consider at least three freebies you might offer potential clients when you contact them, like translating their "About us" page or bio blurb. Another idea is to tweet tips about difficulties in your field for clients or colleagues, or email them to clients.
Think of your online presence like a resume or a cover letter. Focus on your real specialties. Don't list everything you've ever done, just the ones you know you do well. This is often the first thing a potential client sees about you, so be sure to put your best foot forward.
As you can see, there was already plenty of food for thought in her "official" presentation. But why not take it a step further?
Chris: The Friend
I've described Chris on stage, microphone in hand, but who is she off stage? As luck would have it, after Chris's session I met Bianca Dasso, an interpreting student from Buenos Aires. During a lull in the conference program we formed the beginnings of a friendship with each other—and with Chris. After chatting for a while about various things, the three of us went off to a park to escape the crowds for a bit. There we spent time chatting and joking in a more relaxed environment, surrounded by kids playing soccer, people talking, and the general business of life.
As the daughter of a friend, it was fairly easy for me to strike up a conversation with Chris, but Bianca didn't have those advantages. I wondered how she went about it. After the conference, she told me this story:
I started talking to Chris after the opening roundtable. I was sitting at one of the tables downstairs next to her, although I didn't realize it was her at the time. She was working at her computer, frustrated that the Wi-Fi wasn't working right. And I laughed under my breath. In five minutes, we were talking. We kept talking for another half hour.
The next day, I saw her at the conference again in the morning. As I passed her, she recognized me and said hello. So we talked again that morning.
I really enjoyed taking advantage of opportunities like these, to get to know her and other speakers at the conference. It might seem intimidating to approach someone as prominent as Chris, yes, but she can also sit and talk comfortably like other people. Take-away: You can learn so much from just going up and talking to people who've taken the time to prepare a presentation and clearly enjoy what they do. Wonderful opportunities can come from losing your fear and taking the first step.
Like Bianca, I enjoyed the time I spent with my two new friends, and can attest that "even" speakers who have their own professional networks can be very approachable. In Chris's case, she enjoyed taking time out of her day and spending it with young people, whether she was being asked for advice or talking about something else entirely.
Lessons Learned
First, I strongly advocate taking Chris's "official" advice to heart. I've seen those same tips work in my mom's business, when, for example, she calls the local hospital and gives them information from the concerns she hears expressed in the community about their services. It helps her develop a stronger relationship with them, as her client, and helps them serve the Spanish-speaking community better—win/win. My Savvy teammate David Friedman has also been applying these principles to help grow his business. He mentioned as an example how grateful two of his clients were recently when he pointed out some typos and inconsistencies in the source text.
Second, don't put speakers on a pedestal: remember, they are people, too. Don't hesitate to go up and talk to them. I was able to approach Chris naturally because my mom is her friend. But Bianca didn't have that advantage, and she still struck up a conversation very comfortably. The message here is to be proactive: do something to overcome your fear, whether it's helping with the Wi-Fi or something else. Go up and shake a speaker's hand, and have a conversation—say you enjoyed their talk or ask for clarification on a point or two. Or ask what books or courses they'd recommend.
Finally, don't think this applies solely to speakers. On the contrary: as a first-time or young attendee at a language event, you should consider initiating a conversation with the more experienced folks as a matter of course. Most translators really are welcoming and happy to share their thoughts. And you'll be happy you did so when you see how taking the first step can open so many doors.
Header image credit: Unsplash
Header image edited with Canva
Author bio
Bianca Dasso is a 19-year-old Argentine interpreting student in her second year at Universidad del Salvador in Buenos Aires, Argentina. She started learning English in preschool, at the age of 3, and continued taking the regular courses until she graduated from high school. At the age of 8, she began attending English classes at Cultural Inglesa de Moreno, a private language school, where she currently teaches the language to young learners (from 2 to 10 years old). You can contact her by email at: bianca.dasso@gmail.com
Subscribe to The Savvy Newcomer