How to Create an Ideal T&I Client Profile to Market Your Services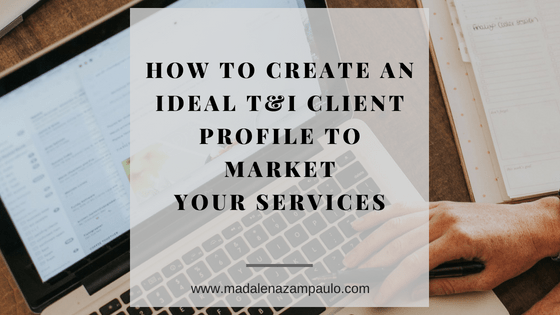 This post was originally published on Madalena Sánchez Zampaulo's blog. It is reposted with permission.
It is incredibly important to know your ideal client if your marketing efforts are going to be effective. After all, we want to work with our ideal clients, and not just anyone who crosses our paths, right? I mentioned recently in a webinar that I created an ideal client profile and its usefulness in creating effective marketing content in my business.
One of the attendees asked me if I could show an example of an ideal client profile and how to create one, so I'm breaking it all down for you right here. I've even thrown in examples from my own translation client profile!
● Start with creating your ideal client avatar.
○ Find an image that depicts your ideal client. This way, whenever you create new marketing content, you have an image of this person in your head and you know that this is who you are talking to and targeting in your marketing campaigns.
○ Give your ideal client a name (also called a user persona).
○ Give them a position or title.
○ Include demographic information:
■ gender
■ age
■ education/background
■ marital status
■ salary
■ where he/she lives
■ number of children, etc.
○ Include information about his/her personality. What does he/she:
■ like to do outside of work?
■ like to watch on TV?
■ like to buy (what brands and where does he/she shop)?
■ drive?
■ wear?
● Then, describe how you can be your ideal client's best choice of translator or interpreter.
○ What are his/her goals at home and at work? What does he/she aspire to do in his/her career?
○ What are his/her pain points/challenges?
○ What outcomes does he/she want?
○ What services do you offer that can help relieve his/her pains/
challenges?
○ What services do you offer that help him/her reach goals?
○ What pains can you kill? What gains can you create?
○ How did he/she find you?
○ What makes him/her engage with you?
○ What makes him/her return to work with you?
○ What makes him/her recommend you to someone else?
● Finally, create your marketing content based on what you know about your ideal client. Be creative!
○ How did he/she find you?
○ What makes him/her engage with you?
○ What makes him/her return as a customer?
○ What makes him/her recommend you?
Once you can summarize this information related to your ideal client, you will have an ideal client profile that will inform all of your marketing decisions and efforts. All of your marketing efforts should be geared toward this type of client. You need to know this person before you can market to them. So, now that you do, create those marketing campaigns that you know will speak to them on a personal level. You can do this via social media posts, emails, blogs, etc., and always remember to keep them in mind every time you create a new piece of marketing content.
---
Author bio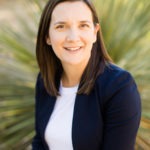 Madalena Sánchez Zampaulo is the owner of Accessible Translation Solutions (ATS), a boutique translation company based in Southern California. She is also a Spanish and Portuguese to English translator, specializing in medicine and life sciences. Madalena's interest in online marketing and copywriting has led her to write and teach about the benefits of using informational content online to attract and retain clients. After seeing the advantages of intentional and strategic marketing in her own business, Madalena now teaches those same skills to other freelance language professionals. She blogs and teaches courses on topics related to marketing your freelance translation business by deliberately building and shaping your online presence. For more information, visit www.madalenazampaulo.com.
Subscribe to The Savvy Newcomer