Newsbriefs: December 30, 2021
The ATA Mastermind Program is Open!
Most translators and interpreters go into business understanding that finding and retaining clients will be hard work. What many fail to see, however, is the difficulty in running a business alone and not always knowing what to do next. This is where ATA's Mastermind Program can help!
What is ATA's Mastermind Program?
You might hear "mastermind" and automatically think of a master class where a highly experienced instructor shares their knowledge with students. This is not ATA's Mastermind Program!
Instead, think of a small group of 6-7 colleagues—people of approximately the same level of professional experience—working together on designated business issues or learning goals. It's a combination of brainstorm networking, accountability, and everyone's willingness to grow and learn together.
How do the mastermind groups work?
Groups are organized according to shared interests. For example, there may be groups focused on marketing to direct clients, advanced use of CAT tools, and entering a new specialization. The list of discussion topics is wide open.
Groups meet monthly for seven months; each group, however, decides independently where and how to meet. Venues can include Zoom, Google Meet, or any similar meeting application.
Groups are led by a volunteer facilitator, and meetings follow a defined outline to help ensure equal speaking opportunities for all participants.
Members will agree on group rules, expectations, and guidelines before and during the first group meeting. This includes setting a single, definite focus for the group and clarifying the outcome everyone is looking to achieve.
Groups are self-guided and choose their own activities.
Participation is key
This peer-based mentoring approach depends on every member's participation. Members challenge each other to set strong goals and, more importantly, work to accomplish them by holding each other accountable. All members are expected to come fully prepared and engage with each other in meaningful conversation.
Mastermind group work doesn't end after a meeting. Everyone needs to make time for action, learning, and research between meetings. The group can also decide on shared activities outside of meetings, such as reading an article or chapter of a book together. The most crucial point is that activities are planned jointly and that everyone takes an active role in the conversations.
Did we mention continuing education points?
Group facilitators and participants are eligible for continuing education points (CEPs). Participants can earn one CEP per two hours of volunteering, up to a maximum of 10 CEPs.
Is ATA's Mastermind Program for you?
This is an ATA members-only benefit. At least two years of professional translation or interpreting experience is required to participate. Participation requires taking an active role in conversations and activities. The program is a seven-month commitment.
One last note. If you're looking for a one-to-one coaching relationship with someone who has more experience than you do,
ATA's Mentoring Program
will be a better fit. Check it out!
Ready to sign up?
Click
here
to complete the sign-up form! Deadline to register is February 28, 2022.
Learn More!
Free ATA Webinar
Introducing ATA's Mastermind Program
The ATA Chronicle
ATA's New Mastermind Program for Members: What Is It and Who Can Benefit
Next Level Blog
What are ATA's Mastermind Groups?
Industry News
---
More Than 60,000 Interpreters, Visa Applicants Remain in Afghanistan
The Wall Street Journal (12/16/21) Donati, Jessica
According to the U.S. Department of State, more than 60,000 Afghan interpreters and others who have applied for visas to seek shelter in the U.S. after working alongside American forces still remain in Afghanistan. This is the first time that the Department of State has provided a number on those left behind since the Afghanistan government collapsed this summer.

About 33,000 Afghans, including principal applicants and their families, have already cleared the necessary security measures and could be eligible for immediate evacuation, according to a Department of State official.

The U.S. is currently operating a few evacuation flights per week, but scheduling depends on conditions at Kabul airport—which is only partly operational—and the weather. It could take until well into 2022 to complete the evacuation of those who already qualify for flights.

Afghan visa applicants left behind are increasingly desperate to leave due to deteriorating economic conditions in the country. Many fear retribution from the Taliban.

Kianoush, who was approved for an evacuation flight that was scheduled to take place the week that Kabul collapsed in August, is among the thousands waiting for news of a flight. He has been hiding after working on sensitive projects alongside U.S. forces at the Afghan interior ministry. "We are jobless and the winter is coming. There is no food, or clear future," he said in a telephone interview.

Mustafa, an American who worked as an interpreter for U.S. forces, said he took on responsibility for his sister and six children after her husband was believed killed in the bombing at Kabul's airport. He is staying behind with hope that a private volunteer organization will evacuate him with his sister and children because she would struggle to survive on her own without a male guardian.

"Mustafa could have left long ago as an American citizen," said a spokesperson for Task Force Argo, a volunteer group trying to help him. "He is staying back to protect his family and they are all waiting together in Kabul for an evacuation option that helps non-passport-holders."

The Department of State said it must follow U.S. immigration law in regard to evacuations and that only those eligible to enter the U.S. can be evacuated. The U.S. no longer has a diplomatic presence in Afghanistan, a factor adding to the difficulty in processing cases.

"We are processing applications as fast as we possibly can," a Department of State official said. "We have identified process improvements and directed additional resources to the program, including by augmenting staff in Washington to process applications."
New York City Expands Translation of Special Education Plans, but Parents with Limited English Must Request It
Chalkbeat New York (NY) (12/01/21) Zimmerman, Alex
New York City officials said a citywide program to centrally translate students' individualized education programs (IEPs) will become permanent.

IEPs outline a student's individual goals and the services they're entitled to, such as speech or occupational therapy or a smaller class size with specialized focus. But even as advocates said the centralized process is a step in the right direction, the burden is still on families to request that the documents be translated, and families may not know they can request a translation. For now, there is a large gap between the number of families who may need translated IEPs and the requests.

According to city officials, about 78,000 students with disabilities live in homes where English is not the primary language. The city estimated that 1,100 IEPs had been translated so far this school year.

It remains unclear to what extent the pandemic may have curtailed families' requests for translated IEPs or how those figures stack up historically, since the Education Department did not track how many IEPs were translated by individual schools before the process was centralized. However, supporters said the new translation process represents progress.

"It's way overdue," said Lori Podvesker, a policy expert at INCLUDEnyc, an advocacy group for special education. "If special ed documents are not translated that prevents families from being a part of the decision-making, and that equates to inferior outcomes."
Meta Adds Sign Language Interpreters for Portal Video Calls
PC Magazine (NY) (12/17/21) Mlot, Stephanie
META (formerly Facebook) now offers video relay services (VRS) on its Portal video calling devices, allowing users to bring English or Spanish American Sign Language (ASL) interpreters into video conversations. The new feature is part of a collaboration with ZP Better Together, a tech firm that makes communication solutions for deaf and hard-of-hearing users.

Meta spokesperson Lisa Auslen explained that users will need to apply for a ZP account to confirm that they're eligible for the service, which is federally funded under the Americans with Disabilities Act. Both the service and the Portal devices are free to VRS users in the U.S. who communicate using ASL. The Portal provides access to Messenger, WhatsApp, Microsoft Teams, and Zoom, as well as streaming entertainment platforms.

Once users have their ZP account and Portal, the ASL interpreter service can be accessed through ZP's app available in the Portal App Store. ASL interpreters appear on-screen during Portal calls and are available 24/7. The new VRS feature pairs with Portal's AI-powered smart camera, an Alexa-compatible smart display that automatically pans and zooms to keep everyone in the frame. All of Meta's Portal devices can take advantage of the new feature, including Portal TV (allowing users to make video calls from their TV and stream programming), Portal+ (the largest integrated HD display with adjustable tilt, hi-fidelity audio, and Smart Sound), and Portal Go (a wireless video calling device with a built-in battery).

"ZP and Meta are introducing a powerful new experience for people who use ASL that delivers simplicity, connectivity, and the freedom to move and communicate using both hands," said Mike Shebanek, Meta's head of accessibility. "The combination of ZP's apps and video relay service with the Portal's AI-powered Smart Camera that automatically keeps people in frame is game-changing."
New Study Suggests Languages Could Go Extinct at a Rate of One Per Month this Century
New Scientist (United Kingdom) (12/16/21) Lesté-Lasserre, Christa
Based on a new model similar to those used for predicting species loss, a team of biologists, mathematicians, and linguists in Australia has determined that, without effective conservation, language loss will increase five-fold by 2100.

According to Lindell Bromham, an evolutionary biologist at Australian National University who led the study, she and her colleagues suspected that by borrowing modelling techniques from studies on biodiversity loss, they might be able to capture a more statistically sound view of language diversity loss. They analyzed 6,511 languages that are still spoken or have ceased to be spoken (known as "sleeping" languages). They compared the languages' endangerment status—based on which generations continue to learn and speak the language—with 51 variables related to the legal recognition of the language, demographics, education policies, environmental features, and socioeconomic indicators.

The study found that various factors could lead to the loss of more than 20% of the world's languages by the end of the century—equivalent to one language vanishing per month.

Denser road networks were associated with higher levels of language loss on a global scale, Bromham said. That could be attributed to the fact that roads increase the level of commuting between rural areas and larger towns, leading to a greater influence of commerce and centralized government and the languages associated with them. Increased interaction between cultures also leads to higher levels of education, another factor the study linked to greater loss of local language across the globe.

"This is a very worrying result," Bromham said. "But I want to emphasize that we are not saying education is bad or that kids shouldn't go to school. Rather, we're saying that we need to make sure bilingualism is supported, so that children get the benefit of education without the cost to their own Indigenous language competency."

Marybeth Nevins, a linguist and anthropologist at Middlebury College in Vermont who wasn't involved in the study, said she finds it both troubling and understandable that schooling would predict endangerment.

"Schooling establishes a whole new set of practices designed to orient the student to the historically encroaching institutions," Nevins said. "While 20th century schools were based on single language learning, modern digital technology allows for multilingualism in government institutions, including schools, but with adequate Indigenous language resources, schooling need not lead to endangerment."

Holding onto local languages is critical, Nevins said, as it represents a way to maintain the history and culture of Indigenous people who were "forcibly incorporated into the capitalist world system."

"Language is a kind of proof of ancestral life, a powerful resource against political erasure, a means of reclamation," she said. "For all of us, Indigenous languages are indispensable to understanding the nature, diversity and historic spread of human beings on our shared planet."
PEN Translates Award Winners from 15 Countries Revealed
The Bookseller (United Kingdom) (12/22/21) Bayley, Sian
English PEN has named 18 books from 15 countries the winners of this year's PEN Translates awards, including novels, short story collections, journalism, poetry collections and epic verse, children's literature, and political writing. English PEN is the founding center of PEN International, a worldwide writers' association with 145 centers in more than 100 countries.

The winners represent 13 languages and 17 publishers, including the first children's book in Hungarian to feature LGBTQ+ protagonists, as well as the first time English PEN has awarded work translated from the Mè'phàà and the Char-Chapori dialect of Assamese and Bengali. The list features the most publishers ever awarded in a single PEN Translates round.

PEN Translates has now supported more than 350 books translated from 60 languages, with 12 featuring on International Booker Prize longlists. In 2021, its supported titles have also been shortlisted for the Warwick Prize for Women in Translation, the National Book Awards in the U.S., the Saif Ghobash Banipal Prize, the Premio Valle Inclán, the TA First translation Prize, and the International Dublin Literary Award.

"Not only are these 18 books exceptional works of literature, but they also attest to the current vitality of translated literature publishing," said Will Forrester, English PEN's translation and international manager. "This is the most publishers ever awarded in a single PEN Translates round. Their books, united as works of outstanding writing and translating, span extraordinary differences in form, theme, geography, and style."

So Mayer, co-chair of the English PEN Translation Advisory Group, said the range of submissions impressed the panel, as did "increasing numbers of independent publishers developing translation lists, enabling us to reward the literary ambition and radical interventions of writers, translators, and editors who are strengthening and expanding contemporary literature."
ATA News
---
Stay Connected in 2022—Renew Now!
Belonging to a community of colleagues who are facing the same challenges as you has never been more important. From Division listservs and meet-ups to connections in ATA social media to virtual brainstorm networking sessions, ATA members are there for each other. Don't go it alone—
renew your ATA membership for 2022 now!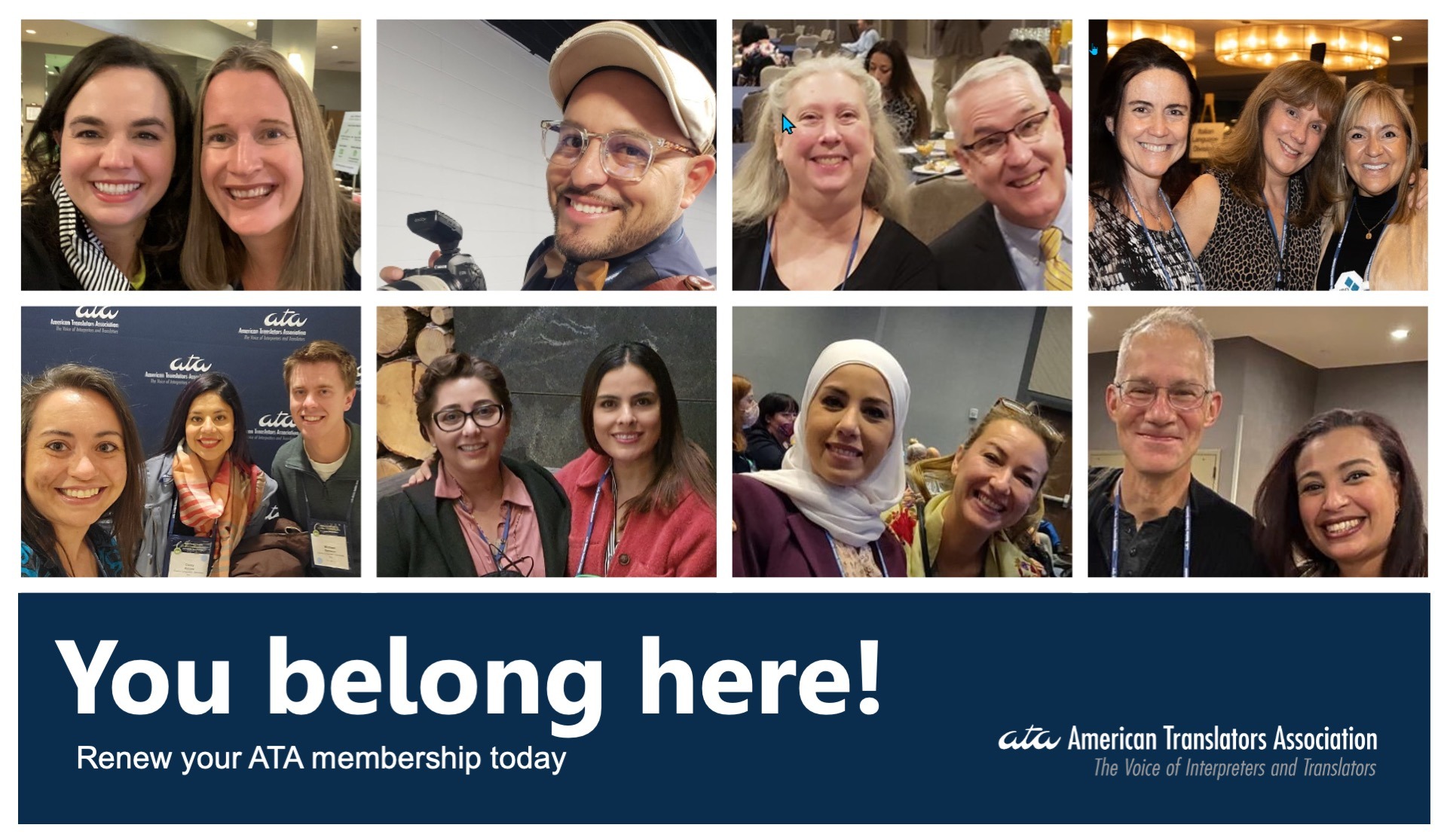 Tax Deduction Reminder
If you plan to include payment of your 2022 membership dues on your 2021 tax return, you must renew by December 31. Please consult your accountant for tax advice.
Already Renewed?
Now's the time to download your membership card! Just log in to the Member Center area of the ATA website and click the
View/Print Your Membership Card
link. And, thank you for renewing!
Catch Up with the Inside Specialization Podcast Series
Specialization is arguably the best way to strengthen your translation and interpreting business, but which specialties and where to start?
Look no further than ATA's Inside Specialization podcast series for answers. Each episode in the series examines a specialty through the experience of a translator or interpreter working in the field. In less than 25 minutes, you'll understand what the work entails, what skills are needed, the pros and cons of the specialty, and the best way to get from here to there.
Join us now for two new episodes from the high-flying world of entertainment! Both interviews were conducted by Charo Welle, deputy chair of ATA's Professional Development Committee.
Inside Specialization: Video Game Localization
Even if you're not a gamer, video game localization sounds like fun, right? But is it really? Find out in this interview with top video game localizer Marina Ilari, who talked with ATA member Charo Welle about how she found her niche, the challenges of living in "other worlds," and the best ways to gain enough experience to break into the specialty.
Inside Specialization: Audiovisual Translation
After more than 6,000 program hours of video, film, and TV, Deborah Wexler has plenty of insight and advice to offer translators interested in audiovisual translation. From the value of networking to the fatal mistake of not seeing the career ladder to the secrets of macros, shortcuts, and typing speed, this interview is not to be missed.
ATA Webinar: Business Entity Planning for U.S. Freelancers
Presenters:
Michael J. Amato, Patricia L. Keller
Date:
January 11, 2022
Time:
12:00 noon U.S. ET
Duration:
60 minutes
Language:
English
Level:
All
CE Point(s):
1 ATA-approved
Whether you're just starting out or have worked in T&I for a while, you should know that there's more than one way to structure your business. Each has advantages and disadvantages that merit careful consideration.
Join this webinar to learn the five main business types, from creation, life span, and liability to income taxes and sale or transfer. The presenters will also cover the all-important independent contractor versus employee status debate.
For language services providers who are based in the U.S.
You will learn how to:
Analyze the pros and cons of each type of business entity
Understand the documentation requirements of each
Evaluate the income tax ramifications of each
Take funds out of the business for payroll, distributions, and withdrawals
Register now!
ATA Member $45
|
Non-Member $60
How to watch the webinar recording later!
Register now and watch this webinar on demand at your convenience! The link to the recording will automatically be added to the ATA Education section in your member record following the live event. Click here to learn how to watch purchased ATA webinars on demand!
ATA Virtual Brainstorm Networking Session
Find solutions! Make connections! Join your colleagues for this fun, fast-paced hour of solving common business challenges in small teams. Attend this virtual event on January 12 at 8:00 p.m. ET to meet new people, learn new skills, and expand your support network, while sharing your own experiences. Don't miss it!
Registration is free
and open to both ATA members and non-members alike.
I Didn't Know ATA Did That!
Start your new year off right with this free one-hour ATA member orientation event on January 20 at 12 noon!
Join ATA members Jamie Hartz and Veronika Demichelis for answers to everything you've wanted to know about your ATA membership, from how to set up your online ATA Directory listing, participate in ATA divisions, and register for the ATA certification exam to where to find business resources, member discounts, and social media networking. Remember to bring your questions, too, for a lively Q&A session closeout.
Don't miss out on benefits you can really use simply because you didn't know they existed. Even if you joined ATA years ago, this presentation is for you!
Free, but registration is required.
Note: This live event is an interactive experience with networking and sharing via Zoom's chat feature. It will not be recorded. The next orientation session is scheduled for April 12, 2022 at 6:00 p.m. ET.
Back to Business Basics: Optimizing Client Testimonials
Presenter:
Mireya Pérez
Date:
January 13, 2022
Time:
12 noon U.S. ET
Duration:
45 minutes
Language:
English
Level:
Beginner, Intermediate
CE Point(s)
: None
Brand storytelling is all around us. We're inundated with words, images, ideas, facts, and opinions that create stories about businesses, products, and people. When done strategically and with a target audience in mind, storytelling can be a powerful tool to connect with clients. Learn how in this webinar about making the most of testimonials.
You will learn how to:
Recognize and understand brand storytelling
Identify ways client testimonials can support your brand
Ask for customer testimonials
Turn client reviews into brand storytelling
Register now!
Free to ATA members, but you must sign up by 10:00 a.m. ET on January 13.
ATA Webinar: Working with Terminology in memoQ
Presenter:
Anna Mohácsi-Gorove
Date:
January 19, 2022
Time:
12 noon U.S. ET
Duration:
60 minutes
Language:
English
Level:
Intermediate, Advanced
CE Point(s)
: 1 ATA-approved
A key feature of translation memory software is efficiently maintaining accuracy and consistency of terminology. memoQ is more than up to the task!
Attend this webinar to learn how to build and manage powerful termbases in memoQ. Trainer Anna Mohácsi-Gorove will guide you through creating entries, extracting terms, and using best practices in projects to increase productivity.
Register now!
ATA Member $45
|
Non-Member $60
ATA Members Get 35% off memoQ
ATA members are eligible for a 35% discount on a new license for memoQ translator pro.
Click to take the deal!
Free ATA Members-Only Webinar for January
ATA offers members one free webinar from our archives every month. Here's the on-demand freebie for January 2022!
Why Can't I Raise My Rates?
Freelancers often set their rates based on costs and competition. Then they wonder why they aren't making ends meet. What they failed to consider is how their services fit into the economy. Watch this 60-minute webinar to gain an understanding of why market forces affect what translators and interpreters can charge and how to use this information when pricing services.
What Will You Learn?
Why value and marginal utility matter to translators and interpreters
How a competitive market affects and controls pricing
The roles of scarcity and demand in language services
How prices for language services are determined
What individuals can do to influence the prices that they charge
In compliance with U.S. anti-trust law, no specific rate recommendations will be made during the webinar.
Continuing Education Credit
Each free members-only webinar is approved for one ATA continuing education point (Category B), unless otherwise stated. After watching the webinar, complete and print the
Independent Study Verification form
. It will serve as your certificate of continuing education if your CE record is selected for audit at the time of your ATA recertification.
About the Presenter
John M. Milan is an ATA-certified translator, economist, writer, and lecturer with over 20 years of experience in language services. He earned a Master of Science degree in microeconomics from the Ohio State University, where he was a Foreign Language and Area Studies (FLAS) fellow. He also specialized in Portuguese translation during his graduate studies. He has additional degrees in International Political Economy and Spanish from Indiana University and studied abroad in Madrid, Spain. John is the ATA Treasurer.
Coming Up in the January/February Issue of The ATA Chronicle
Call for Nominations: ATA Directors
Do you know someone who would make a good potential candidate for ATA's Board of Directors? If so, ATA's Nominating and Leadership Development Committee would like to hear from you. Any ATA member may make a nomination. Here's your chance to help shape the future of the Association!
Treasurer's Report
This annual report reviews ATA's financial performance and provides a good indication of current trends.
(John Milan)
The Orange County Department of Education Multilingual Consortium: A Clearinghouse for Educational Interpreters
California's Orange County Department of Education has spearheaded efforts to provide continuous professional learning opportunities for bilingual staff in educational settings nationwide. Learn how a robust language services program built from the ground up strategically addressed the challenges and effectively capitalized on the opportunities presented by the pandemic.
(Natalia Abarca)
Twin Peeks: Summit Summaries from ATA62
Interorganizational engagement, collaboration, and advocacy involving coalitions and individuals are crucial to the success and outlook of the translation and interpreting industry.
(Rusty Shughart)
Literary Translation: Finding Focus in Its Fuzzy Borders
What makes literary translation challenging is also what makes it interesting. Can a translation be faithful even if it's not literal? When is a translation no longer a translation but something else? Let's explore some of the frequent challenges faced by literary translators, including the equivalence of meaning, making the voice of a character sound authentic, and translating names.
(Petra C. Rieker)
Reflections on Running a Micro-Internship: Making a Difference by Starting Small
Given how few translation training programs exist in the U.S., internships can be a great way for freelance translators to contribute to the next generation of our profession while also getting something in return.
(Mary McKee, Jamie Hartz)
Profile of ATA's 2021 School Outreach Contest Winner: Majlinda Mulla-Everett
When Majlinda Mulla-Everett taught a summer class on interpreting skills to high school students in Portland, Maine, her objective was to make sure they understood the value of being bilingual and that they can turn that skill into something to help the community where they live.
(Molly Yurick)
2021 Honors and Awards Recipients
ATA and the American Foundation for Translation and Interpretation present annual and biennial awards to encourage, reward, and publicize outstanding work done by both seasoned professionals and students of our craft. This year's recipients are…
Access to
The ATA Chronicle's searchable archives
is available online! And don't forget to check out the latest issue of the
Chronicle Online.
December 30, 2021

---
What are you predicting for your business revenue in 2022?
---
Previous Poll Results
What's your take on being asked to submit a test translation?
28% = No problem with the practice, will participate
48% = Dislike the practice, but will participate
24% = Dislike the practice, won't participate
---
In This Issue
Mastermind Program
Stay Connected in 2022
Inside Specialization
Webinar: Business Entities
Brainstorm Networking
Member Orientation
B2BB: Client Testimonials
ATA Webinar: memoQ
Monthly Free Webinar
The ATA Chronicle
---
ATA Members Only

Free ATA Webinar!
Why Can't I Raise My Rates
Click to watch!
---
Back to Business Basics
Branding Through Storytelling
Jan 13 @ 12 noon ET
Free to members!
Registration open
---
ATA Webinars
Business Entity Planning for U.S. Freelancers
Jan 11 @ 12 noon ET
Registration open
Working with Terminology in memoQ
Jan 19 @ 12 noon ET
Registration open
---
Calendar of Events
Brainstorm Networking Session
Jan 12 @ 8 p.m. ET
Virtual. Free!
Register now!
ATA Member Orientation
Jan 20 @ 12 noon ET
Virtual. Free!
Register now!
JNCL-NCLIS Language Advocacy Days
Language at the Intersection
Feb 2-4, 2022
Virtual
Learn more!
ATA Board of Directors Meeting
Feb 5-6, 2022
Los Angeles, California
ATA Mastermind Program
Feb 28, 2022
FIT World Congress
Jun 1-3, 2022
Varadero, Cuba
Learn more!
ATA63 Annual Conference
Oct 12-15, 2022
Los Angeles, California
Preview!
---
The ATA Chronicle November/December 2021
---
---