Newsbriefs: March 15, 2023
Save the Date, Subscribe for Updates!
Do machine translation and artificial intelligence have you feeling like your "system" needs an upgrade? Up your game by attending ATA's one-day virtual conference "Translating and Interpreting the Future: Empowering Professionals to Innovate and Thrive" on Saturday, May 20. Registration is set to open next week!
Make plans to join your colleagues for this educational and energizing look into how machine translation (MT) and artificial intelligence (AI) are shaping the translation and interpreting professions. Discover how you can leverage these advancements in your work as a language professional.
Attend sessions from industry- and thought-leading presenters who will share their experiences, knowledge, and insights into the present landscape and future horizons for translation and interpreting.
Engage with your fellow attendees during networking events throughout the day, including the Happy Hour Networking at the end of the event. Learn how to enhance your workflow and productivity during the Software/Tools Support Hour.
Sign up on the ATA website to receive updates about this event by email!
Industry News
---
Afghan Interpreter Has a Message for Congress and President Biden
The Boston Globe (MA) (02/28/23) Fitzpatrick, Edward
Former front-line interpreter Aminullah Faqiry is urging President Biden and Congress to pass the Afghan Adjustment Act to put an end to the Special Immigration Visa backlog.

Aminullah Faqiry, who worked with the U.S. military and U.S. Department of State for nearly 12 years, immigrated to Providence with his family after U.S. troops withdrew from Afghanistan in August 2021. When he is not advocating on behalf of Afghans "left behind" who worked with U.S. forces fighting the Taliban, Faqiry is kept busy running his new business, the Afghan Super Store, the only halal market in Providence.

"My wish is to one day meet President Biden and tell him that I served the U.S. government and to bring to his attention that the people who served the U.S. government in Afghanistan are still waiting to get out," Faqiry said. "Tell the U.S Department of Immigration to get them out of the danger zone."

Faqiry said he wants Congress to approve the Afghan Adjustment Act to provide a path to legal permanent residency for Afghan evacuees and pave the way for most to receive a green card. "I call on the U. S. Senate, Congress, the president, and people who know the importance of this Afghan Adjustment Act to please go ahead and approve this bill and let the Afghan people get permanent residence."

Congress dropped the Afghan Adjustment Act from its $1.7 trillion spending bill in 2022 despite bipartisan support and the advocacy of veterans' groups who said the U.S. made commitments to Afghan partners, including interpreters for American military units.

"Afghans are hard working people and they will be a good addition to the population of the U.S. They could make a difference if they are given a chance," Faqiry said.

Faqiry also wants President Biden and Congress to accelerate the Special Immigrant Visa process so more Afghans who helped U.S. forces can come to America. Although he first applied nearly seven years ago, Faqiry said he remains stuck in the final stages of securing a Special Immigrant Visa and is eager to get green cards for himself and his family. Faqiry said he is confident he will receive approval since he has a documented record of assisting the U.S., but urged the government to end the enormous backlog of visa applications and to help those who remain behind.

Faqiry said he receives daily calls from Afghans who want to come over, saying "they are desperate for their lives. They are desperate for food and for daily needs because they are no longer accepted on the government level. They are looked down on."

Although the Taliban claimed it won't retaliate against those who aided the U.S. military, Faqiry said many Afghan soldiers and interpreters have been killed since the Taliban took power. He is also convinced he would be killed if he went back. "I was an interpreter, and I was part of an armed group that fought the Taliban," he said.

Despite his struggles, Faqiry said he gets a daily boost from his store's customers. "The people of Rhode Island have overwhelmed me with their love and their support," Faqiry said. "Every day I get people who come to the store—real Rhode Islanders—and they support my business and at the same time, they say, 'Thank you for your service,' which makes me so happy. It makes me feel like I am at the best place in the world."
Navajo Family Claims a Hospital's Failure to Provide an Interpreter Contributed to Elder's Death
Albuquerque Journal (NM) (03/04/23) Nathanson, Rick
The family of a Navajo elder is suing a hospital in Farmington, New Mexico, for causing his death from an alleged misdiagnosis associated with a language barrier.

Larry Williams, 67, died from pneumonia and septic shock in San Juan Regional Medical Center (SJRMC) on February 8, 2018. The lawsuit claims Williams, who spoke primarily Navajo his entire life, entered the hospital on February 7, 2018, exhibiting confusion, low oxygenation, underlying pulmonary disease, and a recent bout of pneumonia. An emergency room doctor diagnosed a urinary tract infection and discharged Williams. The lawsuit said worsening symptoms prompted Williams' readmission that evening, and he died the next day.

The American Civil Liberties Union (ACLU) and the Fine Law Firm have filed a motion for summary judgment, asserting that "SJRMC did not offer Mr. Williams language assistance and did not clearly inform him of the availability of language assistance in spoken and written Navajo during his first February 7, 2018, visit."

The hospital said in court records that it plans to call Dr. Todd Parker of Virginia Beach, Virginia, to testify as an expert witness. Parker is expected to testify that Williams responded appropriately to intravenous fluids and that the imaging and choice of antibiotic administered were also appropriate. Moreover, Parker is expected to state that the emergency department provided the applicable standard of care, while Williams' discharge was appropriate as there was no indication that additional inpatient treatment was necessary.

Lawyers for Williams insisted that without an interpreter, staff couldn't communicate adequately with him and that, according to a statement from ACLU, they "missed his altered mental state, a symptom of a severe infection."

"Language assistance is vital to the overall health of Indigenous people," said ACLU attorney Preston Sanchez. "It's unconscionable that SJRMC, a health care provider that serves a large patient population of Navajo people, failed to provide the linguistic services that Mr. Williams depended on for his health and well-being."
Threat Groups Using Translation Tools in Phishing Attacks
National Law Review (IL) (02/23/23) Freedman, Linn F.
Abnormal Intelligence, an online cyberattack insight research organization, said threat groups are exploiting new tools like Google Translate to render phishing emails into an increasing number of languages so they sound authentic to recipients. This allows them to carry out business email compromise attacks (BEC) effortlessly around the world.

Abnormal Intelligence said two examples of groups conducting payment fraud are threat actors Midnight Hedgehog and Mandarin Capybara, "a group that executes payroll diversion attacks." Both groups are responsible for "launching BEC campaigns in at least 13 languages."

Abnormal Intelligence said threat actors conduct such campaigns using the same legitimate commercial tools employed by sales and marketing, such as compiling "leads" in a state or country. The groups can launch multiple campaigns in various countries using the same text translated into the native language.

Midnight Hedgehog, for example, runs payment fraud campaigns by targeting finance staffers and executives participating in financial transactions by impersonating the chief executive officer (CEO). Beforehand, they "thoroughly research their target's responsibilities and relationship to the CEO and then create spoofed email accounts that mimic a real account," stated Abnormal Intelligence.

Executive impersonation is also used by Mandarin Capybara to exploit human resources personnel to carry out payroll diversion scams so the group can alter direct deposit information and channel executive pay into a phony bank account.

Abnormal Intelligence suggested that companies should "put procedures in place to verify outgoing payments and payroll updates and keep your workforce vigilant with security awareness training" to thwart such exploits. It also called for strengthening security via behavioral analytics.
Non! French Publisher Won't Update Roald Dahl's Children's Books
Politico (VA) (02/21/23) Preussen, Wilhelmine
Roald Dahl's French publisher Gallimard said it does not intend to change the texts of Dahl's children's books, wading into the row about rewrites of their English versions to remove sensitive language.

"We have never modified Roald Dahl's texts, and to date it is not in the pipeline," a spokesperson for Gallimard Youth said.

The statement comes after revelations that Dahl's estate and English publisher Puffin Books had decided to edit the books, including The Big Friendly Giant and Charlie and the Chocolate Factory, to make them more suitable for modern audiences.

New edits include adding gender-neutral terms. For example, the original Charlie and the Chocolate Factory referred to Oompa Loompas as "small men," but this has been changed to "small people." Likewise, the Cloud-Men in James and the Giant Peach have become "Cloud-People."

"When reprinting books written years ago, it is not unusual to review the language used and update other elements such as cover and layout," said a spokesperson of the Roald Dahl Company, which manages the works.

Puffin and the Roald Dahl Story Company made the changes in conjunction with Inclusive Minds, which its spokesperson describes as "a collective for people who are passionate about inclusion and accessibility in children's literature. "

But the decision sparked immediate pushback, with British-American novelist Salman Rushdie saying they should be "ashamed" and PEN America, a nonprofit organization that works to defend and celebrate free expression in literature, saying they are "alarmed" about the numerous changes in the books. "At PEN America, we are alarmed at the news of 'hundreds of changes' to venerated works by Roald Dahl in a purported effort to scrub the books of that which might offend someone," said PEN America Chief Executive Director Suzanne Nossel.

Even British Prime Minister Rishi Sunak spoke out against the move. "When it comes to our rich and varied literary heritage, the Prime Minister agrees with the Big Friendly Giant, a Dahl character, that we shouldn't 'gobblefunk' around with words."

Others consider the changes a good thing, with British author Philip Pullman even suggesting Dahl's work should be allowed to go out of print and be replaced by more modern children's writers.

Francesca Dow, managing director of Penguin Random House Children's Books, said the publisher had "listened to the debate, which has reaffirmed the extraordinary power of Roald Dahl's books and the very real questions around how stories from another era can be kept relevant for each new generation."
Thriller Dal y Mellt (Catch the Lightning) Becomes First Welsh-Language-Only Show Purchased by Netflix
The Guardian (United Kingdom) (01/29/23) Morris, Steven
In a landmark moment for the creative industry in Wales, the thriller Dal y Mellt (Catch the Lightning) has become the first Welsh-language-only show to be purchased by the Netflix streaming service.

Advocates for the Welsh language are delighted, while tourism officials hope fans of the show will head to Wales to visit some of the places featured.

"It feels like a real moment," said Siân Doyle, chief executive of the Welsh-language channel S4C, which commissioned the drama. "It shows we can stand on the world stage. In Dal y Mellt, I think the language adds to the personality of the drama. The landscape is a character, but I think the language is as well."

The director of the series, Huw Chiswell, said he was proud and excited at the drama's success. "I think the language in the show is interesting. The Welsh in it is quite varied. Sometimes quite rough and ready, sometimes practical, and often very beautiful. We were striving for authenticity, wanting to keep it real."

Iwan "Iwcs" Roberts, who wrote the book on which the show is based and the script for the series, said: "A good story is a good story in any language. I think we should set the bar a bit higher for ourselves sometimes and go for it."

Toni Schiavone, a prominent member of the Welsh Language Society, said: "It shows that the Welsh language culture has its particular identity, and this has enabled writers, actors, musicians, and others to express this uniqueness from their own lived experiences in Wales. For many viewers from outside Wales, I have no doubt that it will enrich their understanding and interest in the language and country."
Humane Society of Pikes Peak Unveils New Language Services
KRDO (CO) (03/03/23) Herrera, Andrea
The Humane Society of Pikes Peak Region (HSPPR) in Colorado Springs, Colorado, recently introduced an interpreting service as part of a program to increase animal adoptions by overcoming language barriers.

The organization, which helps some 24,000 animals find homes every year, typically receives up to 400 calls daily regarding dangerous, lost, or injured animals. Up to now, not every caller could get the assistance they needed. "We weren't servicing our entire community, we were only able to service the people that we could communicate with effectively," said HSPPR Animal Law Enforcement Manager Kelly Napierlaski.

Now people can call and request an interpreter in their native language. When transferred, they can choose a language out of over 280 options. "We want to make sure we service our entire community, not just those who are proficient in English," Napierlaski said.

HSPPR hopes the new service will deliver medical care to animals faster. "Our animal law enforcement agents are able to use it out in the field," said Napierlaski. "So, if you have a concern about an animal or your animal is actively in distress, you are able to contact us and get guidance." People just have to call the interpreting line or go online, pick a language, and start talking with an individual in their selected language.

"The service also includes American Sign Language, so people can video chat in as well, or a person who is hard of hearing can video chat with, let's say, the Spanish interpreter," said Napierlaski. HSPPR hopes this service motivates the community to go and adopt without worrying about linguistic challenges.
ATA News
---
Have You Taken a Look at The ATA Compass?
The ATA Compass
Writers Group is excited to share that ATA's blog for translation and interpreting buyers is now publishing new content targeting readers who wish to learn more about the work and services of language professionals.
Check out the latest article
Breaking Intercultural Communication Barriers in Business
, then catch up with posts published earlier this year, including
5 Steps for Translating Official Documents
,
What's the Difference Between a Translator and an Interpreter?
, and
7 Tips for Crushing an International Meeting
.
And here's a tip!
Reach out to clients by forwarding them a
Compass
post or two that you think they will be interested in. Just let them know you were thinking about them. This is an excellent way to keep the relationship current, especially if you haven't heard from them in a while.
The ATA Compass
is written and published by ATA's Public Relations Committee. It wouldn't be possible without the great team of volunteers and Headquarters staff who work to make it a reality. If you are interested in contributing to
The ATA Compass
, we welcome your input! Please contact the Public Relations Committee chair at
jamie@tildelanguage.com
ATA Webinar: Pricing for a Profit Playbook
Presenter:
Jason Willis-Lee
Date:
March 21, 2023
Time
: 12:00 noon ET
Duration:
1 hour
Level:
Beginner
CE Point(s):
1 ATA-approved
Are you uncertain about how much to charge for your translation or interpreting services? Are you concerned about downward price pressure and longer working hours to make ends meet? Are you afraid of scaring away your clients if you charge higher rates? Then this webinar is for you!
As a freelance language professional, you have more control over your freedom and flexibility than you might think. Attend this webinar to learn how to make smart business decisions and map out what you want from your life.
You will learn how to:
Work less to make more
Examine downward and upward price pressure in the translation and interpreting industry
Raise your prices without scaring off all your clients
Develop a pricing strategy and negotiation skills to grow your freelancer income
Register now!
ATA Member $45
|
Non-Member $60
If you have already registered, check your inbox for no-reply@zoom.us to find your invitation to join. Email zoom@atanet.org if you cannot find it.
ATA Webinar: Plain English in Legal Translation
Presenter:
Stephen Rifkind
Date:
March 28, 2023
Time
: 12:00 noon ET
Duration:
1 hour
Level:
Intermediate
CE Point(s):
1 ATA-approved
Accurate translation of legal documents doesn't need to be cumbersome. In some cases, there are even requirements for legal documents to be in "plain English" to make them less so. Attend this webinar to find out what these requirements look like, the rationale behind them, and how to fulfill the requirements in your own translation.
You will learn how to:
Understand the concept of plain English and its importance
Apply simple rules to achieve plain English when translating contracts and laws
Use formatting approaches to meet specific plain English requirements
Gain the confidence to take a proactive approach to contract translation
Register now!
ATA Member $45
|
Non-Member $60
If you have already registered, check your inbox for no-reply@zoom.us to find your invitation to join. Email zoom@atanet.org if you cannot find it.
ATA Mentoring—It's Not Just for Newcomers
Mentoring is more than just for newcomers, especially when it comes to the
ATA Mentoring Program
!
Why would a translator or interpreter who's been in the business for a while want to work with a mentor?
To transition from a full-time employee to an independent contractor
To look for ways to get a foot in the door with direct clients
To consider a new specialization or expanding services
To learn how to make better use of a CAT tool in their workflow
To plan a career move from consecutive to simultaneous interpreting
To find advice on marketing techniques and social media
To troubleshoot relationships with project managers and agencies
Advice, encouragement, lessons learned, career guidance—the benefits of being a mentee can be crucial to a career or business.
Applications from interested mentees will be accepted through March 31, 2023.
Want to know more about the experience of being an ATA mentee?
Read
"Tapping into the Expertise I Needed: My Experience as an ATA Mentee"
in
The Savvy Newcomer
blog. Mentee Jessica Hartstein's post not only takes stock of "goals achieved" but also offers specific suggestions for how to make the mentoring partnership work.
Become an ATA mentor
The ATA Mentoring Program is a chance for experienced translators and interpreters to give back to their profession. Click
here
to learn more about becoming an ATA Mentor.
Last Chance! ATA 2023 Call for Nominations
The Nominating and Leadership Development Committee is currently accepting nominations to fill the following positions:
Officers: president-elect, secretary, and treasurer positions (each a two-year term)
Directors: three director positions (each a three-year term)
Elections will be held at the Annual Meeting of Voting Members during ATA's 64th Annual Conference in Miami, October 25-28, 2023!
Alert
– If you submitted your nomination, you should have immediately received a confirmation of your submission. If you did not receive confirmation of your submission, please resubmit. Should you have any problems getting confirmation, please contact
nominations@atanet.org
.
Submitting Your Nomination
Any ATA member may submit a nomination. Self-nominations are also permitted and encouraged.
Nominations should be submitted as soon as possible so that the Nominating and Leadership Development Committee can fully consider proposed candidates.
Reminder
–
Nominations must be received by March 15, 2023.
ATA's success depends on the leadership of its officers and directors. That leadership begins with nominations like yours.
Click here to start.
Become an ATA Voting Member
Now's the time to think about becoming an ATA Voting Member! Why? With a direct voice in ATA, you can help shape the future of the association and become more involved and expand your network of contacts..
Who can become a Voting member?
Any ATA Associate Member who can demonstrate that they are professionally engaged in translation, interpreting, or closely related fields may apply for Voting membership.
How do you become a Voting member?
Complete and submit the
ATA Active Membership Review application
. No additional paperwork required. It's fast, easy, and free!
Watch the tutorial!
This ATA member video tutorial
shows you how to apply for Voting membership! Just follow the steps outlined in the video to get your application done today.
ATA Board Meeting Summary: February 11, 2023
The ATA Board of Directors met virtually on February 11 via Zoom. ATA members were able to join in on the call and offer comments at the end of the meeting.
A summary of the meeting's actions, discussions, and ongoing committee work is online in the Members Only area of the ATA website. Board Meeting Summaries help members keep up with ATA news and activities—from the latest financial reports to plans for the Annual Conference to committee projects and activities.
Read the latest ATA Board Meeting Summary now!
The next ATA Board of Directors meeting will be held May 6-7 in Alexandria, Virginia. All ATA members are invited to attend.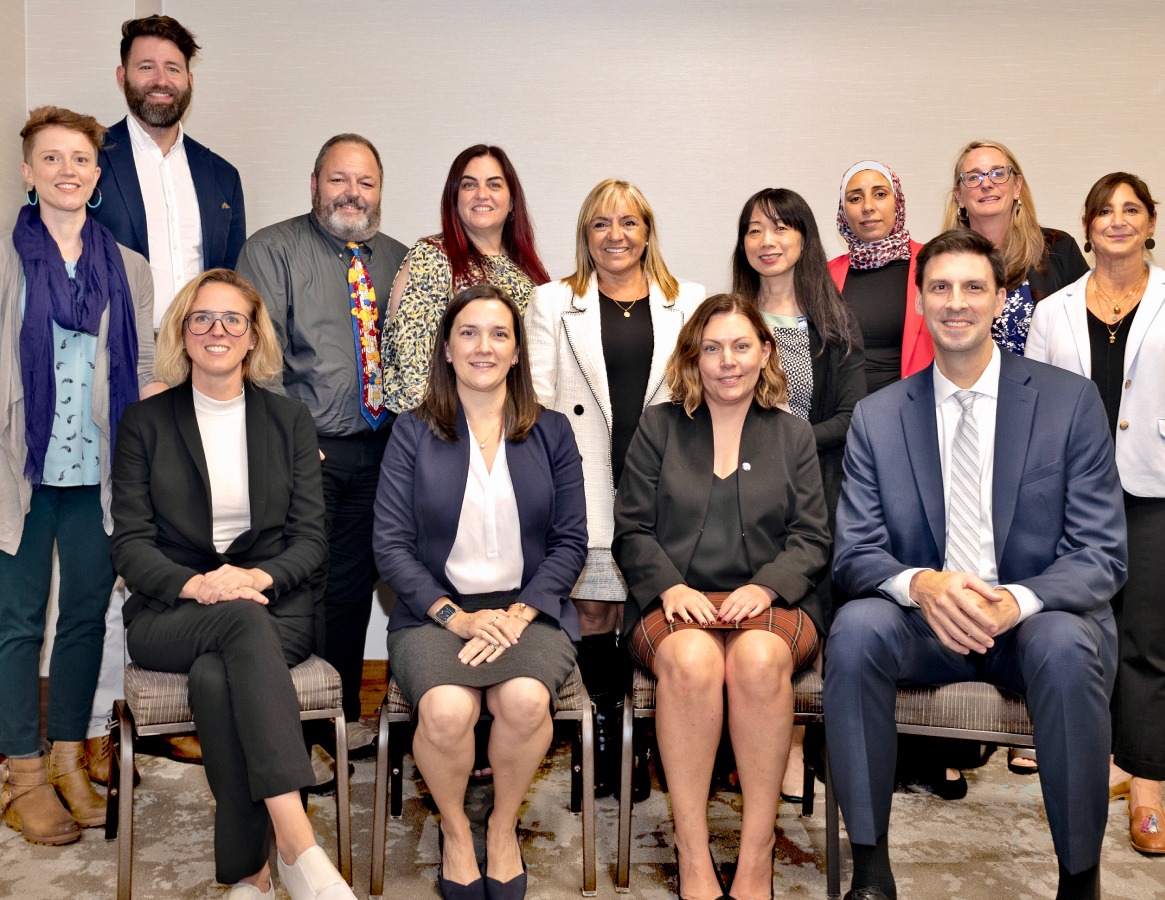 ATA Board of Directors 2022-2023
Standing
: Directors Meghan McCallum, Ben Karl, Robert Sette, Christina Green, Andy Benzo, Manako Ihaya, Yasmin Alkashef, Eve Bodeux, and Lorena Ortiz Schneider.
Seated:
Secretary Alaina Brandt, President Madalena Sánchez Zampaulo, President-Elect Veronika Demichelis, and Treasurer John Milan.
Update from ATA Headquarters
As we strive to improve your membership experience, we are forging new roots to enhance member benefits. One major undertaking is the overhaul of our membership database to improve the quality of our knowledge management systems.
For a short time you may experience some delays in response to inquiries. Please know this is temporary as we process renewals and other membership requests simultaneously.
The ATA Headquarters staff is committed to growing and improving our processes to further enhance our association in 2023, and we thank you for your support and patience. Should you have questions or concerns, please email
memberinquiry@atanet.org
.
Coming Up in the March/April Issue of The ATA Chronicle
ATA Advocacy: ATA Opposes Oregon Senate Bill 584
ATA recently submitted a letter in opposition to Oregon Senate Bill 584, which would task the Oregon Health Authority with setting up a web-based platform for scheduling and paying health care interpreters in Oregon.
Creating Passive Income Streams to Attract Translation Clients
Establishing a stable business with a steady client base can be achieved using one powerful approach: the strategic use of digital products to create passive income streams and attract potential clients even when you aren't working.
(Carlie Saltzman)
Educational Translation and Interpreting: Strategies to Help Your Office Become Part of the Planning Process
This is the story of how a small team of language professionals worked together to transition a school district's translation and interpreting needs from being an afterthought to a fully integrated part of the planning process.
(Melissa González and Jennifer Williams)
MTPE?
nQsf!
(MT Post-Editing? Not QUITE So Fast!)
Linguists old and new are celebrating and/or struggling with the influx of project requests requiring MT or MTPE. Neither MT nor MTPE is going anywhere, and, most importantly, neither one will threaten your career. They will only enhance it. (Unless, of course, you ignore them.)
(Bridget Hyak)
Sound Like a Pro: Audio Basics for Remote Interpreting
Most interpreters around the world have now worked online, but hearing well, while sounding good to your audience and fellow interpreters, can still be a challenge.
(Naomi Bowman)
A Translator's Creative Writing Journey (in His Non-Native Language)
Every translator writes—as in putting one language into another. But as a translator, I know creative writing is a completely different creature. So why, as many ask me, would I take up creative writing? The answer: "I'm not sure yet."
(Fang Sheng)Access to
The ATA Chronicle's searchable archives
is available online! And don't forget to check out the latest issue of the
Chronicle Online.
March 15, 2023
---
What's your favorite method of receiving news from ATA?
---
Previous Poll Results
Have you ever used the model services agreements and contracts offered on ATA's website?
39% = Yes
61% = No
---
In This Issue
ATA Virtual Conference
The ATA Compass
Webinar: Pricing
Webinar: Plain English
ATA Mentoring
Call for Nominations
Voting Membership
Board Meeting Summary
Headquarters Update
The ATA Chronicle
---
ATA Members Only

Free ATA Webinar!
Interpreting Insults from Spanish into Your Target Language
Click to watch!
---
ATA Webinars
Pricing for a Profit Playbook
Mar 21 @ 12:00 noon. ET
Registration open
Plain English in Legal Translation
Mar 28 @ 12:00 noon. ET
Registration open
Perks and Pitfalls of LinkedIn for Language Professionals
Apr 18, 2023 @ 12:00 noon ET
Registration open
ATA TEKTalks: memoQ
Apr 27, 2023 @ 12:00 noon ET
Free to members! Register now!
---
Calendar of Events
ATA 2023 Elections
Call for Nominations
Deadline: Mar 15, 2023
Learn more
ATA Board of Directors Meeting
May 6-7, 2023
Alexandria, VA
Learn more!
An ATA Virtual Conference
Translating and Interpreting the Future
May 20 @ 11:00 a.m. – 5:30 p.m. ET
Registration coming soon!
ATA64 Annual Conference
Oct 25-28, 2023
Miami, Florida
Preview now!
---
The ATA Chronicle January/February 2023
---
Latest Post: Get More Done as a Freelance Translator
---
Latest Post: Continuing Professional Development Reflection
---
---