Newsbriefs: October 21, 2022
Congratulations to Newly Elected Directors
ATA held its regularly scheduled elections on Thursday, October 13, at the Annual Meeting of Voting Members during ATA63's Annual Conference.
Directors elected, each to a three-year term:
Andy Benzo
Christina Green
Ben Karl
Director elected to a one-year term:
The new Directors join currently serving President Madalena Sánchez Zampaulo, President-Elect Veronika Demichelis, Secretary Alaina Brandt, Treasurer John Milan, and Directors Eve Bodeux, Manako Ihaya, Meghan Konkol, Lorena Ortiz Schneider, and Robert Sette.
Thanks to all ATA Voting members who participated in this year's elections!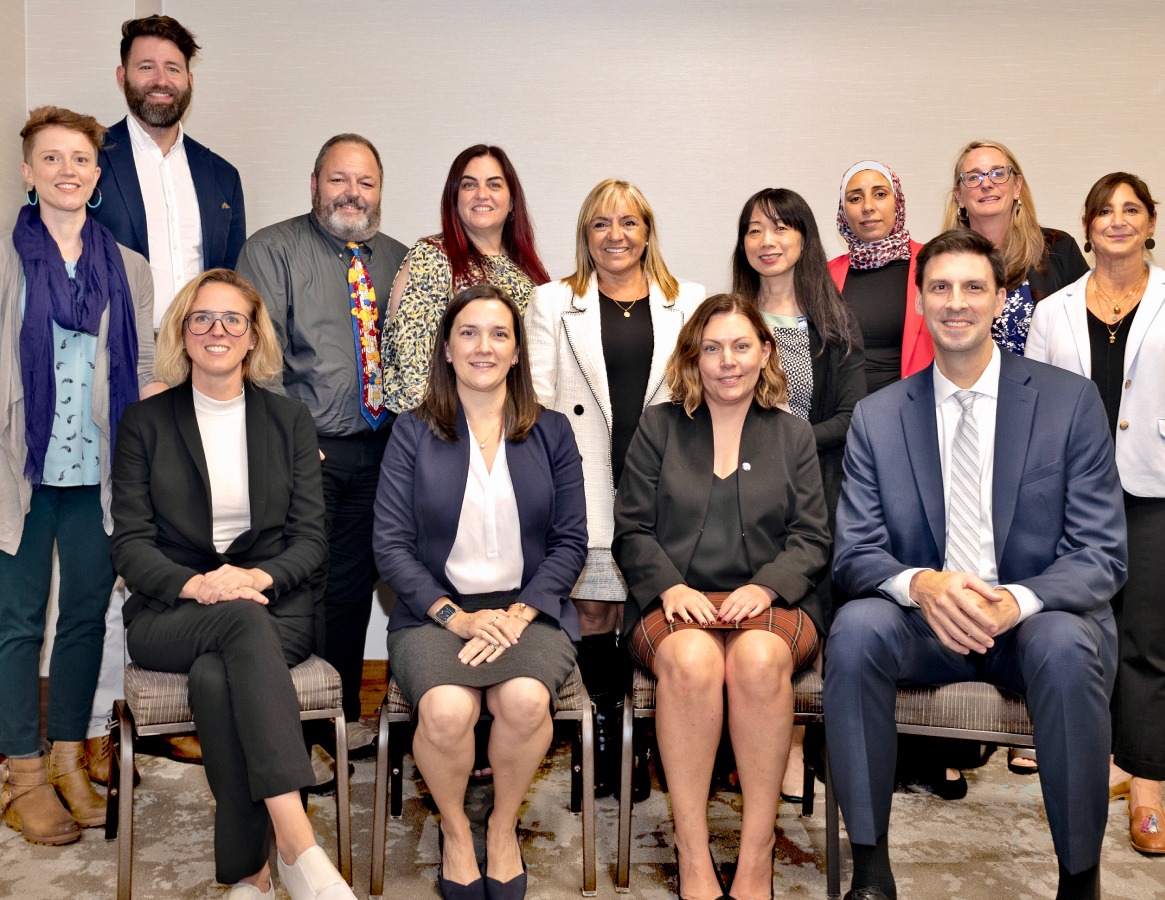 ATA Board of Directors 2022-2023 (from left)Standing:
Directors Meghan Konkol, Ben Karl, Robert Sette, Christina Green, Andy Benzo, Manako Ihaya, Yasmin Alkashef, Eve Bodeux, and Lorena Ortiz Schneider.
Seated:
Secretary Alaina Brandt, President Madalena Sánchez Zampaulo, President-Elect Veronika Demichelis, and Treasurer John Milan.
Industry News
---
Misinformation Circulating in Non-English Languages before Midterms
The Seattle Times (10/16/22) Hsu, Tiffany
Unsubstantiated rumors and outright falsehoods spread widely in immigrant communities before the presidential election in 2020. That is happening again in the run-up to this year's midterm elections, researchers say, but this time accounts pushing misinformation are targeting audiences in more languages across more digital platforms, with scant resistance from social media companies.

In recent weeks, posts exaggerating the fallout from inflation have been aimed at Americans from Latin American countries that have been crippled by poor economic management. According to the advocacy group Asian Americans Advancing Justice, misinformation circulating in Chinese on Twitter, YouTube, and WeChat about mail-in ballots, school curricula, and hate crimes "has dangerous implications" this year for Asian American voters, who are growing as a political force.

"There's definitely a hyper-targeting of messaging," said Nick Nguyen, co-founder of Viet Fact Check, a group working to contextualize and debunk false online narratives circulating among Vietnamese Americans. "This is where a lack of English-language fluency can make populations vulnerable."

But multilingual fact-checkers say they cannot keep pace with the deluge of falsehoods online. They have called on the big social media platforms, including Facebook and YouTube, to step up their efforts against the spread of misinformation in other languages.

The social media companies said they moderated content or provided fact-checks in many languages: more than 70 languages for TikTok, and more than 60 for Meta, which owns Facebook. YouTube said it had more than 20,000 people reviewing and removing misinformation, including in languages such as Mandarin and Spanish.

But researchers worry about the effect of non-English misinformation on the coming vote, saying that lies and rumors in other languages continue to seep through. A report from the watchdog group Media Matters found 40 Spanish-language videos on YouTube that advanced misinformation about U.S. elections, including the false notion that fraudulent ballots were coming into the U.S. from China and Mexico.

Dominik Stecula, an assistant professor of political science at Colorado State University, attributed the spread of multilingual misinformation online in part to the slow decline of local ethnic media outlets covering community issues. "People don't want to pay for content, and as a result, a lot of these institutions are falling apart," Stecula said.

Some experts, skeptical that all multilingual misinformation can be removed, push instead for other ways to limit amplification. Last year, Twitter tested a feature that allowed some users in the U.S., South Korea, and Australia to flag tweets as misleading.

Evelyn Pérez-Verdía, head of strategy at the consulting firm We Are Más, estimated that tens of thousands of people followed Spanish-language channels on Telegram that promote the QAnon conspiracy theory.

Pérez-Verdía said such groups have been "very smart to make sure the message is tailored based on culture and subculture," sometimes exploiting symbols like the raised fist, which can represent hope and solidarity to younger people born in the U.S. while reminding older immigrants of leftist Latin American dictatorships. Posts have blended anti-communist sentiment with conspiratorial QAnon language, calling President Joe Biden "el Lagartija" (the Lizard) while describing his party as "Demoniocratas" (Demon-Democrats).

"It's not only about misinformation or disinformation—there also needs to be a responsibility to understand that words and symbols mean different things to other communities," Pérez-Verdía said. "It doesn't matter if you're from Vietnam or from Colombia—most people see the prism of the politics of our nation through the prism of the politics of theirs."
European Parliament Interpreters Call Off Strike
Politico (10/18/22) Sheftalovich, Zoya
Interpreters for the European Parliament have called off a partial strike, in place since June, after union representatives struck an interim deal with the institution on working conditions.

Trade unions representing the interpreters withdrew their strike notice "with immediate effect" in anticipation of further talks on the Parliament's post-pandemic working methods, scheduled to start in November. The interim deal will remain in effect until the end of the year.

Interpreters walked off the (virtual) job in June in protest of problems that arose due to Members of European Parliament (MEPs) teleworking during the pandemic. With lawmakers calling into meetings from cars, restaurants, and other places with poor connections and sound quality, interpreters complained of deteriorating health conditions, saying they were suffering from tinnitus, insomnia, nausea, and vision issues, among other problems.

Since June, interpreters have refused to interpret for members who connect to meetings remotely, though they continue to work on in-person addresses.

Under the interim deal, hybrid meetings will now be fully interpreted—as long as all speakers have adequate image and sound quality. Lawmakers and European commissioners have also received professional-grade microphones to improve their audio. MEPs have also been issued guidelines for working remotely and warned that if they don't adhere to them, they could be cut off from interpreting services.

A letter sent to European Parliament President Roberta Metsola by the EU trade unions representing interpreters stated the interim agreement "does not change the fact that good sound quality and cooperative speaker behavior are paramount," adding that "should those preconditions fail to materialize, interpreters might be unable to interpret."

A representative of one of the unions said that interpreters were "happy that we finally have provisional rules," describing the interim arrangement as "a start."

A European Parliament spokesperson said: "The interim agreement secured is a good compromise between the needs of operational continuity in the European Parliament and interpreters' health concerns related to the changes in the working methods of the European Parliament."
"Blacklisted" Afghan Interpreters were Disqualified from U.S. Visas. Now They're in Hiding
Los Angeles Times (10/02/22) Castillo, Andrea
The rapid and disorganized exit from Afghanistan by the U.S. a year ago left many people in danger under Taliban rule, including Afghan interpreters who assisted the U.S. military. Many of these interpreters refer to themselves as "blacklisted" and say they were unjustly barred from getting visas promised to Afghans who helped the United States.

Interpreters have said their visa petitions were denied despite receiving positive reviews from their military supervisors. In most cases, the denials came after the interpreters were terminated by the private contracting companies that hired them.

Special immigrant visas (SIVs) provide green cards to foreign nationals including Afghans under a variety of programs, typically because of their employment with or on behalf of the U.S. government. One requirement is "faithful and valuable service to the U.S. government."

Applicants who have been terminated "for cause" by their employers—for reasons such as failing a counterintelligence screening or for alleged performance issues—are deemed to have not fulfilled the requirement. Security screenings routinely include polygraph tests, though they are considered too unreliable to be admissible in many courts. Interpreters and advocates say the smallest inconsistency could trigger a denial.

According to the International Refugee Assistance Project (IRAP), human resources records also might incorrectly classify someone as terminated when the person actually resigned. Other interpreters have been found ineligible if they worked for a company accused of wrongdoing in government contracts.

According to IRAP, although the U.S. Department of State's internal guidance states that disciplinary action doesn't automatically disqualify an employee and that their record as a whole should be taken into consideration, the agency has "with rare exception" denied applicants who were terminated for cause.

SIVs typically require at least 15 years of employment, but because the Afghan program requires only one year, it's harder to prove someone met the requirement if their record includes disciplinary actions. The issue comes down to whether the applicants had "derogatory information" associated with their case and whether they were terminated for cause. People who were terminated and later rehired could still meet the requirements for SIVs if they work at least another year.

A State Department spokesperson said that while being terminated for cause was previously grounds for a "fairly automatic" denial, that's no longer the case. But IRAP and other advocates said they've noticed no changes.

Successful appeals are rare. Applicants must build a strong record of corroborating evidence and get additional recommendations from former supervisors, said Lara Finkbeiner, a pro bono supervising attorney at IRAP. Polygraph or broader counterintelligence screening failures are "next to impossible to overcome," she said. In the meantime, interpreters who are still in Afghanistan are left playing a dangerous waiting game.

No One Left Behind, a service organization that assists Afghan and Iraqi interpreters, counted 339 killings of SIV applicants by the Taliban throughout the war until late 2021, though the nonprofit considers it an undercount.

"There is no future for these people in Afghanistan," said Matt Zeller, senior advisor to the Iraq and Afghanistan Veterans of America who co-founded No One Left Behind. "Every day that they are not able to get to America is an additional day that the Taliban has to hunt them down."
New Zealand Hopes to Banish Jargon with Plain Language Law
The Guardian (09/21/22) McClure, Tess
New Zealand's Plain Language Bill will require government communications to the public be "clear, concise, well-organized, and audience-appropriate." For the country's anti-gibberish brigade, it's a victory: they say clear language is a matter of social justice and a democratic right.

"People living in New Zealand have a right to understand what the government is asking them to do, what their rights are, and what they're entitled to from the government," said Member of Parliament Rachel Boyack, who introduced the bill.

Advocates of the bill say there's vast room for improvement in New Zealand's government communications. The country even has an annual plain language award that includes a "best sentence transformation" trophy.

Unclear sentences are more than an aesthetic concern, says Lynda Harris, who launched the award and directs plain language consultancy Write Ltd. "Government communications decide the most intimate and important parts of people's lives: their immigration status, divorce papers, entitlements to welfare payments, or ability to build a home."

"When governments communicate in ways that people don't understand, it can lead to people not engaging with services that are available to them, losing trust in government, and not being able to participate fully in society," Boyack said. "Those most affected are people who speak English as a second language, have not attended university, have disabilities, or are elderly."

The bill is not universally supported. Those in opposition argue it will add further layers of bureaucracy and cost, in the form of plain-language-monitoring officials, without actually improving communication with the public.

But advocates say plain language is a boon for accountability as well as comprehension. "Language is a vehicle. It's just a means to an end," Harris said. "It should tell people what happened, who was responsible, and what can be done."
Deaf Patient Unknowingly Let Clinic Remove Teeth
Miami Herald (10/19/22) Segura, Daniella
A deaf patient said she was unaware she agreed to have seven teeth removed after a Washington dental clinic failed to provide an interpreter. The case is now being heard in federal court.

The woman contacted Dental Specialty Clinic in Des Moines, Washington, for emergency treatment in June 2020 after her dentist said she likely needed to have "her wisdom teeth removed and possibly one other tooth, as well as a possible root canal," the U.S. Attorney's Office for the Western District of Washington said.

Although the woman was told there would likely be no sign language interpreter available, the clinic said it would contact her beforehand if that were the case. "However, the clinic did not contact her, and when she arrived for treatment, there was no interpreter," prosecutors said.

Without an interpreter there to help explain the treatment plan, the woman unknowingly agreed to have seven teeth removed, which "caused her significant physical pain and emotional distress," prosecutors said.

"Effective communication with patients is critical in medical and dental appointments, and auxiliary aids and services are required by law for patients who need them," U.S. Attorney Nick Brown said.

As part of a settlement, Brown said the clinic will pay the woman "$45,000 in compensation for the discrimination she suffered." The clinic must also make improvements to ensure it provides "interpreter services for clients who are deaf."

Brown said the dental clinic was ordered to contract out a "qualified interpreter services provider" and train its employees on new policies and procedures. "The clinic will provide reports and records to the U.S. Attorney's Office for three years to ensure compliance."
ATA News
---
Multiply Your AFTI Donation Dollars with a Three-to-One Match!
ATA63 Conference attendees at the Second Annual Game Night hosted by the
American Foundation for Translation and Interpretation (AFTI)
, ATA's nonprofit educational and scientific foundation, were pleased to learn that generous donors matched every scholarship dollar donated three-to-one—up to $1,000. Two scholarships to ATA's 64th Annual Conference in Miami are now fully funded, but the matching deal is still available, so here's your chance to make a difference in a T&I student's life.
Donations of any size will be matched until October 31st!
If you missed Game Night or were unable to attend ATA63, you can still help students launch their translation or interpreting careers with your donation. Our goal is eight $500 scholarships for ATA64. We can do this! Click
here
now to donate.
AFTI ATA63 Conference Scholarships
This year, AFTI awarded five scholarships to students/recent graduates of translation studies programs to help defray the cost of attending ATA's 63rd Annual Conference. The ATA63 scholarship recipients are: Halla Bearden, Nancy Cabrera, Jill Neuendorf, Andrea Perdomo, and Susi Rakhmawati. Congratulations!
Final Notes for ATA63 Attendees
Watch the ATA63 Wrap-Up
If you missed the Closing Session on Saturday, then you missed the ATA63 video recap. Here it is again! Relive the moments or see what you missed.
Click to watch!
Submit Your ATA63 Surveys for a Chance to Win
Your ideas and suggestions have helped shape the ATA Annual Conference over the years. So, please take the time to complete your ATA63 overall and session conference surveys and tell us what you think. Surveys submitted by December 1 will automatically be entered to win a free registration for the ATA64 Annual Conference in Miami, Florida (October 25-28, 2023) or an ATA Webinar. Look for the surveys on the ATA63 Conference app. iPhone users, please use the web version of the app to complete the surveys; go to https://www.tripbuilder.net/html5/ata2022/login.php. Questions? Contact ata@atanet.org.
ATA63 Continuing Education Points
ATA-certified translators earn 1 CEP for each hour of conference sessions attended, up to a maximum of 10 CEPs. In addition, ATA-certified translators may earn 1 CEP for each hour of AST courses attended, up to a maximum 5 CEPs per day. Certified and credentialed interpreters may also be eligible for ATA63 continuing education credit! Check out the
Continuing Education Credit page
on the ATA63 website to learn more.
To receive your continuing education certificate, go to https://web.atanet.org/conf/conf_login.php and login using your username and password provided in yesterday's post conference email. If you cannot find your login information, please contact ATA at
ata@atanet.org
.
Thanks to all ATA63 Sponsors and Exhibitors!
Sponsors and exhibitors played a crucial role in making this a memorable conference. Please take a minute to check out ATA63
Sponsors
and
Exhibitors
and consider returning their support in your business decisions.
Interested in Presenting at ATA64?
Next year's ATA Annual Conference in Miami, Florida (October 25-28) may seem like a long way away, but the call for proposals will actually go out in January, and the deadline to submit will be in early March. So, now's the time to start planning! Check out "
How to Submit a Successful Proposal
."
Are You Caught Up with ATA's Inside Specialization Series?
ATA kicked off the
Inside Specialization
podcast series on April 20, 2021 with the goal of exploring specialization and diversification in the translation and interpreting professions. Developed in collaboration with ATA's Professional Development Committee, each episode tackles the "what, why, and how" of various specialties in one-on-one interviews with those actually doing the work. It's the real "behind the scenes" story, including the skills needed, the pros and cons of the job, the types of clients in the specialty, and more. There are loads of personal stories and recommendations for how to get started in the field—and our download numbers show listeners are loving it.
The series is taking a break for the month of October, which makes this a perfect time to catch up on any of the episodes you've missed thus far!
Inside Specialization – Court Interpreting
Inside Specialization – International Development
Inside Specialization – Educational Interpreting and Translation
Inside Specialization – Technical Translation
Inside Specialization – Conference Interpreting
Inside Specialization – Translating Sustainability
Inside Specialization – Diplomatic Translation
Inside Specialization – Medical Interpreting
Inside Specialization – Video Game Localization
Inside Specialization – Audiovisual Translation
Inside Specialization – International Trade
Inside Specialization – Legal Translation
Inside Specialization – Interpreting for Spiritual Care in Health Care Settings
Inside Specialization – Editing, Proofreading, and Copyediting
Look for a next
Inside Specialization
podcast interview in November! And be sure to subscribe to
The ATA Podcast
through
Google Podcasts
,
Apple Podcasts
,
Spotify
, or your favorite podcast app to get new episodes as they are released. It's free!
Don't Miss the Next ATA Webinar!
Netflix and Learn: Unconventional Resources for Learning Medical Terminology Presenter:
Yuliya Speroff
Date:
November 2, 2022
Time:
8:00 p.m. ET
Duration:
60 minutes
Language:
English
Level:
All
CE Point(s):
1 ATA-approved; CCHI and IMIA pending
Leave rote memorization behind! Explore how to make learning medicine and terminology fun and memorable with these entertaining resources!
From webinars to self-paced online courses to medical textbooks, there are any number of traditional ways for medical interpreters and translators to enhance their knowledge of medicine and terminology. But what about something a little less traditional and a lot more fun? Presenter Yuliya Speroff is ready to show you how to use popular books, podcasts, and TV shows to increase your medical vocabulary and understanding of medical concepts!
You will learn how to:
1. Use a wide variety of resources to study medical terminology
2. Extract terminology from books, podcasts, movies, and TV shows intended for the general public
3. Challenge yourself to find and share new non-traditional education sources with other attendees
Register now!
ATA Member $45
|
Non-Member $60
Registration closes November 2, 10:00 am ET. If you have already registered for this webinar, be sure to check your inbox for no-reply@zoom.us to find your invitation to join. Email zoom@atanet.org if you cannot find it.
ATA and AFTI Honors and Awards
Each year, ATA and the American Foundation for Translation and Interpretation present annual and biennial awards to encourage, reward, and publicize outstanding accomplishments by both seasoned professionals and students.
This year's award recipients were announced at the Annual Awards Presentation on October 14 during the ATA63 Annual Conference in Los Angeles.
Advocacy Award
Jennifer Santiagos
Harvie Jordan Scholarship
Gabriela Escarrá
Impact Award
David Stephenson
Innovation Award
Maha El-Metwally
Lewis Galantière Award
Natasha Wimmer
Marian S. Greenfield Financial Translation Award
Analia Bogdan
Student Translation Award
Samantha Hankins
Congratulations to all the winners!
ATA School Outreach Contest
ATA's School Outreach Program encourages members to share their stories in schools around the world—in person and virtually. By showing students the kinds of opportunities available to professional translators and interpreters, members not only inspire them to consider a career path they may not have realized was a possibility, but also educate them as future clients. Plus, every School Outreach presentation offers members the chance to enter the School Outreach Contest with a chance to win a free registration to ATA's 64th Annual Conference in Miami, Florida (October 25-28, 2023)!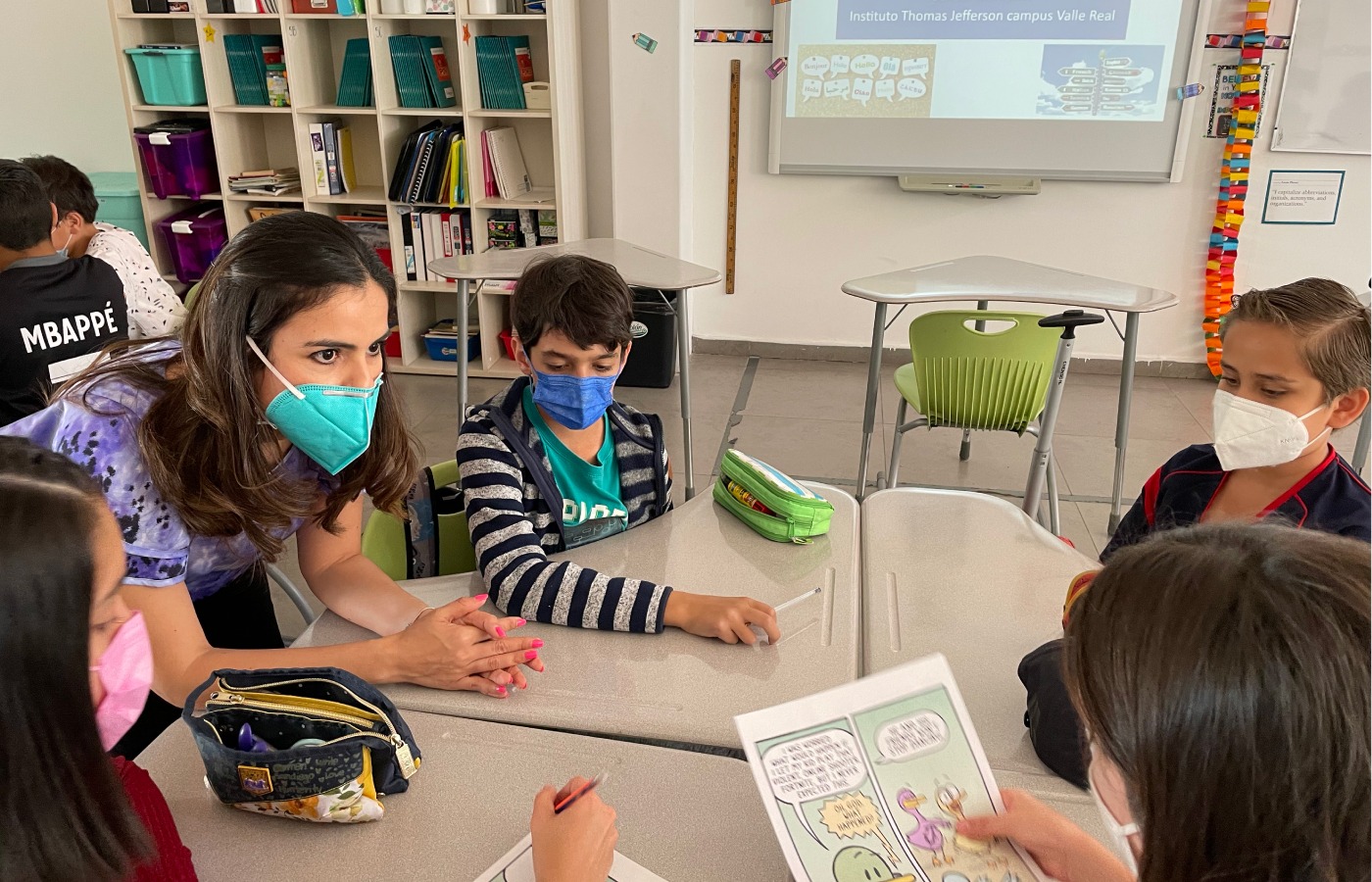 School Outreach Contest Winner for 2022
Congratulations to
Aída Carrazco!
ATA's School Outreach Contest 2023
There's no time like the present to start planning a School Outreach presentation and contest entry!
Listen to Episode 53 of The ATA Podcast
to learn more about the program and all the resources ATA has at the ready for putting together a presentation. The deadline for the 2023 contest is July 31.
In the September/October Issue of The ATA Chronicle
ATA 2022 Elections: Candidate Statements
Calling all Voting members! Participating in ATA's annual elections is your opportunity to help shape the future of the Association. Learn what this year's candidates for ATA's Board of Directors have to say. Remember, the Annual Meeting of Voting Members and Election will be held October 13, 2022.
Balancing Act: Caring for Someone with Dementia While Keeping a Practice Afloat
My father had been diagnosed with Alzheimer's. My mother was in the early stages of an unspecified dementia. And the brilliant plans I had made so I could work from their senior living facility while caring for them during extended visits were crumbling all around me. Being a caregiver and at the same time a self-employed professional is a balancing act. But in the end, it can be a gift. (
Carol Shaw
)
"Your Story Is Your Weapon": Interpreting for Immigrants in the Wake of Trauma
Whether in legal, health care, or community settings, interpreting for immigrants who've been forcibly displaced tests emotional resources. An interpreter shares techniques from the ancient art of poetry for building resilience.
(Judith Small)
Language Industry Standardization in Argentina: A Brief Overview
In recent years, the term standardization has become increasingly relevant in the language industry, with a growing need for more information on the subject. Here's an introduction to the main aspects related to standardization and the language industry in Argentina.
(Gabriela Escarrá and Dolores R. Guiñazú)
Team Interpreting for Magistrate Courts in Texas
Learn how Texas magistrate judges, court staff, prison personnel, and interpreters are working remotely to ensure that non-English-speaking and limited-English-proficient detainees understand their rights when facing criminal charges.
(Sandra Dejeux)Access to
The ATA Chronicle's searchable archives
is available online! And don't forget to check out the latest issue of the
Chronicle Online.
October 21, 2022
---
Which area of your business do you often fall a bit short in?
---
Previous Poll Results
Beside ATA, how many translation and interpreting organizations do you belong to?
5% = 0
54% = 1
36% = 2-3
5% = 4 or more
---
In This Issue
ATA Election Results
AFTI Donation Match
Final Notes for ATA63
Inside Specialization
Next ATA Webinar
Award Winners
School Outreach Winner
The ATA Chronicle
---
ATA Members Only

Free ATA Webinar!
Understanding and Leveraging Cultural Differences in Your Personal Brand
Click to watch!
---
Get Ready to Renew!
Watch your mailbox next month for your ATA 2023 membership renewal notice.
---
ATA Webinars
Netflix and Learn: Unconventional Resources for Learning Medical Terminology
Nov 2 @ 8:00 p.m. ET
Registration open
---
Calendar of Events
Win free ATA64 registration!
ATA63 Conf Survey
Deadline: Dec 1, 2022
See conference app
Virtual Language Advocacy Days 2023
JNCL-NCLIS
Feb 8-10, 2023
Registration open
ATA64 Annual Conference
Oct 25-28, 2023
Miami, Florida
---
---
The ATA Chronicle September/October 2022
---
---
Using LinkedIn to Research People and Companies
---