What Freelancers Can Learn from Entrepreneurs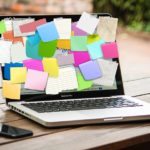 This post was originally published on the Freelancers Union blog. It is reposted with permission from the author.
Get paid for doing what I love, doing it wherever I want, whenever I want, and however I want. No more bosses demanding unconvincing protocols or mandatory smiles (I'll never forget those six years at a burger joint where "smiles were a part of my uniform"), and no more needing to be at a specific place at a specific time.
That was the dream I was sold. But then I found myself staring blankly at the computer. Not quite looking at it — my eyes crossed just enough to see the particles of dust floating in front of it.
I had just delivered a month-long project to a regular client. It was a grueling month. The deadline bordered unreasonable and in order to deliver on time I had to work late into the nights. It was August and, despite the respite I found with the air-conditioned interior, I still longed to go out there.
The project finished. Boom. Delivered. It was done. Was that the best work I've done? I don't think so. Did it fill me with joy and a sense of fulfilment? Definitely not. Had I become a freelancer, moved to Europe, and found my "freedom" just to be locked inside an office all summer? Was this supposed to be my calling? Why did I feel so empty?
By that point, the work grind I had invested so much of myself in resulted in a burn out. That night, after I hit the little blue send button with all the deliverables packed cozily in a zipped package, I couldn't even read an email.
I had to leave. From the next month, anybody trying to get a hold of me would only get an automatic away message. I stuffed a backpack and got the first ticket I could find to a Greek island. I didn't care which. I had no paid vacation, and I needed to work. But I couldn't.
For the first time since I'd begun freelancing, I wasn't excited to get back to work. I didn't understand why this hustle and grind had left me feeling so depleted. That month of August, I made the most money I have ever made in my career as a freelance translator and writer. But was that sustainable?
All I understood was that there was something that wasn't clicking about my approach to work. The secret, it turns out, was creating systems.
A new approach
When I reluctantly came back to work, having spent all my money, I spent weeks thinking about how I could rearrange my professional life. I binge-listened to podcasts, blogs, and began my habit of reading three books a month. I would find the solution.
And the message began to manifest itself to me: I had to learn to work like entrepreneurs and corporations do. Focus management, not time management, was the answer. And I had to prioritize what was most important. I wanted to spend more time in my genius zone and less time in everything else. I would find ways to automate, diversify, and scale my income.
I've always had an entrepreneurial approach to freelancing: I understood it was a business, that I needed to consider marketing, organization, and customer service in my approach. I created content to help people around me. I needed to be reachable, pleasant to work with, and deliver fantastic work on time.
But there had to be a better way than just increasing rates or getting more gigs. Freelancing is a fantastic way to find freedom, follow your life's calling, and make great money. Which is a viable and perfect business model for many. But there was something limiting me, and I knew that spending all my time on billable hours was not the way to grow.
Bigger and scalable
As Seth Godin put it: "Your labor is finite. It doesn't scale. If it's a job only you can do, you're not building a system, you're just hiring yourself (and probably not paying enough either)."
So I decided to shift into an entrepreneur mindset. You don't need to become an entrepreneur, but take an entrepreneurial approach. You don't need to give up freelancing in lieu of being an entrepreneur, per se.
Entrepreneurs work to take themselves out of the equation; they use ideas to build well-oiled systems to run their businesses. Freelancers do something they're good at in exchange for money. There are similarities between the approaches. For example, both entrepreneurs and freelancers can have a personal brand, and neither of them have a boss.
I love to write and translate and would like to continue doing it. But we can take examples from entrepreneurs and apply it to our freelance businesses. The most useful thing freelancers can take from entrepreneurs is to create systems for their businesses.
Create a system for your work and stick to it
Entrepreneurs are masters at building systems. That's the premise of their whole business plan. Build a system, implement it, and turn it into a cash machine. Freelancers can create systems to increase productivity and performance:
Email templates
A customer management system
An onboarding sequence (pre-call questionnaire, a brief created to make the most of your client call, and follow-up)
A feedback system (creating a client questionnaire asking for feedback on specific stages of your service – outreach, onboarding, customer service, deliverables, and the actual work itself)
An automated social media plan
Outsource what you do not want to do yourself: accounting, bookkeeping, social media, etc.
A specific quality assurance system that you follow for every job
Terms and conditions designed to save back-and-forth and hassle
Defined objectives and steps to reach them
A set schedule that includes non-billable work (marketing, growth and development) PLANNED in. Your work as a freelancer is not only your client work. Plan for it. Plan time to plan. Build your business continuously. There will never be a moment when you have "free time".
The list goes on.
Creating these systems builds your personal brand as a professional, increases leads, sales, and makes happier customers. You'll become better at attracting the right clients and repelling the ones that are not aligned with you. Ultimately you'll better respond to their needs because you'll have a system for understanding what they are.
Now, tell me, do you have systems for your business?
Image source: Pixabay
Maeva Cifuentes is a digital nomad, blogger, content strategist, writer and translator. She helps entrepreneurs grow their brands and find freedom.
Subscribe to The Savvy Newcomer