Summary of the ATA Translation and Interpreting Services Survey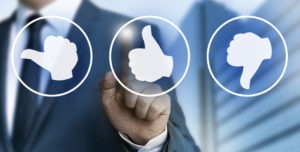 Reblogged from The ATA Chronicle with permission, incl. the image
The fifth edition of the ATA Translation and Interpreting Services Survey serves as a practical tool, revealing general trends in the translation and interpreting industry.
The recently released fifth edition of the ATA Translation and Interpreting Services Survey is an invaluable benchmarking tool for nearly everyone in or affiliated with the translation and interpreting industry. The study allows an individual or company to easily compare their compensation levels to their peers. Translators and interpreters are able to review rates across languages, specialties, and location. Companies involved in translation and interpreting are able to refer to this report when determining their competitiveness with respect to compensation. Students considering careers in the translation and interpreting industry can use this tool to steer their specific career decisions and to gain insight about potential compensation. In addition, the study serves as a practical tool for a broader audience—individuals and businesses in the market for translation and interpreting services. The survey was compiled, tabulated, and prepared for ATA by Industry Insights, Inc., a professional research and consulting firm that provides management and marketing services to dealer organizations, individual membership organizations, and professional trade associations and their members. The company specializes in compensation and benefits studies, industry operating surveys, member needs studies, educational programs, and customized research activities.
Survey Design
Responses were received from translation and interpreting professionals worldwide. Approximately two-thirds of the respondents reside in the U.S., 15% in Europe, 6% in South America, 4% in Canada, and the remaining 6% in other locations. Upon receipt, all data were checked both manually and by a custom software editing procedure. Strict confidence of survey responses was maintained throughout the course of the project. The seven employment classifications analyzed in this report include:
Full-time independent contractors
Part-time independent contractors
Full-time in-house private sector personnel
Part-time in-house private sector personnel
Company owners
Educators
Government employees
For detailed analysis, responses were broken down by age, gender, years in translation and/or interpreting, education level, ATA membership, geographic region, and certification and interpreter certification/credential. This comprehensive data allows users to compare their own income, hourly rates, and rates per word to individuals in similar situations.
Some Key Findings
Respondent Demographics: Survey respondents had varying backgrounds and experience. As shown in Figure 1, more than two-thirds were female and nearly one-third were ATA-certified. More than 60% held a master's degree or higher, and more than two-thirds had over 10 years of employment in translation and interpreting. The typical (median) respondent was 50 years old.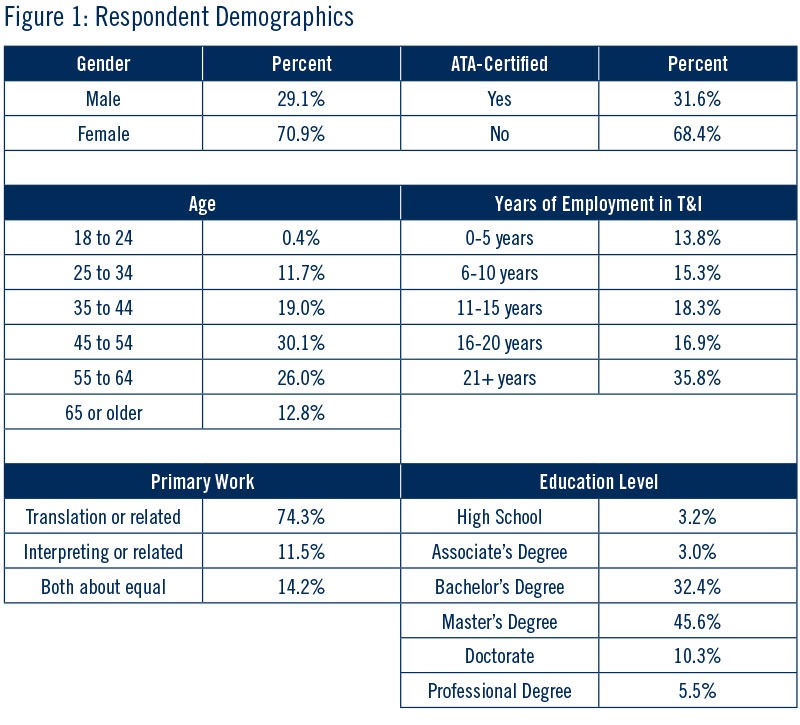 Income Varied by Employment Classification: As shown in Figure 2, translation and interpreting company owners reported the highest gross income at $55,630, which is slightly ahead of full-time private sector employees ($55,547) and full-time independent contractors ($52,323). The lowest income was reported by educators and part-time independent contractors: $17,344 and $17,746, respectively.
Certification and Credentials Matter: On average, ATA-certified translators earned 21% higher compensation than those who were not certified. Similarly, on average, certified and credentialed interpreters earned 27% higher compensation than those who were not certified or credentialed.
Trends: Nearly half of the respondents reported that their 2014 gross compensation from translation and interpreting increased compared to 2013. Nearly one-third reported no change in income, while 23% reported a decline.
Education and Experience: Thirty percent reported having a degree in translation, while 12% reported having a degree in interpreting. Half reported having a non-degree certificate in translation or interpreting. Other credentials reported include state court interpreter certification (8%) and the U.S. State Department exam (6%).
Translation Volume: Translators' target output per day was reported at 2,855 words. On average, they translated approximately 380,000 words per year in 2014.
Translation Income: Responding translators reported three-quarters of their income was derived from translating, while 15% was earned by editing/proofreading.
Translation Services: A little more than 14% of translators reported offering editing/proofreading services, while more than 76% reported offering translation services. Only 1% of translators reported offering post-editing machine translation services.
Interpreting Income: Responding interpreters reported the bulk of their income was derived from the following settings: judiciary (27%), medicine/life sciences (22%), and business and conference (12% each).
Interpreting Services: The interpreting services offered most frequently were consecutive (96%), simultaneous (74%), sight (44%), and phone (42%).
Compensation: Thirty-two language combinations were surveyed. Translation rates were reported per word and hourly. Hourly rates were reported for editing/proofreading services. Hourly rates were reported for interpreting services.


Ordering Information
ATA's 58-page Translation and Interpreting Services Survey, Fifth Edition presents the survey results in much greater detail than is possible in this summary article. The complete report includes translation and interpreting hourly rates and rates per word for a wide range of language combinations. It's important to remember that the statistics published by ATA should be regarded as guidelines rather than absolute standards. ATA intends the survey to reveal general trends in the industry, not exact amounts. The full report is available to ATA members for free by logging into the Members Only area of ATA's website. Non-members may purchase the complete report for $95. Please order from ATA's Publications page or write ATA to order your copy: ATA, 225 Reinekers Lane, Suite 590, Alexandria, VA 22314; 703-683-6100; fax 703-683-6122, e-mail: ata@atanet.org.
---
Shawn E. Six is a principal at Industry Insights, Inc. His position includes marketing, design, and implementation of the company's research efforts, with a focus on compensation and benefits studies for a wide variety of industries. He has conducted more than 200 studies during his 20+ years at Industry Insights, and the results of these projects have been cited in The Wall Street Journal, The New York Times, USA Today, CNN, and countless association journals. He has an MS in marketing from Westminster College and a master's degree in predictive analytics from Northwestern University.
Subscribe to The Savvy Newcomer