Tablets for Interpreters: The Device You Didn't Know You Wanted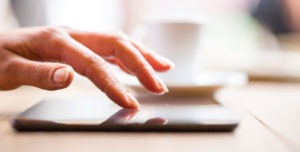 Reblogged from The ATA Chronicle with permission by the authors (incl. the images)
Just as increases in laptop storage and processing capacity led to the replacement of desktop computers, advances in tablet technology make it possible for users to streamline even more.
The latest tablets offer a host of streamlined tools for interpreters, even in high-stakes settings like court and conference interpreting. How can interpreters take advantage of these tools for business tasks, assignment preparation, and consecutive and simultaneous settings?
Come along with us for a tour of some of the tools we recommend. After reading this you'll have a better idea how to incorporate tablet technology into your workflow.
Glossary Management
A glossary is an important part of any interpreter's toolbox. Building a list of useful and important terms during the preparation phase can really help you get up to speed on the topic at hand. And once you have a glossary for that topic or, say, a specific conference or client, it's much easier to build it up over time. Obviously, electronic glossaries are much easier to maintain and expand than paper ones. However, this doesn't preclude you from printing your electronic glossary for an assignment, if you so wish. (But you might as well just use your tablet.)
While we won't go into the details of what you should put in a glossary, we can show the different approaches that exist in terms of glossary management software. The most basic approach would be creating a table within a Word document, but we don't recommend this as it's simply too rigid to work with over time. Similar criticism applies to spreadsheets (i.e., Excel files), which seem popular among interpreters. However, they are not very flexible, and there is the potential risk of getting your terms mixed up when something goes wrong during sorting. If you still prefer spreadsheets, some mobile apps1 you can use include Microsoft Excel (available on iOS and Android, free for basic use), Google Sheets (free on both platforms), or Apple Pages (iOS only, free with your device).
Alexander prefers dedicated apps that work more like databases than spreadsheets. They tend to be more robust and provide more options for working with data. One example is Interplex, which has a long tradition on Windows computers and is co-developed by Peter Sand, an interpreter and member of the International Association of Conference Interpreters (AIIC). Interplex is also available on mobile devices (iPhone, iPad) and lets you synchronize data through Dropbox.
If you're looking for a web-based solution, make sure to try Interpreters' Help. In addition to robust glossary management features, such as reverting back to older versions when something goes wrong, this app is also quite social-savvy when it comes to collaborating with other users and sharing your work on the "Glossary Farm." Interpreters' Help has a companion app for iPad, called "Boothmate." Android users should check out Memento Database, a very user-friendly way to manage not only glossary data, but also all kinds of other information (like client contact information or a to-do list).
On top of standard spreadsheet features like filtering, sorting, or rearranging terms, database-driven apps allow for faster searches and give you more control over importing existing glossaries and exporting your data—not to mention the additional possibilities to go beyond just words by adding images, video, or audio. It may sound strange at first, but think about it: for highly technical topics like medicine or engineering, visualizing terms can make a lot of sense. As does recording the pronunciation of a difficult term in a short audio clip, or making a video glossary for sign language. There are a lot of potential uses. If you want to give it a go, I recommend using an easy-to-use app called Airtable. It brands itself as a mix of a spreadsheet and a database, is available on the web and mobile devices, and 
can be used collaboratively. (See 
Figure 1.)
There is one more aspect where electronic beats paper hands-down. You may have already worked on a shared Google Doc with somebody else online, but did you know that Google also has an online spreadsheet tool (aptly named Sheets) that you can use to collaborate on glossaries with remote colleagues? (Leonie Wagener, a Germany-based conference interpreter, has published a tutorial on AIIC's website about this.2) The benefits of this approach are obvious. You can split up the workload of bigger conferences (e.g., by speaker or by language), you get valuable input from others, and there's a built-in chat to discuss issues with the team. Everybody contributes, and everybody ends up with a solid glossary.
Even if you work on your glossary solo, it's a good idea to add terms during the assignment. After all, we often get the best terms from the people for whom we work, and we know the terms are relevant. This also means less work when you get back to the office, as there's simply no need to go through all the scraps of paper with scribbles on them that you usually bring home.
Freelance Business Tasks
For freelancers, tablets also offer a modern way to take care of administrative functions, even while you are on the move. Prepare estimates, invoice jobs, do bookkeeping, and keep up on marketing tasks—non-billable work that traditionally had to wait until you got back to the office—are now easily taken care of during long lunches or on the ride home.
For example, interpreters can use their mobile phone or tablet to send job invoices before they leave the building while the job details are fresh in the mind of both the freelancer and the client. This encourages prompt payment and cuts down on email exchanges to correct or explain invoices. Applications such as Quickbooks and Expensify allow you to snap a photo of an expense receipt for automatic filing and categorization, thus avoiding lost receipts and menacing piles of receipts awaiting entry.
For your social media marketing, try using Feedly and Alltop to track new content on your favorite websites and blogs, and Buffer to quickly schedule social media posts that share your favorite articles or promote your own content. (See Figure 2.) Mailchimp, a service for email distribution lists, allows you to view and send your email campaigns and monitor their delivery statistics almost in real time.
And speaking of email, it can be overwhelming at times, so why not try a few email apps for tablets that bring new ideas to the game, such as snoozing incoming email, read receipts, or sending messages later. If you're intrigued, take a look at Newton (Android, iOS) or Spark (iOS).
Digital Note-Taking
Alexander: In some ways, using a tablet and stylus (a digital pen that mobile devices recognize on their touchscreens) to take consecutive notes digitally instead of on paper is the holy grail of "tablet interpreting," although it may not immediately seem superior to the old way of doing things. I think it's simply a lot of fun to try out!
The perfect hardware combination for this, in my opinion, is an iPad Pro with an Apple Pencil. But unless you already own those two, don't go out and buy them just to see if digital note-taking is for you. Instead, work with the tablet you already have. If you don't own a stylus yet, borrow one or buy an inexpensive option. For example, Wacom's Bamboo styluses are very affordable and widely available.
Incidentally, Wacom also provides a free note-taking app: Bamboo Paper. As almost all note-taking applications, it works with the familiar notion of notebooks organized on a shelf or in a library. When you open up Bamboo Paper, you'll see one or more blue notebooks that you can rename to your liking. Tap on a notebook to open it. At the top of the screen, choose your favorite writing utensil (e.g., ball pen or felt pen), stroke width, and writing color. An eraser is also available. Now you're good to go! I don't recommend taking interpreting notes straight away. Instead, you might want to start slowly by doodling to get a feel for how the app works. Move on to jotting down a shopping list or short text, and when you feel more comfortable, try taking notes for a short test-style speech from Speechpool or the European Union Speech Repository. If you get hooked, then digital note-taking is probably for you. Great note-taking apps for iPad are Notability and Noteshelf. (See Figure 3.) They both integrate with lots of styluses, including the Apple Pencil, and they support cool stuff like audio recording.
Holly: I haven't tested digital note-taking on recent Apple products, but I've had great results on Android tablets and my current sweetheart, the Microsoft Surface Pro 4 (laptop/tablet hybrid).
Samsung tablets use the Android mobile operating system and come with a free app called S-Note that meets all my note-taking needs. For example, it offers continuous page scrolling (no searching for a button to go to the next page) and automatic deactivation of hand recognition (ensuring your palm doesn't mark or move the digital paper, allowing for a natural hand position for writing). Samsung discontinued the Note line of tablets that featured a pen-size stylus that nested neatly into the body of the device, but there are many compatible stylus options to suit any preference. Just look for the one that feels natural for you and play with the settings in your note-taking app to get the type of stroke you like.
Another option, if you want to do all your computing and note-taking on one lightweight device, is the Microsoft Surface Pro 4 or a similar laptop/tablet hybrid—many manufacturers are following Microsoft's lead in this space now. (See Figure 4.) For notes, DrawBoard PDF, intended for viewing and annotating PDFs, has proven to be perfect for consecutive notes, which don't need to be organized or stored later. Just create a new document (selecting your preferred "paper" color and texture) and start taking notes. When clients require destruction of notes, it's as simple as deleting the file.
Much More than for Entertainment
Just as increases in laptop storage and processing capacity led to the replacement of desktop computers, advances in tablet technology make it possible for users to streamline even more, replacing their laptops with feather-light tablets. Professional devices are much more than an overpriced entertainment device. For example, Alexander uses his iPad Pro as his main computer for almost everything, from referencing documents in the interpreting booth, taking notes on consecutive assignments, and writing blog posts and editing podcasts. Holly brings her Surface Pro 4 to assignments as a tablet and mobile workstation—even running two full translation programs—and connects it to a dual-screen desk setup when at the office. Prices for basic devices start at just a few hundred dollars, so it's a great time to try out tablet interpreting.
Notes
Apps: Ubiquitous shortened form of applications, mobile device programs.
Here's the link to Leonie Wagener's article: http://bit.ly/conference-preparation.
---
Holly Behl is an ATA-certified Spanish>English translator and a Texas Master Licensed Court Interpreter. She has been experimenting with interpreting applications for tablet technology since 2013, with reports available on her blog, The Paperless Interpreter (www.paperlessinterpreter.com). Contact: holly@precisolanguage.com.
Alexander Drechsel is a staff interpreter at the European Commission's Interpreting Service. His working languages are German (A), English (B), French, and Romanian (C). He is also a bit of a "tablet geek," and and regularly shares his passion and knowledge with fellow interpreters during training sessions and online at 
www.adrechsel.de. Contact: alex@adrechsel.de.
Subscribe to The Savvy Newcomer