Book review: The Business Guide for Translators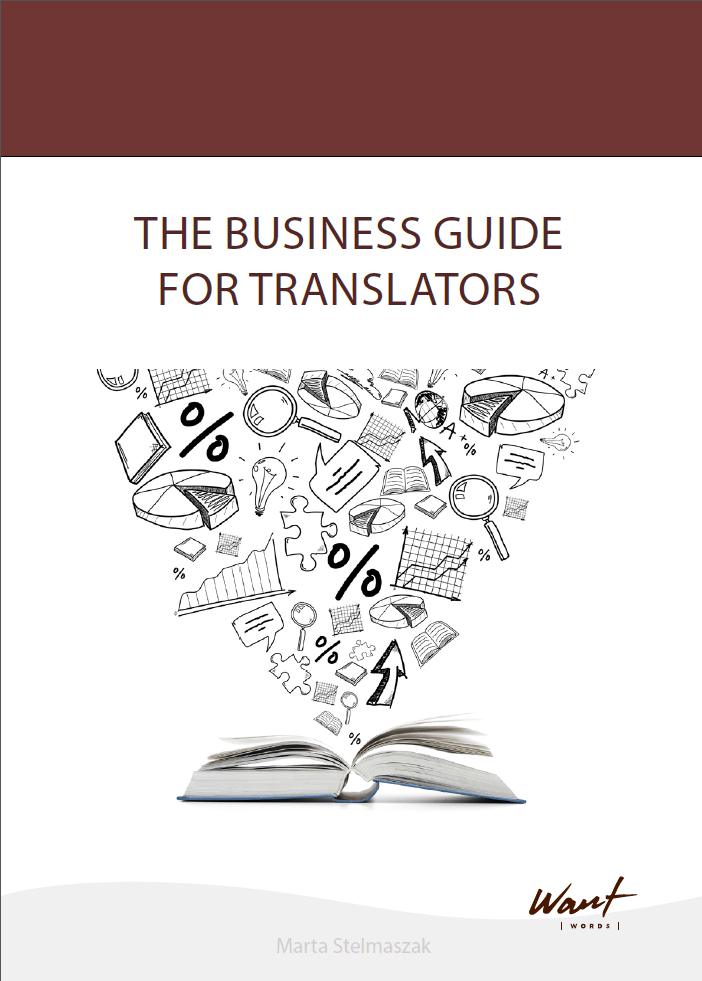 It is widely recognized that there are several skills you need to be successful in translation. The fundamental skills include excellent source language comprehension, superb target language writing skills, and subject matter expertise. However, business skills are also essential, especially in today's translation market where the majority of translators are self-employed freelancers. While reading, writing, and translation skills can be honed in language and translation degree programs, I think newcomers to the industry would be wise to work on their business skills at an early stage as well.
The Business Guide for Translators by Marta Stelmaszak provides an excellent starting point for shaping your translation business. The book is divided into five parts, each covering different business topics tailored for translators.
Part 1 introduces several fundamental business concepts, explains them simply, and shows how they are related to the language industry. Part 2 provides a diverse and powerful set of tools to analyze your business and create effective business strategies. Part 3 focuses on business management, including market research, planning, and goal setting. Part 4 starts off with several videos with hands-on tips for effectively communicating and negotiating with clients, which is followed by some additional key points in the quoting process. The final part rounds off the book with links for further reading on business practices.
One of the recurring themes of the book that resonated with me was "uniqueness". Marta refers to uniqueness in several crucial contexts, such as in your unique selling point (USP) as a way to differentiate yourself from competitors. Uniqueness is also emphasized in the context of core competence, where you focus on creating a unique offering in what you excel at and outsource or don't engage in weaker areas, thus adding value for clients. Uniqueness of service is mentioned as a key factor of supplier bargaining power in the section on Porter's five forces. I personally feel that the way Marta employs uniqueness plays an interesting role in showing how we can get away from commoditization in the languages industry. Her strategies for identifying promising customer segments and selecting appropriate specializations in high demand play a key role in helping you find a USP that is profitable and well-rooted.
Another approach that intrigued me was the blue ocean strategy. As opposed to a red ocean strategy where you limit your focus to competing intensely for existing demand under existing conditions, a blue ocean strategy entails creating new demand, finding new clients, and making the competition irrelevant. Blue oceans are characterized as tranquil, uncharted territory, while read oceans have turned red from the bloody fighting of cutthroat competition. Marta also talks about shaping industry trends instead of following them in this section. All of this reminds me of the concept of reframing requirements so as to focus on showing clients what they need instead of selling yourself or catering to existing perceived needs, a point I heard in a webinar by John Niland. I'm looking forward to more consciously applying a blue ocean strategy in my business and seeing where that may lead.
I felt that The Business Guide for Translators will prove useful to translators at various stages in their careers and I certainly was given a useful reminder of some things I have read or thought about previously as well as some new tools and ways of thinking about my business.
In hindsight, I certainly wish that someone challenged me to think harder about my business the way Marta does when I was a newcomer, and I think this book can be especially useful to help newcomers to the languages industry make savvy business decisions and avoid getting off to as a rocky a start as some of us have.
Subscribe to The Savvy Newcomer