Remote Interpreting (RI): Professional Standards and Self-Care for Interpreters

This post originally appeared on ATA TCD News (Newsletter of the Translation Company Division of the American Translators Association), Volume 2 | Issue 7 | Winter 2021, and it is republished with permission.
In this article we will focus on the importance of following professional standards even in remote interpreting settings, self-care for remote interpreters and interpreters at large, and tips to help you deal with interpreter trauma.
Now more than ever before, language service companies are providing language solutions that empower companies to communicate with their clients wherever they may be and/or do business globally, especially during this COVID-19 pandemic by bridging the gap of language barrier through remote interpreting (RI) in various settings.
THREE MAIN TYPES OF RI
To provide an understanding of what types of interpreting fall under this umbrella term, and how they differ from one another, the next sections will discuss the three ways in which virtual interpreting can be performed or delivered: over-the-phone interpreting (OPI), video remote interpreting (VRI), and remote simultaneous interpreting (RSI).
It is worth noting that there has been more demand for RSI (on different platforms) since the beginning of the current pandemic with the cancellations of conferences. It is used for virtual meetings such as Multilingual conferences, corporate events, meetings, workshops, training and/or daily briefings. For more details see this Nimdzi article on the subject: The Virtual Interpreting Landscape.
Telephone & Video Remote Interpreting (OPI & VRI): Consecutive
Mostly used in these main settings:
Medical (telemedicine and in person health care)
Legal/Court (depositions or general court proceedings & Immigration)
Educational: Parent-Teacher conferences, other IP meetings, and more
Business: customer service, meeting and more
WHY ARE PROFESSIONAL STANDARDS IMPORTANT EVEN IN REMOTE SETTING?
The main reason is that, like in any other profession, professional interpreters are required to abide by the standards governing their profession whether they are working on-site (face-to-face) or remotely.
Observation: During this pandemic, we have noticed a new trend of different actors in our industry relegating standards to the sidelines or completely ignoring them, including language companies, interpreters and clients. We should always uphold them. For reference, check out the following links:
WHY OPT FOR TEAM INTERPRETING IN LEGAL SETTINGS?
Practical (helps with interpreter fatigue): We know that conference and sign language interpreters work in pairs, taking turns every 20-30 minutes to relieve one another. Team interpreting is also used in court proceedings— notably trials and depositions—but not all courts use it.
Essential to accuracy and completeness of the message: The quality of the interpretation depends on it. Given the responsibilities associated with performing this complex task of interpreting that leads to fatigue, it is crucial that both interpreters work as a team to deliver the message accurately. See the recent NAJIT Position Paper on Team Interpreting In Court-Related Proceedings.
Advocacy and client education: Interpreters need to advocate for themselves when needed, and inform the clients or end users of the benefits of team interpreting. They also need to follow the relevant code of ethics for the best outcome possible for all parties.
SELF-CARE FOR REMOTE INTERPRETERS
FAQ: Do remote interpreters experience trauma while performing their duties?
A: Yes, they do, and so do all interpreters. Thus, the importance of self-care.
Workspace
Generally remote interpreters work with one or more language services companies. They log into their servers or take calls using a landline (recommended) or a mobile phone.
Tip: Have water with you. You will need it! If you need water while on a long call or if you start coughing and choking for some reason, inform the client: "This is the interpreter, and the interpreter needs a water break" or "The interpreter needs to be excused," if you need to relieve yourself.
TRAUMA: Tips to cope with work related trauma As we all deal with the anxiety caused by the coronavirus pandemic, we want to take a moment and acknowledge all the brave interpreters who help ensure equal access to vital community services such as health care, justice, and education. Interpreters are essential workers too. You can download the safety tips for Providing Interpreting Services During COVID-19.
I trained professional interpreters to be neutral, impartial, strong emotionally, and not to be attached to the story they are interpreting. Still, interpreters are human like everybody else, so these stories can affect them emotionally and even physically at times.
Tips for Coping with Interpreter Trauma
Breathing: Take a deep breath (you can stop and breath even on a call).
Debriefing: Talking to a professional or another colleague can be extremely helpful. Note that some companies have debriefing protocols in place, but they are very few.
Exercise: Studies have shown that exercise is good for our emotional wellbeing and balance.
Laughter therapy: Humor is good for you. See this article on the topic: Stress relief from laughter? It's no joke.
Breaking the isolation: "Physical distancing is not social distancing." Make the call! You might consider joining a professional organization if you do not belong to one yet, which affords you the opportunity to network. Safely spend time with others, friends and families.
Anything else (cooking, dancing, singing, yoga, meditation, mindfulness) that works for you.
Learn critical self-care techniques for remote interpreters in this webinar. You're Worth it! Selfcare for Remote Interpreters: An Urgent Priority by Marjory Bancroft.
Author bio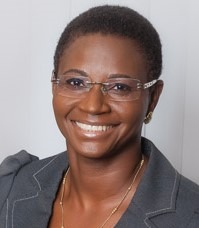 Adjo aka Mireille Agbossoumonde dreamed of becoming a Journalist because she admired a native Ewe Journalist growing up in Togo. Because of her love of languages, she went on and graduated from Université de Lomé, Togo, with a Bachelor in English and Linguistics and a Master's degree in Translation English-French and became a Sworn (Certified) Translator and Interpreter in 2000. She also obtained a Certificate in Pedagogy from the National Institute of Education Sciences (INSE) and a Professional Development Certificate/Badge for Simultaneous Interpreting from NYU, New York university in 2016. Before moving to the US, she was a high school teacher and taught English as a Second Language (ESL) for 6 years and here in the US, she taught French as a Second Language in Atlanta Public Schools, GA-USA for 4 years. She is currently an experienced French Conference/RSI and remote interpreter (French, Ewe & Mina) and has been a full time interpreter since 2009 specializing in medical, legal and immigration court interpreting. She is also a federal Language Consultant as a Member of the NLSC, National Language Service Corps. She also served as Contract Interpreter Monitor for USCIS (2010-2017). Adjo likes singing, dancing and cooking for her family and friends (now for friends impacted by COVID-19) when she is translating, interpreting or running her company, Le Pont Translations LLC (Founder and CEO) based in Atlanta where she resides. Email: info@leponttranslations.net
Subscribe to The Savvy Newcomer