Multilingual holiday carols and wishes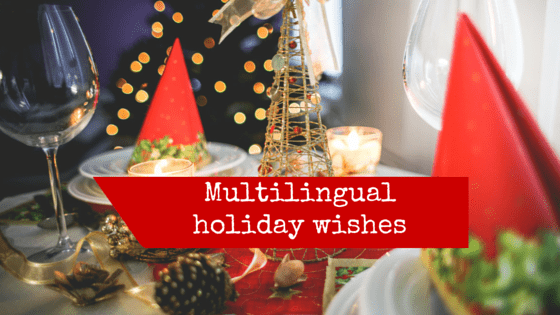 The Savvy Newcomer team would like to wish you happy holidays in some of the languages our team members know. Thanks for interacting with us in 2015, and we look forward to staying in touch in 2016.
2015 has been a fantastic year to share with you! We've traversed the seas of translation and interpreting and covered as many topics as we could dream up. The holidays can be a good time to slow down and see what is most helpful to you. This year, our team grew and got more hands on as we shared personal stories about our growth in different areas.
YOUTUBE VIDEOS
Greek
New Year's Eve carols
Christmas Eve carols
Rudolph the Red-Nosed Reindeer
Little Drummer Boy
Swedish
Rudolph the Red-Nosed Reindeer
Tändettljus (Light a Candle)
Glänsöversjöoch strand (Shine over Lake and Beach)
Spanish
Campanas de Belén (Bethlehem's Bells)
Los peces en el río (The Fish in theRiver)
La Anunciación, Navidad Nuestra (Argentine)
HOLIDAY WISHES
Greek
Καλά Χριστούγεννα και Ευτυχισμένο το Νέο Έτος (Merry Christmas and a Happy New Year)
Χρόνια πολλά (Many years)
Καλή Χρονιά (Happy New Year)
Swedish
God jul (Merry Christmas)
Gottnyttår (Happy New Year)
Spanish
For Spanish we'll summarize it with the lyrics of one of the most famous Christmas songs in Spanish (also remarkably in the non-Spanish speaking world), which encompasses all the holiday wishes in the language of Cervantes, from Puerto Rican-born José Feliciano:
Feliz Navidad (Merry Christmas),
próspero año (prosperous year)
y felicidad (happiness)
Video: Feliz Navidad
We look forward to staying in touch with you in 2016 and continuing to promote professional growth, and in particular helping those starting off in the profession find a realistic, practical and successful approach.
From our hearts to yours, have a wonderful holiday season with your loved ones. Feel free to share holiday wishes and Christmas carols in your language in the Comments section below. We look forward to hearing from you!
The Savvy Newcomer Team
Header image credit: Picjumbo
Header image edited with Canva
Subscribe to The Savvy Newcomer