Linguist in the Spotlight – Evelyn Yang Garland
There is much to be learned from our colleagues, but it can be intimidating to strike up a conversation with the "pros." For that reason, we at Savvy have done the work for you in our Linguist in the Spotlight interview series, where we pick the brains of experienced translators and interpreters and bring their stories right to your screen. We hope their stories and sound advice will inspire and encourage you as you forge your career in the translation and interpretation (T&I) industry.
In this interview, Evelyn Yang Garland, certified Chinese-English translator and interpreter based in the Washington DC metropolitan area, specialized in patents, finance, energy, and international development, shares her experience on striking a balance between specialization and diversification, her approach to professional development, and how she manages the unpredictable waves of work she receives from her T&I clients.
Q: How did you choose your areas of specialization?
A: Let me start with a story. I have a college friend who went to a top law school and asked his academic advisor what courses he should take to become competitive in financial law. His advisor replied, "Your competency grows like a tree. Strive to develop as large and balanced a canopy as you can, so that any future opportunity is within your reach, as you already have a branch extending in that direction. Don't limit yourself to a narrow set of coursework."
Translators and interpreters can benefit from the same advice. Building a strong general foundation that supports multiple specializations is both possible and useful. In my own work, for example, I can hardly think of any project that fits entirely within the boundaries of a single subject matter: a patent case I work on for an IP law firm involves corporate finance; a financial meeting I interpret for a government agency discusses laws and regulations; a policy report I translate for an international organization delves into energy technologies… Every project is connected to a number of different subjects in an intricate web. This has allowed me to build a robust core skill set and develop multiple specializations organically.
Q: What are the benefits of specializing in more than one area?
A: For one thing, you become comfortable working across disciplines, and clients appreciate that. I once asked a senior diplomatic interpreter at the State Department, "What distinguishes a great interpreter from a good one?" He answered without hesitation, "A good interpreter excels in one or a small number of areas; a great interpreter excels in a wide range of subject matters." 
You will also be more adaptable to change. This is now more important than ever, as demand for translation and interpreting services evolves rapidly as a result of technological development, including ChatGPT and other generative AI.
Q: What advice do you have for newcomers trying to find one or several specializations?
A: When choosing your area of specialization, consider three factors: your interests, your strengths, and market demand. The most critical is probably market demand, without which your specialization will become more of a hobby rather than a financially rewarding career.
Q: What if there is a gap between what you can offer and what the market demands?
A: First, I want to say that anyone who asks such a question deserves a pat on the back for being observant of an unmet need. Once you have identified a problem, a logical next step is to solve it. In this case, my solution is to fill the gap by deepening my knowledge of the clients' industries and strengthening my skills. For industry-specific knowledge, my go-to resources are Coursera and college/graduate-level textbooks. For translating and interpreting skills, I have found ATA's continuing education offerings extremely helpful. Other more specialized associations, such as NAJIT for legal translators and interpreters, also provide valuable training. For technological skills, technology vendors often provide helpful tutorials and documentation. A new and powerful resource is ChatGPT, which I have used to generate Python code for automating certain tasks.
Q: Does T&I work make up your entire source of income, or do you teach, write content, provide consulting services, or have other side businesses?
A: I am very dedicated to translation and interpreting (T&I) work, and T&I makes up almost my entire source of income. The only exception is that I also grade translation exams; however, the income from this line of work is quite insignificant compared to the rest of my work.
I am always busy with T&I work (billable and non-billable). My billable hours vary from week to week. In some weeks, my billable hours can reach 80, and in other weeks, not so much. When I am not busy with billable tasks, I fill up my schedule with non-billable work. Two main activities in this category are research and learning: I research translation quality and technology, and I take courses and workshops to gain industry-specific knowledge; for example, I recently completed a Coursera course on aerial robotics.
Q: How do you ensure you have enough work each week to make ends meet?
A: Quite a few of my clients do not have the kind of T&I work that is scheduled regularly and well in advance. Instead, their need for T&I services comes in waves at unpredictable times. As a result, my weekly income varies widely. I deal with this in two ways:
First, I plan for my finances not by the week but by the quarter and the year. The numbers still fluctuate but not nearly as much as they do on a weekly basis.
Second, I make myself flexible, willing to work nights and weekends to accommodate my clients' schedules. Flexibility is not just about hours. In my early years, I was willing to take on projects that were not of interest to many colleagues for various reasons, and I rarely took vacations because I did not want to miss out on potential work. Now I do take vacations, but I make sure that I check my email frequently and am ready to jump on urgent requests from existing clients.
Q: What do you do to unwind?
A: One of the things I do to unwind is to work on math problems. It sounds a little crazy, and it was by accident that I discovered this trick to relax. Some years ago, when neural machine translation was starting to have an impact on the work of professional translators, I took Andrew Ng's machine learning course on Coursera. I did some of the coursework when I was traveling with a client, because otherwise I would not have been able to finish the course in time. I thought I would get very tired working and traveling during the day and studying at night, but strangely enough, I felt relaxed and refreshed after tackling the mathematical challenges presented in the course. I suspect that exercising a different part of my brain in a super-focused mode forces the rest of my brain to take a break.
Final caveat
When I was first starting out as a translator, a veteran translator gave this advice at a workshop: "If you're based in the United States, don't even think about offering English-to-Chinese translations. You have millions of competitors from China, where the cost of living is lower. That's where most of the work is going." While this advice was well-intentioned, it proved to be the opposite of what was in my best interest. Years later, I am thriving in translation, and a significant portion of my translation work is from English into Chinese. Moreover, I would be remiss if I did not also point out that there are many capable colleagues in China, whom I hold in the highest regard.
Paths to success are many in a profession as diverse as ours. It is impossible for any one person to see them all. What works well for someone else may not necessarily work for you. And vice versa.
So, heed what other people have to say, think for yourself, and tread your own path with discretion.
This interview was prepped and conducted by Emily Moorlach of The Savvy Newcomer team.
---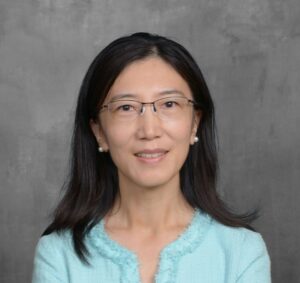 Evelyn Yang Garland, CT is an ATA-certified Chinese-English translator and credentialed legal and conference interpreter. She provides translation and interpreting services to top law firms, inter-governmental organizations, and corporate clients. She currently chairs the ATA Chinese-to-English certification graders group and has served in multiple roles in the ATA, including Director of the Board for 6 years. She holds a bachelor's degree in science from Fudan University and master's degrees in science and conference interpreting from Johns Hopkins University and University of Maryland, respectively.
Subscribe to The Savvy Newcomer