ATA's First Virtual Conference Has Arrived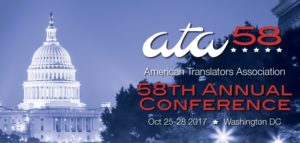 Did you miss out on ATA's 58th Annual Conference in Washington, D.C.? Or maybe you attended but weren't able to make it to as many sessions you would have liked. Don't fear! The ATA Virtual Conference is here.
What is the Virtual Conference?
The Virtual Conference is a collection of 49 sessions given at ATA58 in Washington, D.C. There are sessions for both translators and interpreters, covering a wide range of topics in finance, law, medicine, science, technology, and more. All 49 sessions are available on-demand, and the recordings are accompanied by the speakers' original PowerPoint presentations in video format. You can view the full list of sessions offered here https://www.atanet.org/conf/2017/virtual.
How Much Does It Cost?
3-day attendees of ATA58 have free access to the Virtual Conference. To access the sessions, go to https://www.atanet.org/conf/conf_login.php and log in with the same username and password provided to access the ATA58 App and Certificate of Attendance. All 3-day attendees were sent their usernames and passwords in an email with the subject line "ATA58 Virtual Conference is Now Available for Attendees." If you are able to search your email, you can find your username and password there. If you cannot find your username and password, please contact ATA at webmaster@atanet.org. ATA members can also access the Virtual Conference by simply logging into their account at www.atanet.org and clicking on "ATA58 – Access Virtual Conference" under "Membership Information."
If you did not attend the conference and would like to purchase access, go to https://www.atanet.org/conf/2017/virtual/ and click on "Purchase It Now." The Virtual Conference costs $79 for ATA members and $129 for non-members. You can watch a free sample session from the Virtual Conference on ATA's YouTube channel here: https://www.youtube.com/watch?v=uyHqh-PBoeE
How Did ATA Decide Which Sessions to Include?
Presenters did not apply to participate in the Virtual Conference. This year, ATA was limited to recording in just 4-5 rooms at a time. Their strategy was to pick the 4-5 rooms that contained session topics with the widest appeal for translators and interpreters. Therefore, the session topic and the room where the session was given were the only two items used to determine what was included in the Virtual Conference. Presenters whose sessions were chosen to be included in the Virtual Conference received no form of compensation.
What Happened to the eConference?
ATA has been selling some form of conference session recordings since 2005 (except in 2016). Below is a list of all recording packages and pricing; they are available for purchase at https://www.atarecordings.com/ under the tab "All."
2005-2009: ATA Annual Conference DVD-ROM $69.00
2010-2011: ATA eConference $69.00 / ATA eConference + DVD-ROM $99.00
2012-2013: Recordings are no longer available for purchase
2014: ATA eConference $149.00 / ATA eConference + DVD-ROM $179.00
2015: ATA eConference $149.00 / ATA eConference + USB Drive $179.00
2017: ATA Virtual Conference / Free for 3-Day Attendees / ATA Members $79 / Non-Members $129
Please note that ATA plans to discontinue all sales of past recordings in the near future.
What Can We Expect for ATA59?
ATA's 59th Annual Conference will be held in New Orleans, Louisiana from October 24-27, 2018. ATA expects to receive approximately 1,800 attendees from more than 60 countries and at this time has not determined whether or not the Virtual Conference will be offered again.
---
About the author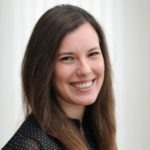 Molly Yurick is a Spanish to English translator specialized in the tourism, hospitality and airline industries. In the past she has worked as a medical interpreter in Minnesota and as a cultural ambassador for the Ministry of Education in Spain. She has a B.A. in Spanish and Global Studies and a Certificate in Medical Interpreting from the University of Minnesota. She is currently living in northern Spain. You can visit her website at: http://yuricktranslations.com/
Subscribe to The Savvy Newcomer