How to Have a Super First Year in the ATA: Go to Your First ATA Conference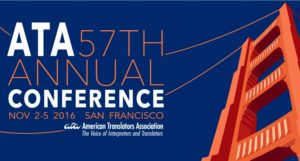 Welcome to the fourth and final article in the series How to Have a Super First Year in the ATA. This time, I'll be talking about why you should attend your first ATA conference this year, what you can expect and some tips for success.
This year's annual conference, ATA57, will be held in San Francisco, California from November 2-5, 2016. Over 1,500 translators and interpreters will attend the conference, so your chances of networking and creating meaningful connections are pretty high! Not only that, but you'll have the option to attend over 175 educational sessions. I went to my first conference last year and have nothing but good things to say about my experience.
Registration and Opening Ceremony
From the second you arrive, you'll feel the warm welcome from conference organizers. Pass by the registration booth to get your nametag, which will have a bright "FIRST TIME ATTENDEE" flag attached to the bottom. I thought of this tag as a 'get out of jail free card' to use during the whole conference. Use it as a free pass to ask as many questions as you want, walk up to strangers and strike up conversation by saying "I'm alone and new!" and wander around looking lost without feeling silly about it.
The opening ceremony is the first step to get everyone pumped up and for an extra boost of newbie confidence before diving headfirst into four days of networking and learning. Last year, I was pleasantly surprised by the huge emphasis the ATA President put on welcoming and helping newbies in her speech. She got me to walk out of the auditorium with my head held high!
Buddies Welcome Newbies
As a first-timer, you absolutely must go to the "Buddies Welcome Newbies" session. This program is designed as an icebreaker for those attending the conference for the first – or even the second – time. The session starts off with some tips for success and ends with you being matched up with a buddy, someone who has attended the conference before and who will answer any questions you may have. Your buddy is also there as a kind of support for you throughout the entire four days, someone to say hi to in the hallways or to approach during a coffee break if you're alone.
Networking Events
Most divisions hold a dinner or networking event at the conference. If you're a member of a division, make sure to attend whatever it is they've planned – you'll already have something to talk about with other members, so it's the perfect place to feel at home within the bustle of the conference.
Using Social Media
If you're on Twitter, follow and participate in the #ATA57 hash tag. At last year's conference I met someone who is now a dear friend and colleague through tweeting: "I love your tweets about this session, would you like to meet at the next coffee break?"
Financial Worries?
There are plenty of ways to make the conference more affordable. First off, make sure you register by September 23, 2016 for a discounted price. Last year and this year, I'm staying within walking distance of the conference hotel for half the price. Last year I also ate the majority of my meals at the Whole Foods buffet for under $10.
I'll be honest, I haven't quite made back my investment in last year's conference with paid work, but I did manage to get some work from two new agencies and started collaborating with other freelancers I met at the conference on direct client work. My freelance reach has broadened, and I now have a long list of people I can go to when I have questions (linguistic or business-related) or refer work to when I can't take it on.
Make the Most of it
There's anywhere between three and five one-hour educational sessions every day and last year I only skipped out on one hour. I also attended every single networking event I could in the evenings. In short, I was busy for about 15 hours every day. My recommendation would be… do exactly this! If it's your first year, you've got to test the bugs and see what you like and what you don't like. Thanks to last year's over-effort, this year I know what I'm okay with skipping and what I consider to be my best investment of time and energy.
I was really nervous to be the new kid on the block, but use that "first-time attendee" flag to your benefit. I was so surprised to feel so accepted at the conference. Our profession is full of great, compassionate people who are excited and willing to accept newcomers. I couldn't encourage you more to take the leap, make the investment and head to San Francisco this 2016!
You can learn more about ATA57 here https://www.atanet.org/conf/2016/ and sign up for the Buddies Welcome Newbies session here http://www.atanet.org/events/newbies.php.
---
About the author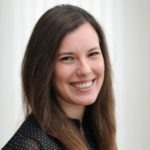 Molly Yurick is a Spanish to English translator specialized in the tourism, hospitality and airline industries. In the past she has worked as a medical interpreter in Minnesota and as a cultural ambassador for the Ministry of Education in Spain. She has a B.A. in Spanish and Global Studies and a Certificate in Medical Interpreting from the University of Minnesota. She is currently living in northern Spain. You can visit her website at: http://yuricktranslations.com/
Subscribe to The Savvy Newcomer