Ramadan: A month of joy, celebration and fasting

By Hicham Zerhouni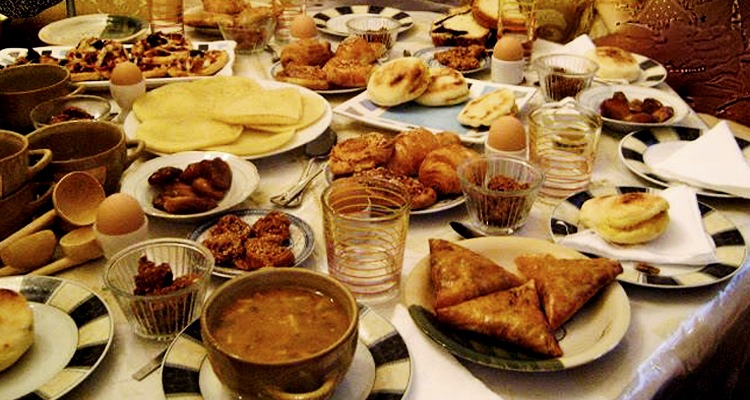 For over 1.5 billion Muslims around the world, Ramadan, the ninth month of the Muslim Calendar, is the holiest time of year. For Muslims, it marks the month when the Quran was first revealed to the Prophet Muhammed (PBUH). During Ramadan Muslims fast from sunrise to sunset for 29 or 30 days, depending on the moon sighting of the lunar calendar. This year, the Muslim lunar year is 1436 A.H. and Ramadan started on June 18, 2015.
Muslims observe the fast by abstaining from food, water, smoking, and sexual activity from sunrise to sunset. When Ramadan falls in the summer, depending on their geographical location, Muslims fast anywhere between 12 and 22 hours each day. While most Muslims fast during Ramadan, children and anyone who is sick, traveling, pregnant, or nursing mothers don't have to fast during Ramadan.
In the Arab and Muslim world Suhoor, a pre-dawn meal eaten before the sunrise Fajr prayer, is marked by a unique tradition: the "Musaharati" a drummer or oboe player, roams the streets to wake people up for their pre-dawn meal by playing music and chanting religious poems. Despite the expansion of cities and the use of alarm clocks, this tradition is still prominent in some parts of Syria, Palestine, Egypt, and Morocco.
During Ramadan, daily life switches into a night celebration. Streets are usually empty in the morning as people stay up until the early morning hours celebrating with family and friends. In the afternoon, markets fill up with people buying treats such as sweets, traditional filled breads, and fruits in preparation for breaking their fast at sunset with an "Iftar" meal. Throughout the Muslim and Arab world seasonal dishes are displayed in shops and restaurants in celebration of the holy month.
At sunset, families gather around Iftar tables to enjoy traditional meals. Depending on the country, Iftars include dates, sweets, fruits, soups, rice, or meat. Each country has a traditional Iftar dish that is always present for Iftars during the holy month. In the United States and many other Western countries, many families celebrate Iftars with their faith communities at mosques. Most places of worship hold community Iftars open to both Muslims and non-Muslims. Many people donate food and the Muslim community engages in mass potlucks to share the blessings of Ramadan.
Since Ramadan is a holy month, Muslims increase their worship activities during the month. Ramadan is not just about fasting, but also includes extra prayers, reciting of the Quran, giving to charity, and many philanthropic events to help the unfortunate around the world. One of the main spiritual purposes of Ramadan is to teach social solidarity by having everyone experience hunger. People then become more understanding and compassionate toward those who are less fortunate. People's hearts tend to soften and they become more generous towards the less fortunate. Ramadan is a month of purification, not only of the body by fasting and resting the digestive system, but Muslims go beyond the physical aspect to attempt to purify thoughts, motivations, and souls by avoiding anger, gossip, and greed.
Following the Iftars, Muslims head to mosques for night prayers called "Tarawih," where the Quran is recited each night until the early hours of the morning. Following Tarawih, people gather in cafes and homes with their families and friends until the Suhoor meal. During the last 10 days of Ramadan, many Muslims stay in mosques to increase their blessings for Ramadan. This practice is called Itikaf.
The end of Ramadan is marked by "Eid Al Fitr" (The feast of breakfast). During Eid, Muslims are not permitted to fast. In the morning of Eid Al Fitr, Muslims go to an open field or a large hall for the Eid prayer. After the prayer, Muslims head home for a morning breakfast as life returns to normal. People visit friends and family and share lunch and dinner with each other for three days in celebration of Eid.
While Ramadan could be seen as a harsh form of worship by non-Muslims, Muslims consider it a month of blessing, joy, and celebration. Muslims pray all year round that they will live to experience the following Ramadan, as it is an opportunity to grow in their faith, connect with their family and community, and exhibit the true essence of Islam.
———————-
About the author: Hicham Zerhouni, MA is the Managing Principal of TransCultures He was born in Fez, Morocco, he moved to Chicago when he was 19. He has been a professional translator, interpreter and cultural trainer and consultant for the last 15 years. Hicham is fluent in four dialects of Arabic, French, English, and functional in Spanish. He is a voting member of the American Translators Association. He is a 2015 New Leaders Council Fellow . He speaks at conferences on many issues regarding leadership, diversity, cultural and language access issues. Since 2004 he is the Founder and organizer of the Chicago Arabic Language Culture Club. www.TransCultures.com
Subscribe to The Savvy Newcomer