Linguist in the Spotlight — Madalena Sánchez Zampaulo
There is much to be learned from our colleagues, but it can be intimidating to strike up a conversation with the "pros." For that reason, we at Savvy have done the work for you and are excited to announce the revival of our interview series, "Linguist in the Spotlight," where we pick the brains of experienced translators and interpreters and bring their stories right to your screen. We hope their stories and sound advice will inspire and encourage you as you forge your career in the Translation and Interpretation (T&I) industry.
We kick off the series revival with an interview with current ATA President, Madalena Sánchez Zampaulo. Here she shares with us how she got started and chose a specialization, her views on work-life balance, and what she wishes she had known as a newbie to the industry.

Q: How did you choose your areas of specialization? Have they changed over time? What advice do you have for newcomers trying to find one or several specializations?
A: I first started working as a healthcare interpreter after I finished my master's degree at the University of Louisville. There was a need for interpreters in the area, and I started working at an agency, coordinating our interpreting team as well as interpreting for patients at various hospitals and clinics. I loved this work, and it was so rewarding to provide meaningful access to patients in my local area. After I got married, I moved out of state and had a difficult time finding interpreting work while also teaching language courses at the local university. So, I transitioned to translation—maintaining my area of specialization in medicine and adding life sciences—which I could do by working most nights and weekends until I had enough translation work to give up my teaching duties at the university. Today, I still specialize in medicine and life sciences, but I also work in the areas of marketing and business communications, which came about over time as more clients asked me to handle documents for their organizations.

My suggestion for newcomers to the profession would be to stay curious. When you specialize, consider how important your desired specialization is to a specific area or market and how you can grow with it over time. Even in the area of medicine, there are so many niches you can specialize in. As you and your business evolve, make sure you continue to develop your skills in your area of practice so that you can stay on top of current issues, maintain relevancy to your clients, and refine your skills and knowledge in that area. If you want to have more than one area of specialization—which is common among translators, for example—be sure to dedicate time to your professional development each year by planning and setting aside money to dedicate to this area of your business and growth.

Q: How do you maintain a work-life balance? What do you do for fun/to unwind?
A: It is so important to maintain a separation between your work and personal life, as much as possible. I like to think of it as work-life clarity instead of work-life balance because there really isn't a balance between the two. I heard about this concept on the Deliberate Freelancer podcast, and colleague Veronika Demichelis and I talk about it often on our podcast, Smart Habits for Translators. There will always be one area of your life, whether it's work or your personal life, that you need to dedicate more time and attention to in any given season.
But to maintain my work life and personal life as separate as possible (which can be hard to do when you work for yourself!), I try to make sure I have things to look forward to when I'm not working that I can dedicate my full time and attention to. I enjoy spending time with my family and friends, reading, listening to podcasts, running and working out, getting outdoors, and working on projects around the house. My favorite time to unwind is at the end of the day with a book and a glass of wine or watching a show with my husband. Yes, we sometimes talk about work-related things, but neither of us is actively working in the evenings or on the weekends, and that helps to prevent burnout as well as maintain a sense of presence with those we're spending time with when we're not working.
Q: What advice and resources can you recommend to newcomers to the T&I field?
A: The interesting thing about the T&I field is that everyone has a different story of how they got started and what it took for them to reach the point in their career where they felt successful. No matter how you come to be a translator or interpreter, it is vital to always be upleveling in terms of your education, earning a credential like certification, maintaining and learning new skills, gaining more experience, and improving in all areas of the work we do for the people we serve.
There are so many good resources out there. If you are looking to become a translator, I would suggest checking out ATA's Guide to Starting Out as a Translator. The Membership Committee is also currently working on a version of this e-book for aspiring interpreters. I would also suggest joining a professional association early on and getting involved as a volunteer. You never know who you will meet and who will help you advance in your career by providing you with the resources you need, referring clients to you, and showing up for you when you most need support.
Q: Do you engage in volunteer work within or outside of the T&I industry? Do you think it's helpful for newcomers to do so?
A: I have been a volunteer within the T&I industry since 2009 or 2010, specifically within ATA. I got involved early on because I wanted to be part of a professional association where I could grow. I volunteered over the years in many different ways—first within the Medical Division, of which I became Administrator and served for four years, then as the Chair of the Public Relations Committee, as a Director on the ATA Board, as Chair of the Membership Committee, and eventually as President-elect, Chair of the Governance and Communications Committee, ATA Annual Conference Organizer, and now as President of ATA. It is incredibly helpful to get involved in your professional association, as what you learn and the experiences you have will help you grow as a professional. You become more knowledgeable and well-rounded simply by getting more involved, tapping into new resources and professional development, and giving back to the profession.
Q: What do you wish you knew as a newcomer to the T&I field?
A: One thing I wish someone had told me as a newcomer to the T&I profession is to never stop networking and marketing. There was a time in my career when I was so busy with work that I didn't do any marketing for quite a long period of time. Well, two of my largest clients underwent major changes in the same year, and my income took a hit. Because I hadn't been actively marketing my business, it took some time for me to build my business back up to where it was. They say that when you find yourself in a dry period, it's already too late to start marketing (but you still have to do it!), and I think that's a hard truth we all have to accept. Marketing doesn't have to take up hours and hours of your day or week. In fact, as long as you do it consistently, it can take up very little time in your workday, and you can still reap the rewards of simple marketing tasks. There are a lot of resources out there to help you market your T&I business. Ask colleagues and do what works well for you and for your business!
This interview was prepped and conducted by Emily Moorlach of The Savvy Newcomer team
---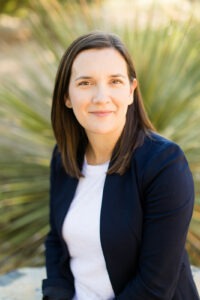 Madalena Sánchez Zampaulo is a Spanish and ATA-certified Portuguese to English translator and the owner of Accessible Translation Solutions. She specializes in medicine and life sciences. Madalena also currently serves as ATA President (2021-2023). In addition to her translation and volunteer work, Madalena shares her knowledge and years of research to help freelance translators and interpreters improve their online presence—from their websites and LinkedIn profiles to SEO and copywriting—by refining their professional profiles to attract their ideal clients while collectively elevating and promoting the translation and interpreting professions. You can find Madalena's articles on these topics at www.madalenazampaulo.com, or tune in to the popular podcast she co-hosts, Smart Habits for Translators.
Subscribe to The Savvy Newcomer