Nine Questions from Language Majors on Their Next Steps to Becoming a Translator or Interpreter
If you are a language major considering your next steps, you've come to the right place! The translation and interpreting field is growing rapidly, and ATA is the largest association of its kind in the world. Whether you're looking to become a successful solopreneur, interpret for the president of the United States, or work at a medical clinic in your hometown, language skills are just the first step on your journey to the great responsibility and privilege of being a translator or interpreter.
The Savvy Newcomer blog is your guide to getting started in this profession, so while we strongly encourage you to have a look around, bookmark your favorite articles, and follow us for regular updates on new posts, we realize you're probably looking for concrete answers about what your next steps should be. The goal of this article is to answer some questions you may have about getting started in the field and to offer resources you can use to learn more.
Here are nine questions that students who are completing a university degree in a language often ask The Savvy Newcomer team:
Translation, interpreting… what's the difference?
Translators work with written text (think: books, contracts, websites). Interpreters work with spoken or sign language (think: medical appointments, court proceedings, business meetings).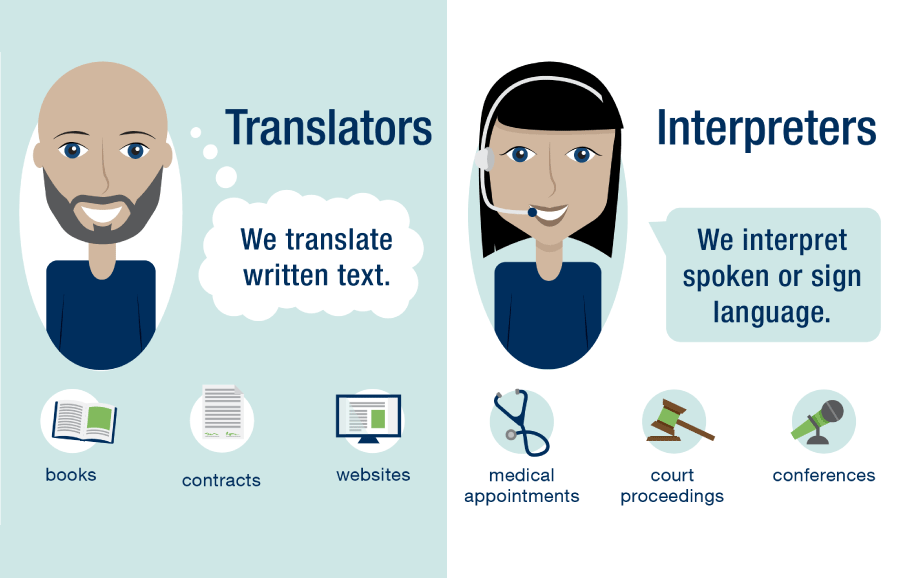 What level of language proficiency do I need to have?
Language services professionals have "working languages," which are the languages they've learned with full professional competency. However, this does not mean that you need to be able to speak both languages at exactly the same skill level.
For translators, the most important skills are reading and writing. You should be comfortable reading and comprehending your B language (second language) at a professional level, and you should be comfortable writing professionally in your A language (typically your native language). Most translators work from their B language (source) into their A language (target) because they are naturally stronger at expressing themselves in their native language. For interpreters, the most important skills are listening and speaking. You should be comfortable listening and speaking in both languages in various contexts, such as at the doctor's office or on the radio.
If you aren't sure whether your language skills are up to par, you can self-assess using the Interagency Language Roundtable scale or take the American Council on the Teaching of Foreign Languages test in the relevant area(s). If you find that your language skills aren't good enough for the rigors of being a translator or interpreter, consider further schooling in the language or travel abroad to immerse yourself in your B language.
Do I need more than just a bachelor's degree?
Many people find it difficult to break into the translation and interpreting world without some further studies. There are doctoral, master's, and certificate programs in translation and interpreting all over the world, as well as courses designed to help bilingual people learn the ins and outs of translation and interpreting. Fifty-nine percent of respondents in a recent industry survey indicated that they hold a master's degree or higher.
How can I get experience when I have no experience?
Each person gains experience in this profession in a different way; there's no right or wrong way to go about it! Here are some ideas to consider:
Complete an internship at a translation agency.
Complete an in-house translation internship at another type of company, such as a multinational bank or retailer.
Work as a project manager for a language services company.
Volunteer as a translator or interpreter for a charity organization.
Practice on your own using texts you find online (translators) or using radio/news broadcasts or YouTube videos (interpreters).
Enroll in an academic program in which you are given feedback and advice on improving your skills.
What is a day in the life of a translator or interpreter like?
To find out from the experts themselves, visit ATA's Directory of Language Professionals and find a member who lives near you. It can be very helpful to connect with a professional to ask how they got started and seek advice about launching a successful career in this industry.
You can also check out this video ATA created for International Translation Day 2019.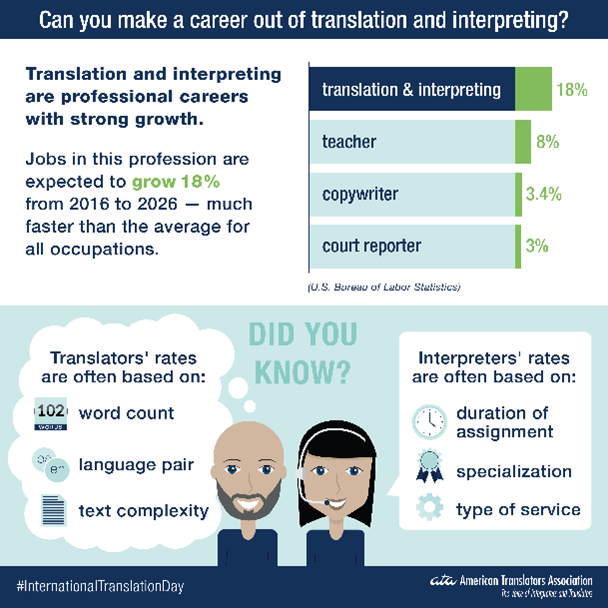 How much do translators and interpreters make?
Many translators and interpreters work as freelancers and enjoy the freedom to set their own rates. Translators and interpreters in both freelance and in-house positions report varied incomes depending on the number of hours they work, years of experience, and type of work. Certain languages and specialty areas tend to command higher rates. While freelancing can mean varied income, like any small business venture, it also has the potential for great rewards.
Further information about pay can be found at these links: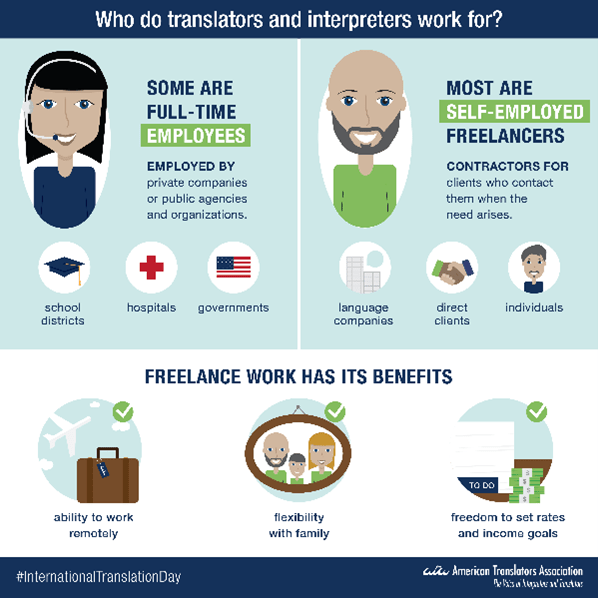 How long does it take to become a full-time freelancer? How do I find clients?
It all depends! It can take several years to develop a full portfolio of clients as a freelancer, so you may want to have another source of income as you develop your business. On the other hand, the more time you can devote to building a base of clients, the quicker this process may be.
Networking with colleagues through associations like ATA or at conferences can help you spread the word about your services. Many freelancers also list their services in online directories where clients can use search filters to find translators and interpreters who can meet their needs. It can also be helpful to have your own website so clients can look you up online, learn more about your services, and find out how to contact you
Other than studying a language, how should I be preparing to work in this field?
It's important to have a strong linguistic foundation, but other skills can be helpful to translators and interpreters too. Many freelancers find business training useful, especially if the training is geared toward solopreneurs. Training in another field or profession can be useful when you choose a specialization (e.g., working at a bank may be a path to specializing in financial translation, or volunteering at a hospital could give you knowledge that would be useful in medical interpreting). It's also important to develop your language skills by reading, writing, listening, and speaking in both your A and B languages so you can improve and present yourself professionally. If you are just starting to consider a career in this field, subscribe to industry publications, follow blogs, find a mentor, and consider joining a national or local association so you can get to know people in the field. You can also take a look at job listings and descriptions online to see what companies are looking for in translators and interpreters and work toward developing your resume to meet those expectations.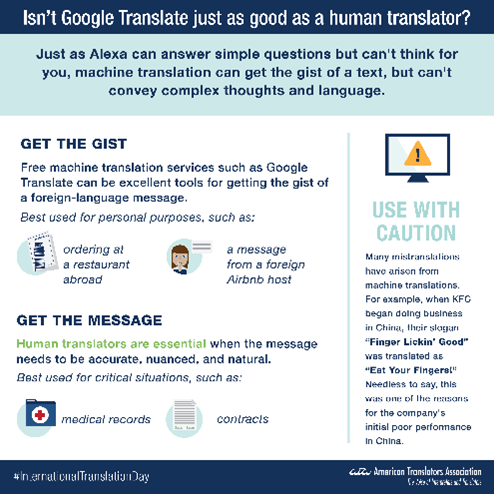 Isn't translation a risky career to enter because machines will replace human translators?
While AI (artificial intelligence) and NMT (neural machine translation) have made great strides in recent years, language is nuanced and constantly evolving. The availability of these tools has resulted in more machine-translated documents, but many clients need humans to post-edit (clean up) the texts. Additionally, when lives or money are on the line, most clients prefer to rely on human translators.
Readers, what have you learned about this career that has surprised you? What questions are you still pondering? Have you decided on your next steps?
---
This blog post was edited by Victoria Chavez-Kruse of The Savvy Newcomer team
Subscribe to The Savvy Newcomer