Pursuing the Translation Dream: What to Know Before the Phone Rings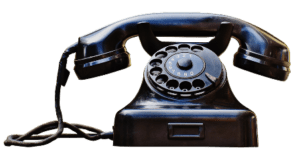 Have you ever asked yourself if you have what it takes to be a translator? You probably know it takes more than being bilingual, but did you know there is more to it than being a good translator? If you are curious to know what it takes to build a successful translation career, you may be pleased to learn of this hidden gem offered by the ATA: A Self-Evaluation Questionnaire for Translators. This comprehensive "checklist" for newcomers to the field is a juicy resource that answers the question of what it really takes to be a translator.
Let's be honest: I would posit that few, if any, successful translators got to where they are today by methodically checking off boxes on a similar list. One example is Pilar Saslow, who writes in another article about what she learned from her follies: The Top Three Things I Wish Somebody Told Me When I First Started As a Freelance Translator. Entry into the profession is rarely a smooth and linear process. However, I do not doubt that many seasoned translators would have loved to have had such a list when they were starting out.
This post kicks off a new Savvy Newcomer series that will highlight questions from the ATA checklist for new translators. In each post, we will delve into several questions and offer additional insights. In today's post, we explore the first section: "Professional Preparation (What I need to know before the phone rings)."
Am I willing to invest time, money, and physical and emotional energy to build a career?
There is no such thing as a career that does not require investment. However, most "traditional" careers follow a well-tread path towards success, whether that means obtaining a degree, earning a license, or getting hired at a company. On the contrary, most translators are self-employed, and this independence comes with added responsibilities, including self-motivation. A career in translation requires an ongoing commitment beyond the act of translating alone. But if you love the art itself, you will probably not hesitate to invest the time, money, and energy it takes to build a translation career. Alina Cincan elaborates on the first steps towards investing in your career in her post How (Not) to Be a Professional Translator and 6 Tips to Help You Become One.
Do I know the difference between an employee and an independent contractor in terms of tax law?
Not only are most translators self-employed; the majority are also independent contractors. Independent contractors provide services based on a verbal or written contract (hence the name) with another entity that is not their employer. Unlike the relationship between employer and employee, where the employer pays a portion of the employee's taxes (in the US, usually 50%), independent contractors are responsible for paying the full amount of taxes owed each year.
Furthermore, it is the independent contractor's responsibility to keep track of all payments received in exchange for work and to declare and pay taxes on this amount annually or quarterly. This means putting aside approximately 30% of all taxable earnings (i.e., after deductions such as costs, depreciation, etc.) If you live in the US, you can find more information on taxes for independent contractors via the Internal Revenue Service (IRS): Self-Employed Individuals Tax Center. Our own Jamie Hartz also offers tips on paying taxes in this review of The Money Book.
Is my resume up to date and appropriate?
If you plan to offer services as a translator, it is important to have a resume dedicated solely to translation. You may want to include experience in relevant subject areas, but the job you held at the local pet shop years ago probably does not qualify.
Once you have your ideal translation resume, make sure not to let it collect dust. There is nothing like getting a resume request from a prospective client and letting the email languish while you scramble to get your resume in order. Taking the time to update your resume periodically will save you the headache later, and might even land you the client.
Find more tips in Marta Stelmaszak's guide to translator CVs.
Am I able to give a reasonably accurate word count (in source and/or target languages) and turnaround estimate relatively quickly after I have seen the document?
Some things you simply cannot know until you know them, and word count and turnaround estimates sometimes fall into this category. However, one way to gain control is by tracking word counts and time spent on each project.
Use a tool like Toggl to determine how long it takes you to complete an assignment based on project or document type. You can also keep track of word output per hour to get an idea of how long it takes you to translate certain documents. Once you have your numbers, continue to expect the unexpected and give yourself a buffer so you are able to submit your projects on time.
Have I prearranged quality control measures to guarantee a top-notch product (such as time to mull over my draft, proofing tools, time to proofread, a third reading by a colleague with source- or target-language background, a subject area expert to consult, etc.)?
Never underestimate the importance of quality control. Like many translators, I consider myself a perfectionist, but experience has taught me that even perfectionists make mistakes. There are some things only a second pair of eyes will catch, like the misspelling of epidural ("epdiural") that I once accidentally added to my dictionary in Word, causing spell check to overlook the typo. Whenever possible, it is invaluable to have a subject-matter expert on hand (whose fees you can budget into your quote) and to allow for ample time to mull over your draft.
Now that we have taken a closer look at things to keep in mind when first deciding to pursue a career in translation, it is time to prepare for what to do when your first clients start trickling in. Stay tuned for the next post in the series: "What to Do When the Phone Rings" (or when the first email arrives, in today's business world!). Can't wait for more inspiration? Check out this post by Corinne McKay with tips for new translators and interpreters.
Image source: pixabay
Subscribe to The Savvy Newcomer