Attending Your Clients' Conferences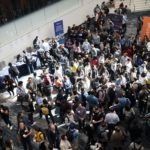 Have you ever been told, "go where your clients go," "meet your clients face-to-face," or "attend an industry event"? Have you been interested, but not sure where to start?
Attending your potential clients' conferences can be very rewarding: you learn new terminology, get familiar with the industry, meet potential clients, and promote your services. The list goes on! However, conferences can be overwhelming, and putting yourself out there can seem intimidating.
Have you considered attending with a colleague? Do you think attending alone would be a better fit?
Earlier this year, Veronika Dimichelis and Jessica Hartstein teamed up and attended an international conference together, and Veronika attended a local symposium alone just a few weeks later.
We hope this article gives you some food for thought on how you can make the most of attending large, non-translation industry conferences and find new ways of partnering up with colleagues.
Choose the right client conference
We chose to attend the Offshore Technology Conference (OTC) together since we both worked in the oil and gas industry in the past. This is an international oil and gas conference and tradeshow with 2,470 exhibitors and 60,000 attendees from 100+ countries. We had both attended this event in the past through our former employers, so we knew what to expect and excitedly anticipated running into old co-workers.
Of note, many non-technical companies attend and exhibit at events like this; you can find people to talk to even if you're not working with technical subjects. Think: communication experts, law firms, and even environmental and human trafficking NGOs.
A few weeks later, Veronika attended a local Human Resources symposium with 2,000 attendees and around 100 exhibitors. She is a trained HR professional; it's one of her areas of specialization and she knows the subject matter. Given her experience in this field, she found it easy to connect with people and start conversations around common challenges and focus areas.
Fly solo or go with a colleague?
Jessica initiated the buddy approach with OTC. She approached Veronika because she felt like they had similar communication styles and knew she'd be comfortable talking to prospective clients with Veronika. Keep in mind that while you and your buddy may work for yourselves and offer separate services, you are likely to reflect on each other to prospective clients.
In our case, we have completely disparate language pairs, and this meant we would never feel in competition, but teaming up with someone in your same language pair or with your opposite language pair may be the right fit for you.
The pros of attending with someone else are that you may feel more comfortable striking up conversations, you have a chance to learn from the other's experience, you can vouch for each other's professionalism, and it may simply be the crutch that gets you to the event!
The cons, if not managed well, could be that you talk to fewer people, take backstage to your colleague, or are less efficient with your time. Toward the end of our visit, we had to split up because the tradeshow was so large, there was no way to get to every exhibit we wanted to otherwise.
Preparation
Rather than just punching the address into your GPS and winging it, it's worth the effort to think about what your main objective is in attending the event. You are making a time and financial investment to attend the conference, so be strategic.
For example, is your biggest priority to find potential clients? To improve your understanding of the subject matter? To get inspired and find new ideas for services you can offer or markets you can target? Or is it to catch up with former colleagues or to position yourself as an expert in the field? Once you've determined your main goal, look at the events with that goal in mind.
In our case, OTC is a 4-day event, but we set aside enough time to be in the tradeshow for about 4 hours. Our hope was to connect with companies who work in Spanish-speaking countries (Jessica) and Russia (Veronika). We individually looked at the exhibitor's list and took note of which companies we thought would be a good fit for ourselves, and then compared our lists beforehand. With over 2,000 exhibitors located in two different arenas, it's important to have a game plan!
We also wanted to bump into former colleagues to let them know what we were doing and to get a chance to learn about what they were up to now. We reached out to the people we knew and stopped by their booths. It was an excellent opportunity to reconnect and introduce each other to people who know the value of professional translators.
As Veronika prepared for the HR Symposium, she looked at the exhibitors' list, reviewed their promotional materials, and took note of companies that work in Russia or offer services that have to do with relocation or international assignments. She also made a list of presentations related to topics that she worked with as an HR manager in the past. The HR Symposium was a relatively small event, so she felt that she had to be comfortable asking questions and contributing to the discussion after the presentations.
The day of the event
Go prepared with an elevator pitch that specifically targets that industry or even the companies of greatest interest to you. Prepare a few good conversation-starters and avoid using T&I jargon. For example, clients are unlikely to be familiar with "source language" and "target language." A simple "do you have English documents you need translated into Russian?" would probably get you the information you need or start a conversation where you can help them learn more about the industry.
Neither of us is pushy, and while many companies at OTC need or use translation services, we both knew that the exhibitors had their own priorities, and our services were not what they were targeting at this event. Thus, we were respectful of people's time, engaged in conversations about their international presence, and provided information about T&I wherever we could. In fact, Veronika very politely pointed out to an exhibitor that was trying to present an international face with a multilingual display that they had made a significant error in Russian. We could see him immediately appreciate the need for professional translators, and we're fairly certain he went back and told his team about that to improve the display for his next tradeshow.
At the HR Symposium, Veronika focused on participating in conversations with other participants, primarily about international assignments and intercultural challenges that arise when operating in different countries. She could relate to examples and challenges discussed and could share her own experience as an HR professional and a translator.
At a "niche" event like this, she really stood out as the only translator in the room, and most people were interested in learning how translation works and why translators want to stay abreast of trends and focus areas in the fields of their specialization.
Conclusion
There is no one right way to attend client conferences. The only thing for certain is that NOT attending is a missed opportunity. Of course, it's important to set realistic expectations for what success will look like to you.
Is it fair to think you'll have 10 new and fantastic clients sending you work immediately after one day at a conference? No! Both of us have the long-game in mind and feel that attending client conferences is one component of that.
At the very least, this is a chance to be better informed about your potential clients' interests, challenge yourself to step out of the T&I bubble, and practice talking about what you do with confidence.
We will definitely be attending more client events in the future, both together and separately. We hope you will, too!
Image source: Unsplash
---
Authors' bios: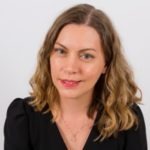 Veronika Demichelis is an ATA-certified English>Russian translator based in Houston, TX. She holds a Master's degree in Linguistics and Intercultural Communication and an MBA in Human Resources Management, and specializes in corporate communication, HR, and social responsibility.
She serves on the ATA Membership Committee and is the co-host for the Smart Habits for Translators podcast and Director for Professional Development for Houston Interpreters and Translators Association.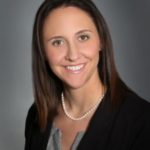 Jessica Hartstein is an ATA-Certified Translator (Spanish>English, French>English) and a Texas Master Licensed Court Interpreter (Spanish-English). She holds an MA in Conference Interpreting and Translation Studies from the University of Leeds and graduated Cum Laude with a BA from Rice University.
Prior to working freelance, she held full-time, in-house translation positions at a marketing firm in Luxembourg and an oil and gas engineering company in Houston. Jessica specializes in legal, medical, asylum, and oil and gas translation and interpreting projects. She has been fortunate to have lived abroad in Spain, China, Japan, England, and Luxembourg.
Subscribe to The Savvy Newcomer