ATA's Back to Business Basics – Entrepreneurial Habits for Freelance Translators and Interpreters
ATA launched its new Back to Business Basics webinar series in September 2020. These webinars focus on a small, practical piece of business advice for translators and interpreters at different stages of their careers. The series quickly became popular: there are usually a few hundred people attending each live session. Members can access these webinars free of charge, and non-members can purchase each recording for $25.
A business can be described as the effort to sell a good or service to satisfy a need of society. A business person must have or develop certain entrepreneurial habits to succeed. Do you know what business habits are key to successfully run your business? Are you aware of your business mindset? Or are you finding it hard to clearly define your niche?
In the webinar "Entrepreneurial Habits for Freelance Translators and Interpreters", Corinne McKay (an ATA-certified French>English translator, a Colorado court-certified French interpreter, seasoned trainer, and past ATA President) answers these and other questions and provides information about the benefits of positive entrepreneurial habits and an effective business mindset to pave the path to entrepreneurial success.
Corinne begins by explaining two different types of habits and the metrics to track your business. She goes into detail about how to identify the best clients to work with and when certain projects should be rejected. She mentions what should be taken into account when making business-related decisions. Are they necessarily about money?
Corinne then highlights the logic behind rates. She describes what in her opinion is the right rate and how to establish it. Furthermore, she provides detailed recommendations to help attendees determine their ideal rates based on their particular financial goals. She explains what she calls the green, yellow, and red zone rates. She also talks about types of rates, proposes strategies and shows examples to deal with clients that try to haggle your rates. Furthermore, she gives advice regarding markets to tap and/or to exit.
Finally, Corinne clarifies that freelancers are not employees, and why they do not always have to say "yes" to a project. She analyzes the reality for most freelancers and offers tips to carry out a business analysis, considering your target income. She also explains why it is important to create a rainy-day fund and all the variables involved.
Don't miss out the closing Q&A session where Corinne provides recommendations to the burning questions that translators or interpreters may have.
Good entrepreneurial management habits are key to help you set the mental processes that contribute to positive business habits in order to achieve your goal: succeed in running your translation or interpreting business.
Check out the recording of this webinar and share it with colleagues who may be interested!
This blog post was edited by Kevin Hull of The Savvy Newcomer team
---
Author bio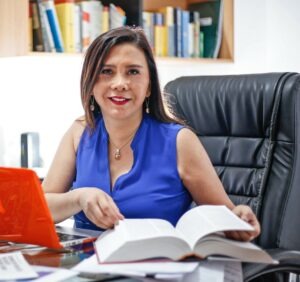 Gloria Cabrejos is an English>Spanish translator and copyeditor with 25 years of experience. Her areas of specialization include international development, community relations, mining, and the environment. Gloria served as chair of the Editorial Committee of ATA's Spanish Language Division from October 2018 to February 2021. She currently serves on the ATA Professional Development Committee, is a mentor in the ATA Mentoring Program, and a member of the ATA Translation Company Division Leadership Council. Contact: gloria.cabrejos@gcktraducciones.com
Subscribe to The Savvy Newcomer