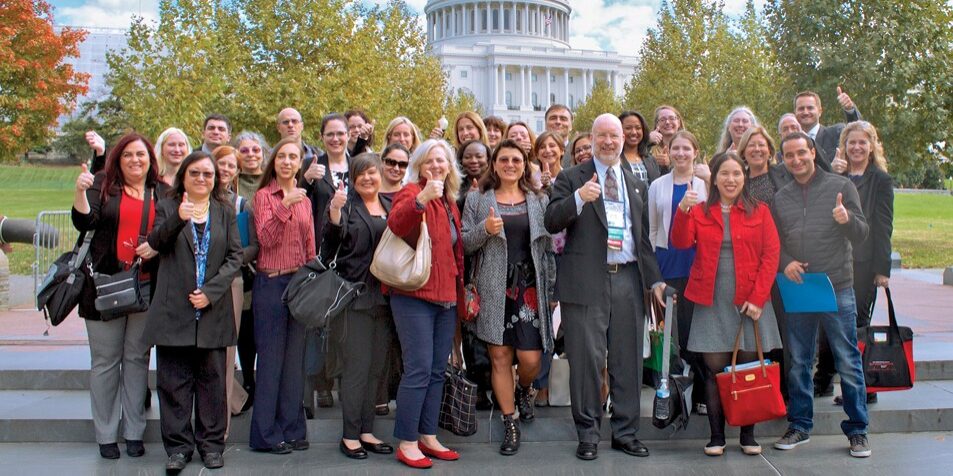 ATA recently sponsored a Translation and Interpreting Advocacy Day in conjunction with the Joint National Committee for Languages and the National Council for Languages and International Studies.
ATA's 58th Annual Conference in Washington, DC was an opportunity too good to pass up! It was the right time and place for ATA's first Translation and Interpreting (T&I) Advocacy Day. On October 25, nearly 50 translators and interpreters participated in a morning advocacy training workshop before traveling to Capitol Hill, where they met with staffers in 68 Congressional offices.
Why advocate? Above all else, advocacy is about educating Congress on issues and policies affecting the T&I industry. But even more important is proposing a solution. Explaining the problem is not enough. Advocacy Day participants focused on three T&I issues during their Congressional office meetings, summarized in the Statements on Advocacy Issues and Recommendations for Action:
T&I Advocacy Day 2017 was hosted by ATA in partnership with the Joint National Committee for Languages (JNCL). JNCL, along with the National Council for Languages and International Studies (NCLIS), lobbies Congress and the Executive Branch on behalf of the language community.
So, what was it like to have the opportunity to meet with their Congressional representatives and be a voice for our industry? The organizers and participants share their thoughts on Advocacy Day below.
Maria Pulcini (Managing Policy Analyst at JNCL-NCLIS)
The JNCL-NCLIS was pleased to help plan and execute ATA's first T&I Advocacy Day. We hold an annual conference, Language Advocacy Day, in February each year, where representatives from the language professions—both education and industry—meet with their Congressional delegations to voice priorities and issues concerning the language enterprise. Since ATA's Annual Conference was being held in Washington, DC, we saw this as an opportunity not only to maintain our presence as a collective voice and resource for Capitol Hill on all things language, but also to put the spotlight on the industry side of our work.
We understood that participants would come from a variety of backgrounds and experience in the language industry, so we worked closely with ATA leadership to choose issues that attendees would feel comfortable discussing in their meetings with representatives. We also developed solid briefing materials for a Congressional audience based on the Statements on Advocacy Issues and Recommendations for Action mentioned earlier. The focus of the materials, as well as the overall messaging of the event, was improving working conditions for the language industry, particularly in relation to how the industry works with the federal government. We realized that many of the offices we would be visiting might not be aware of how vital the language industry is to economic growth, national security, and social justice. Having representatives from the industry workforce present to tell this story was an added benefit because it placed a constituent voice behind this powerful message.
In the coming months, JNCL will be working with Congress to act on the recommendations that were made during the meetings. We look forward to continued advocacy endeavors with ATA to help elevate working and contracting conditions for the language industry.
David Rumsey (ATA Past President)
Why did ATA decide to do an Advocacy Day? First, it was a question of convenience. It would have been an incredible missed opportunity not to take advantage of having ATA's Annual Conference in DC without reaching out to public officials regarding translation and interpreting. There had been several government-related issues over the past two years where ATA spoke out on behalf of the T&I industry, including the Special Visa Program for Iraqi and Afghan interpreters, the situation for interpreters working in immigration courts, and use of machine translation by local governments.
Why turn to JNCL-NCLIS? JNCL-NCLIS is the key lobbying organization for the language industry, and ATA is a member. They have organized lobbying events with Congress in the past that included the American Council on the Teaching of Foreign Languages, Modern Language Association, as well as ATA, and which stressed the commercial benefit to the country of support for foreign language education in the nation's schools. JNCL-NCLIS had extensive experience in organizing these types of events.
Why did we pick the topics we did? We wanted to find topics that would be relevant to both translators and interpreters and others at ATA. We also wanted to find topics where we could provide members of Congress with very specific recommendations that they could take action on. We settled on the issues of 1) how the Bureau of Labor Statistics is calculating our average wages, 2) the model the government uses for creating some of its language services contracts that focuses on cheapest price versus quality, and 3) encouraging the government to preemptively create guidelines around the use of machine translation within the government.
How did ATA members respond to the event? Judging by the number of members signing up to participate, we think it was very well received. We quickly met the maximum number of registrants. We're hoping that this will not only inspire attendees to maintain contact with the officials they met, but perhaps inspire other members to reach out to their representatives.
Andie Ho (Texas)
Why did you want to do this? I love learning new things and decided that by attending the Advocacy Day training provided prior to traveling to Capitol Hill, I could not only aid our industry, but learn a useful life skill. The training provided us an opportunity to prepare before our meetings by learning about the federal issues that impact language services professionals, the challenges and opportunities for growth of the profession, and best practices for advocacy. All I had to do was arrive at the conference a little earlier than usual.
Did you go off script? I attended two of my three meetings (those with my senators' offices) with a colleague who is an interpreter, and she had anecdotes that starkly illustrated what can happen if translation and interpreting are treated like commodities. Her experiences went above and beyond our prepared speeches and really made the staffers sit up and take notice.
When I attended my third meeting with my representative, alone, I stuck to the information provided in the Statements on Advocacy Issues and Recommendations for Action that were given in our training session. I rehearsed the material in my head (in the bathroom!) beforehand and made the words my own.
Do you feel empowered by this kind of advocacy? Absolutely. Visiting Capitol Hill and meeting with staffers expanded my horizons, both personally and professionally. The experience took me outside my comfort zone, but being able to communicate confidently face-to-face with my representatives is a useful skill, not only to champion our profession, but to advocate for my personal beliefs as well.
What are your thoughts about the effectiveness of advocacy? Advocacy in this form—that is, constituents contacting their representatives individually—requires large numbers to make a splash. Many people, including members of Congress, don't even know our industry exists, and we're not as flashy an industry as some others. So, we have a lot of work to do to 1) inform clients that we're a formal, professional industry, 2) educate our representatives about issues concerning our profession, and 3) compete with endless other groups to make our voices heard. Advocacy Day was a great start, but if more of our colleagues did the same, it would boost our signal that much more.
What happened that you didn't expect? The staffers were extremely courteous and professional. It wasn't that I expected them to be rude, but politics is so fraught these days that perhaps I was prepared for the worst. But without fail, everyone we met greeted us warmly, offered us beverages (always Dr. Pepper, the state soft drink of Texas!), and listened attentively to what we had to say. They took notes and asked questions. It helped that we weren't discussing hot button issues.
Karen Tkaczyk (Colorado)
Why did you want to do this? Advocacy Day was an opportunity to receive training on something completely new and to stretch myself outside my comfort zone by visiting Capitol Hill.
What did you think about the issue statements and recommendations prepared by JNCL-NCLIS? The position statements impressed me when I received them, and I tried to absorb the material as I prepared for the day. As well as the statement printouts we were to hand off to staffers, we received several pages of helpful tips on what to expect and information on navigating Capitol Hill. (There are tunnels—who knew?) After the fact, I can also say that having these preparation materials also meant we neophyte lobbyists had something solid on which to base our discussions—and a fallback when we were nervous.
How were you received by staff? The receptions varied from dry to warm and friendly. We had been warned in the training to expect a range of responses and to avoid using any keywords that might trigger partisan hackles. (For example, it's probably best not to mention the Affordable Care Act in my Freedom Caucus Representative's office!)
Did you feel you made a difference? Yes. None of the three staffers we met appeared to know anything much about language issues and how our industry works. A few seemed to think that using machine translation was not a wise option for anything that mattered, so that led to some light humor. I felt that we had raised awareness of how our industry operates with many self-employed small business owners. One of the staffers in particular seemed especially intrigued by the ideas we shared with him from the Statements on Advocacy Issues and Recommendations for Action and appeared to be convinced that they had value.
Did you follow up in some way? If so, how? The three Coloradoans in my group visited both senators together and then split up to meet two of our representatives. We emailed those four staffers after the fact. Two responded immediately, and one had already forwarded the material and our names to a committee that he thought was the best place to get more information or further our efforts. He encouraged us to contact them directly.
Will you continue lobbying at a local level? Yes, I hope to. I would not feel intimidated to arrange a meeting with my representatives' offices now. This was a wonderful experience that I am thankful for.
Can't make it to Capitol Hill? Here are a few tips on how to approach representatives at the local level.
There are many ways to get involved in advocacy locally!
Get to know the staffers at your local representatives' offices.
Make excuses to visit your representatives from time to time and email regular updates on issues you care about from the state or district (breaking news, bills in Congress that concern your topic, etc.). The important thing is to keep T&I on their radar screens!
Hold meetings with district offices to discuss both local and national issues related to T&I.

All of this starts with having a clear vision of policy priorities for the field, as well as a cohesive strategy to achieve them.

Andie Ho is a French>English translator with more than 20 years of experience translating for the food industry. She is an alumna of Kent State's graduate translation program and began her career as a project manager before moving into translation full-time. Her background includes a bachelor's degree in French, a minor in mathematics, a performance at Carnegie Hall, and a stint at a criminal forensics laboratory–all of which influenced her translation work today. Contact: andie@andiehotranslations.com.
Maria Pulcini is managing policy analyst at the Joint National Committee for Languages-National Council for Languages and International Studies (JNCL-NCLIS). In addition to managing the JNCL-NCLIS office and membership, she is responsible for external communications and liaises with Congressional offices to execute policy priorities. Prior to joining JNCL-NCLIS, she was living in Rome, Italy, working in various capacities for her undergraduate university, the American University of Rome, where she completed her undergraduate degree in international relations with a minor in Italian studies. Contact: mpulcini@languagepolicy.org.
David Rumsey is the immediate past president of ATA. A long-time veteran of the language industry since 1990, he has been a project manager, localization engineer, and a freelance translator and editor focusing on Scandinavian and German technical documentation. Contact: nordictranslator@gmail.com.
Karen Tkaczyk is the secretary of ATA. She works as a French>English freelance translator. Her translation work is highly specialized, being entirely focused on chemistry and its industrial applications. She has an MChem in chemistry with French from the University of Manchester, as a well as a diploma in French and a PhD in organic chemistry from the University of Cambridge. She worked in the pharmaceutical industry in Europe. After relocating to the U.S. in 1999, she worked in pharmaceuticals and cosmetics. She established her translation practice in 2005. Contact: karen@mcmillantranslation.com.