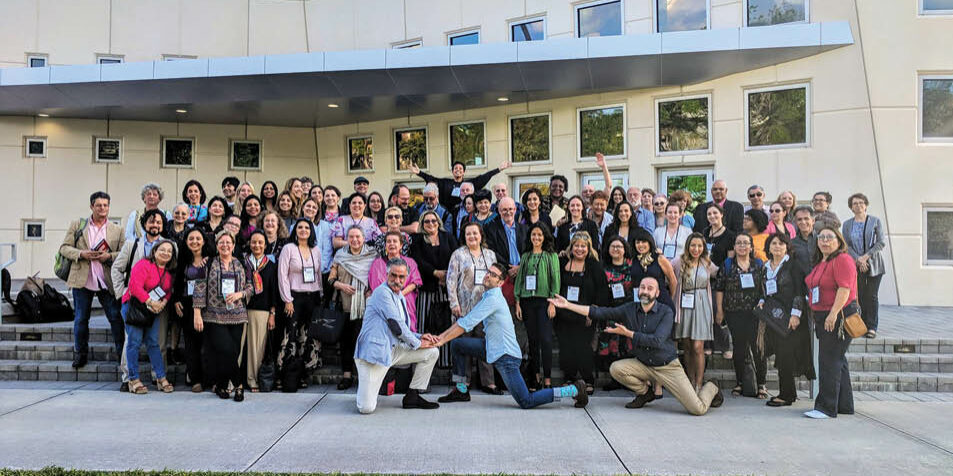 What made the "Spring into Action 2018" conference in Miami such a success? Teamwork!
In March, ATA's Spanish Language Division (SPD) partnered with ATA's Miami-area chapter, the Association of Translators and Interpreters of Florida (ATIF), and Florida International University (FIU) to present the "Spring into Action 2018" conference. I was one of those lucky enough to attend.
Although the tragic FIU bridge collapse occurred the day before the actual conference, when many attendees and presenters were arriving, thankfully nobody involved with the conference was injured. Attendees were notified via email that the conference would go on as scheduled, but were told that they would have to allow more time to get back and forth to the main conference venue, the School of International and Foreign Affairs Building at FIU, due to traffic detours around the accident area.
A Full Program
The conference attracted an estimated 225 attendees from 27 states and nine countries. From what I could determine, the majority of attendees were freelancers like myself. There were also four corporate sponsors in attendance, three of them with tables in the registration lobby: Cross Cultural Communications, the International Medical Interpreters Association, Natural Languages, and the National Association of Judiciary Interpreters and Translators.
The three-day conference was designed to provide those interested in acquiring or perfecting their skills in translation, editing, and interpreting with the opportunity to learn from experts in these fields. And the program of speakers certainly didn't disappoint, with 35 educational sessions, a sold-out ATA certification exam sitting, and a Friday night networking reception at the famous Biltmore Hotel (compliments of ATIF).The featured presenters were four gentlemen comprising the collective called Palabras Mayores (which has many meanings in Spanish, such as "greater words," "big words," or "tall order"). Antonio Martín Fernández, Alberto Gómez Font, Xosé Castro Roig, and Jorge de Buen Unna joined forces in 2010 with the goal of sharing their combined knowledge of the Spanish language with everyone by teaching courses and workshops in America and Spain. The group offered attendees several sessions on topics such as the proper use of Spanish style and grammar; search engine optimization; and using our computers' embedded tools to work more efficiently. Although they focused more on English>Spanish translation, I still got a great deal from the material presented, especially the workplace efficiency session. It was also great fun to "geek out" during high-level language-specific sessions, including seeing photos of ancient Latin manuscripts showing the use of diacritical marks that resemble what most European languages still use.
Other sessions I attended dealt with public health translations (given by an employee of the Centers for Disease Control and Prevention in Atlanta), interpreting in mental health settings, the translation of audiovisual material, quality assurance, subtitling, and taking the Romance-language style out of into-English translations. Many speakers listed good references throughout their presentations for us to copy or had them available on their websites.
Unfortunately, as with any conference, I couldn't get to everything. Here is just a small sampling of the jam-packed program:
Avoiding Anglicisms When Translating into Spanish
Language as a Jigsaw Puzzle
Limited Liability Company Certificates of Incorporation
Macro Tricks
Machine Translation Post-Editing
Proofreading and Subtitling in the Cloud
Eponyms, Exonyms, and Toponyms
The program also included a number of interpreting workshops (some 90 minutes and others 180 minutes):
Consecutive, Simultaneous Interpreting Skill Building
Sight Translation Exercises
Using Ethnographic Analysis for Interpreting Assignment Preparation
Note-Taking Techniques
Mexican Legal System and Related Terminology
Memory Improvement Techniques
A three-hour ATA exam preparation workshop was also given on Friday for the Sunday exam sitting.
Educational Credits
I was impressed by the fact that the conference website had a tab called "Educational Credits" that led to a page listing the per-session credit hours that had been pre-approved by the Certification Commission for Healthcare Interpreters, International Medical Interpreters Association, and the State of Florida for professionals certified by those bodies. Certified ATA members received the maximum of 10 continuing education points for attending the entire conference. Attendees' name badge holders contained paper "passports" with all the sessions listed on them. These were collected and stamped at the beginning of each session and returned to us only after we signed in and out of the session on separate sheets. These stamped "passports" functioned as proof of attendance that attendees could then send to the specific organization from which they were seeking approval for educational credits.
Meeting Colleagues
The hallways and lunch breaks were abuzz with attendees chatting and comparing notes on the fascinating workshops we attended. In fact, my sister (who recently decided to return to the language profession after years of working in the financial field) and I are still trading notes via email with our colleagues, some of whom we had never met before. (You can check out what attendees were talking about via the conference Twitter feed at the link provided in the sidebar above.) I almost didn't recognize three other colleagues, one of whom traveled from Uruguay to attend and two of whom traveled from Argentina to present, because the only time we see each other at ATA's Annual Conference is at the 6:15 a.m. Zumba classes, during which we're not looking as professional as we are later in the day!
More! More!
A big thanks is necessary to all those whose hard work and dedication made this successful event possible. I'm looking forward to a seeing some of these colleagues again in October at ATA's Annual Conference in New Orleans and/or at the next SPD collaborative event. If the unofficial show-of hands taken by ATIF President Andrés Messulam during the closing session is any indication, hopefully we can come together again in the same beautiful location!
Didn't make it to Miami? Check out these links for some great information!
Conference Program
http://springintoaction.info/program
Continuing Education Credit Information
http://bit.ly/Spring-education-credits
Spring into Action (Main Site)
http://springintoaction.info
Palabras Mayores
www.palabrasmayores.org
Presenters' Handouts
http://bit.ly/presenter-downloads
Testimonials from Attendees
http://springintoaction.info/testimonials
Twitter Feed
http://bit.ly/InMiamiSIA2018
---
Anne Connor is chair of ATA's Professional Development Committee. She is also a member of ATA's Public Relations and School Outreach Committees. She has 25 years of experience running an independent translation firm. She served as the president and secretary of the Delaware Valley Translators Association, an ATA chapter. She has a BBA in business law from Temple University's Fox School of Business. Contact: anbrec@cs.com.