Newsbriefs: August 31, 2023

ATA Advocacy Update:
Landmark Remote Interpreting Case – The State v. Juracan-Juracan
In April, ATA joined forces with the National Association of Judiciary Interpreters and Translators (NAJIT) and the American Civil Liberties Union (ACLU) of New Jersey to draft an amicus brief in an urgent matter related to language access and the use of remote interpreting in a high-stakes jury trial.
The case (The State v. Juracan-Juracan) involves a criminal prosecution against a defendant who speaks Kaqchikel, a rare Indigenous Mayan language originating in what is now Guatemala. The trial court was unable to find a Kaqchikel–English interpreter and needed to resort to relay interpreting with a Spanish–English interpreter and a Kaqchikel–Spanish interpreter. Even though the Kaqchikel–Spanish interpreter told the judge they could not adequately interpret remotely, the judge decided to order remote interpreting for the upcoming trial. The defendant appealed that ruling, arguing that the lack of in-person interpreting violated his right to participate effectively in his own defense. After the appellate court upheld the decision, the matter went before the New Jersey Supreme Court.
The brief, filed with the New Jersey Supreme Court on April 28, 2023, compiled the collective expertise of professional interpreters and highlighted issues that are critically important to ensuring the rights of limited-English-proficient (LEP) defendants in criminal trials and to professional interpreters' ability to meet professional standards and codes of ethics.
Oral arguments were presented on June 1, 2023, and a replay of those arguments may be viewed here. The ACLU, on behalf of ATA and NAJIT, argued that remote interpreting in a criminal trial would undermine the accuracy and completeness of the interpreting, create serious ethical risks for the interpreters, and ultimately impair the ability of the courts to recruit interpreters. The ACLU urged the court to defer to the interpreter's professional judgment as to whether a proposed plan for interpreting services permits them to meet their professional standards. It also advocated for a per-se rule in favor of in-person interpreting in line with defense counsel.
The Supreme Court issued its decision on August 15, 2023, which can be read here.
Advocacy Works!
On August 21, 2023, NAJIT issued an analysis of the decision, highlighting that there should be a presumption of in-person interpreting services for criminal jury trials. The high court also laid out new guidelines for when courts should use in-person interpreters, taking into consideration factors like the complexity of the trial and whether the defendant plans to testify.
We consider this a victory for meaningful language access. ATA's Advocacy Committee is proud to have been able to lend our collective expertise on language access and interpreting to this important effort.
Read the complete details on NAJIT's website
Industry News
West Virginia University's Plan to Cut Languages, Other Programs Draws Disbelief
The Washington Post (DC) (08/18/23) Anderson, Nick
A proposed academic overhaul at West Virginia University (WVU), including cutting its language programs, has outraged faculty and students.
The state's largest public university is poised to eliminate all faculty dedicated to teaching Spanish, French, Chinese, and other languages. Students interested in learning a new language would be pointed to instructional alternatives, including an online app.
The university is also moving toward the elimination of a master's degree program in creative writing and a doctoral program in mathematics, among other proposed cuts, in response to declining enrollment and what university officials call a "structural" budget deficit of $45 million. In all, 32 of the university's 338 majors would be discontinued and 7% of its faculty eliminated under the plan.
"We are going through an existential crisis in higher education, and we happen to be on the point of the spear," said WVU President Gordon Gee. He said cuts are essential to free up resources for programs in higher demand such as forensics, engineering, and neuroscience.
But the recommended cuts have angered and frightened professors and left students disillusioned. "It's come as a major shock and a major blow to the morale of many of my peers," said Christian Adams, a sophomore who wants to major in Chinese studies. "It's heartbreaking."
Faculty scoffed at the idea of replacing in-person teaching with an app. "It's not remotely comparable," said Jonah Katz, an associate professor of linguistics. "These are extraordinarily unusual and, frankly, crazy recommendations."
"I can tell you that no other state flagship university has forsaken language education for its students or made the kinds of cuts to the humanities that WVU is undertaking," Paula Krebs, executive director of the Modern Language Association, wrote in an August 11 letter to Gee. Krebs said the study of language, literature, and culture is essential to the mission of a major university. "Access to these courses is especially important in public higher education, which is often the only route to a degree for many state residents," she wrote. "The humanities should not be reserved for students who can afford private higher education."
University officials declined to specify how much money the academic cutbacks would save because, they said, the proposals are still not final. But they provided one example: Expenses for the Department of World Languages, Literatures and Linguistics, which is slated for elimination, totaled $5.8 million last year. All 24 faculty positions would be cut. There would be no more bachelor's degrees in Chinese, French, German, Russian, or Spanish, and no more master's degrees in linguistics or teaching English to speakers of other languages.
Faculty members said the proposal would not just kill off the department but damage WVU as a whole. "A university is built around certain core values," said Lisa Di Bartolomeo, a teaching professor of Russian studies and Slavic and East European studies. "One of those core values is intercultural competency. Students in West Virginia need access to language education to compete in a global economy," she said. "They're not even going to know what they're missing. Which is absolutely tragic."
Interpreters for German Troops in Mali Seek Protection from Berlin as Withdrawal Looms
Reuters (NY) (08/16/23) Siebold, Sabine; Ratz, Alexander
Germany's Federal Ministry of Defense said interpreters for German forces in Mali in western Africa have requested government protection for themselves and their families as troops prepare to withdraw by the end of the year in accordance with the ruling junta's directive.
The Bundeswehr, Germany's main military organization, has around 1,000 troops in Mali and said it employs about 60 local staff. Their main task has been reconnaissance for the United Nations Multidimensional Integrated Stabilization Mission in Mali (MINUSMA). "We are conscious of our duty of care for our local staff and take their subjective feeling of being under threat seriously," said a spokesperson for the ministry, verifying a report by the German news agency Der Spiegel that interpreters had sent a letter to the German government. The spokesperson added that the government had various safeguards in place in the event of a crisis or should local staff be threatened.
MINUSMA was established in 2013 to support foreign and local troops battling Islamist militants, but in recent months there have been repeated tensions between the Malian authorities and the mission.
Western powers fear that Niger, where the government was overthrown in a coup in July, could go the same way as neighboring Mali, whose leaders hired mercenaries from Russia to help them fight an insurgency after they overthrew the democratic government three years ago and kicked out French troops.
U.S. Department of Justice Releases Language Access Plan to Expand Access to Resources and Programs
Office of Public Affairs, U.S. Department of Justice (DC) (08/15/23)
The U.S. Department of Justice has released an updated Language Access Plan to help ensure all individuals, regardless of language used, have access to and are able to fully participate in the Justice Department's programs, activities, and services.
The Language Access Plan provides guidance to Justice Department offices to help them bolster language access planning, which includes understanding the needs of communities with limited English proficiency, improving translation and interpreting services, promoting quality assurance of those services, and expanding the range of tools available to serve the public.
"Language barriers should not stand in the way of access to government services," said Attorney General Merrick Garland. "This updated Language Access Plan is an important step toward ensuring that everyone can report crimes, access important resources, and seek help from the Justice Department when they need it."
"Expansive language access furthers the Justice Department's mission to uphold the rule of law, keep our country safe, and protect civil rights," said Deputy Attorney General Lisa Monaco. "I am proud of the work the department is doing to modernize, streamline, and improve our language resources and policies to better serve all Americans, including individuals who face language barriers."
"Every person in this country deserves meaningful access to government services and programs," said Associate Attorney General Vanita Gupta. "These updated policies reflect the Justice Department's commitment to removing the language barriers that prevent many communities from understanding their rights, reporting crimes, or otherwise having full and equal access to the department's resources."
The updated Language Access Plan is issued pursuant to Attorney General Garland's November 2022 Memorandum for Heads of Federal Agencies, Heads of Civil Rights Offices, and General Counsels Regarding Strengthening the Federal Government's Commitment to Language Access, which directed the Justice Department's Civil Rights Division to work with federal agencies to improve efforts to ensure meaningful language access and revise and update their language access plans and policies accordingly. It also marks the 23rd anniversary of Executive Order 13166, Improving Access to Services for Persons with Limited English Proficiency, which requires federal agencies to develop and implement systems enabling people with limited English proficiency to meaningfully access their services.
The Office for Access to Justice led development of the Justice Department's updated plan, working with the department's Language Access Working Group and the Civil Rights Division. This work is part of the Office of Access to Justice and the Working Group's broader leadership of efforts by the Justice Department to expand language access resources, improve awareness of language access issues, and provide training and technical assistance to other offices within the department and across the federal government.
"Access to justice means language access," said Office of Access to Justice Director Rachel Rossi. "Through the updated policies in this Language Access Plan, we recommit to expanded language access as a central component of all department programs and activities."
New Program Aims to Promote Gaelic Culture through Nova Scotia Businesses
CBC News (Canada) (08/15/23) Moore, Matthew
A new initiative in Nova Scotia, Canada, hopes to encourage businesses to promote Gaelic language and culture by offering funding to businesses that include Gaelic in their day-to-day operations.
Nick Nickerson, co-founder of the Gaelic Business Initiative, said examples of language promotion include menu offerings in Gaelic or having signs indicating that Gaelic is spoken at a business. The initiative started this year and groups that want to take part are eligible to receive $1,000 from the Nova Scotia Office of Gaelic Affairs.
Nickerson said businesses can also offer incentives for language use, including discounts if meals are ordered in Gaelic. He said similar programs have been launched in Ireland and Scotland with positive results for customers and businesses.
Gaelic language, culture, and music arrived in Nova Scotia in the late 1700s with Scottish immigrants. According to the Gaelic Council of Nova Scotia, the province is now the only area outside Scotland where the language survives. "But for most people, their knowledge of Gaelic culture and language is dormant," Nickerson said. "Promoting Gaelic through business is one of the more accessible ways that we can allow people to rediscover and relearn the language and the culture."
Nickerson said several businesses have already incorporated Gaelic into their workplace, including an outdoor store in Cape Breton that offers hiking trail information in the Gaelic language.
The Gaelic Business Initiative comes at a time when groups around Nova Scotia are trying to preserve and promote Gaelic culture. Nickerson said that as the older generation of Gaelic speakers grows smaller, the future of the language needs to be supported by younger generations. He added that approximately a third of Nova Scotia's heritage is linked to Gaelic culture. He hopes people find a connection with their roots by participating in the project and seek out information about their lineage.
Minister for the Office of Gaelic Affairs Allan MacMaster also hopes businesses latch on and realize the potential to not only increase business but awareness of the Gaelic culture as well. "It's something to add to the Gaelic experience," MacMaster said. "It's the kind of thing that makes our island unique and our province unique."
Books from Rwanda and Kazakhstan Awarded PEN Translates Awards for the First Time
The Bookseller (United Kingdom) (08/22/23) Brown, Lauren
In a celebration of literary diversity and cross-cultural exchange, the prestigious PEN Translates awards have once again recognized outstanding works from around the world. This year's event marked a historic moment as books from Rwanda and Kazakhstan received the award for the first time. The awards are a flagship program of English PEN, an organization based in the U.K. dedicated to advancing literature and freedom of expression.
Award recipients included Armenian author Shushan Avagyan, who won for A Book, Untitled, translated from Eastern Armenian by Deanna Cachoian-Schanz. Baqytgul Sarmekov, an author from Kazakhstan, won for To Hell With Poets, translated from Kazakh by Mirgul Kali. Also on the list was Rwandan author Scholastique Mukasonga, who won for Kibogo, translated from French by Mark Polizzotti.
"These books are significant works of literature—individually, in their quality; and collectively, in how they help shift the U.K. literary landscape," said Will Forrester, English PEN's translation and international manager. "We have major figures—International Booker-winning authors and translators—sitting alongside exciting debut voices, with stunningly experimental work. The range of language and regions represented is remarkable, but so too is the range of form, readership, theme, and style."
English PEN Translation Advisory Group Co-Chair So Mayer said the winning books "offer intimate, piercing connections to characters and locales, from the artistic whirl of interwar Paris to resonant visions of colonial and post-colonial Mauritania, Eritrea, Rwanda, Argentina, and Kazakhstan." Mayer added: "There is particular attention to rural communities that have been neglected for too long in literary culture, and several works that confront the challenges faced by writers—from government censorship to systemic racism."
PEN Translates has now supported over 350 books translated from over 90 languages, awarding over a million dollars in grants.
ATA News
Show Your ATA64 Conference Spirit!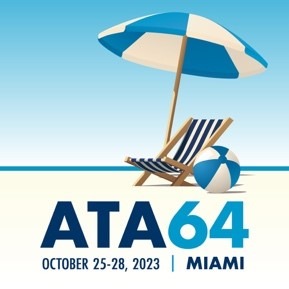 ATA is making a clickable conference button available for you to display on your website or blog to promote ATA64, October 25-28 in Miami. Whether you're attending the conference or not, this is a great way to support the Association! Look for the source code listed at the bottom of the main event schedule on the conference website. Then just copy and paste it into your website or blog.
There's No Better Value for the Money
With over 160 sessions—from practical skills to teaching theory, across all levels of experience—no other event provides translators and interpreters with this much professional development.
Early registration discounts are too good to miss!
Don't wait—Register by September 16 and save! Can't attend the entire conference? ATA is offering a Saturday-Only registration rate.
ATA64 Conference Quick Links
Conference Home Page
Advanced Skills and Training Day
Buddies Welcome Newbies
Conference Sessions
Continuing Education Credit
Distinguished Speakers
Division Events (Off-Site)
Headshot Photographer (Friday-Saturday only by appointment)
Hotel Reservations
Job Fair
Networking Events
Registration
T&I Book and Resource Fair
Book Your Room Today at the Official ATA64 Conference Hotel!
ATA64 will be held at the Hyatt Regency Miami. Rooms are booking fast. Make your reservations now to take advantage of the special rates for ATA64 attendees! ATA rates are available until September 29, 2023, or as space allows.
Looking for a Roommate, a Ride, or More?
Use ATA's Conference Blog to find a hotel roommate, set up a rideshare, or arrange other logistics for the conference.
Register Today!
Register by September 16 and save! Can't attend the entire conference? ATA is offering a Saturday-Only registration rate.
Join and Save!
Not an ATA member? Join ATA and save with our mid-year membership rates. Save 50% on your 2023 membership dues when you join for 2024. Join today and your membership will not expire until December 31, 2024. Learn more here!
Questions? Need more info?
Contact Adrian Aleckna at adrian@atanet.org
Phone: +1-703-683-6100, ext 3001
Invest Your Marketing Budget Where It Counts
Whether you want to reach an estimated 1,300 conference attendees in Miami or more than 7,000 ATA members, ATA's 64th Annual Conference can make it happen!
Become an Exhibitor
Connect with new customers that you plan on doing business with for years to come, or meet face-to-face with the customers you have been doing business with for years. Learn more!
Become a Sponsor
Become an ATA Voting Member
Did you know that you do not need to be ATA-certified to vote in this year's election? Any ATA Associate Member who can demonstrate that they are professionally engaged in translation, interpreting, or closely related fields may apply for Voting Membership. How? Just complete and submit the ATA Active Membership Review application. No additional paperwork required. It's fast, free, and easy!
ATA Mid-Year Membership Campaign: Refer 5 Friends for a Chance to Win!
Our mid-year membership campaign is in full swing and you can help! All you have to do is refer 5 potential members. If they join/rejoin by September 30, 2023, you'll be entered to win a $500 Visa gift card!
*Make sure the person you refer writes your name on their membership application where it says "Did a Friend Refer You?"
** The deadline to be entered is September 30, 2023.
ATA Membership Diversity Award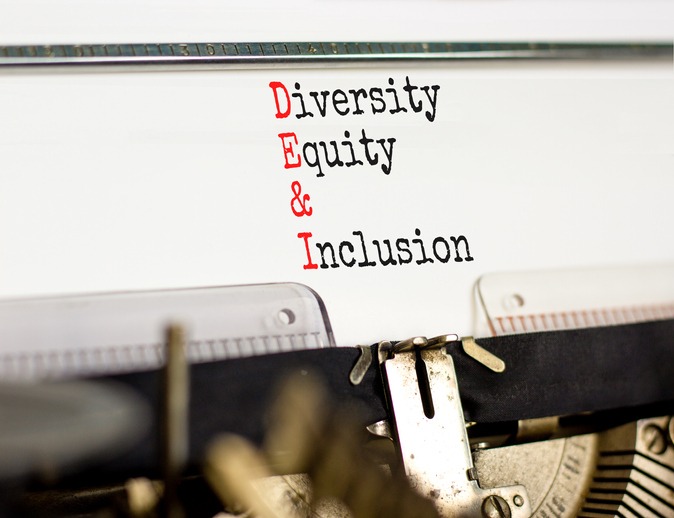 Each year, the American Foundation for Translation and Interpretation (AFTI) offers a limited number of fully paid ATA memberships to individuals joining ATA for the first time who are Black, Indigenous, or people of color.
Award recipients will be selected based on answers to essay questions on the application form. The selection committee will give preference to students and newcomers to the translation and interpreting professions, including people changing careers. The award will be distributed across as many language pairs as possible in any given year. At least one award per year must go to a U.S. citizen by birth. Applications will be accepted until all awards are made.
Listen to the Latest Episodes of The ATA Podcast!
Join Us for the Next ATA Member Benefits Meet-Up!
September 5 / 8:30 p.m. – 9:30 p.m. EDT
Presenter(s): ATA Membership Committee
Free for ATA Members
Come get a refresher on all the benefits of your ATA membership! ATA is continuously working to add more benefits for our members. In fact, there are so many, even longtime members might not be aware of everything ATA has to offer! Find out what you've been missing!
During this FREE, fun, and informative session, learn how to access your ATA member benefits and services or just catch up on what's new and get live answers to your questions from ATA's Membership Committee.
Note: This live session is intended to be an interactive real-time experience and will not be recorded.
Upcoming Webinars
Delaware Valley Translators Association
East Coast Interpreters and Translators Summit
September 9: 8:00 a.m. – 5:30 p.m. EDT
Widener University Delaware School of Law
Concord Pike, Delaware
Join DVTA for this in-person event offering a full day of educational workshops presented by industry experts from all over the country!
Purchase a Recording Today!
ATA's Translating and Interpreting the Future Virtual Conference
Did you miss ATA's Translating and Interpreting the Future Virtual Conference on Saturday, May 20, 2023? Don't worry. You can purchase the recording on ATA's website. Start learning today!
Submit Your Member News!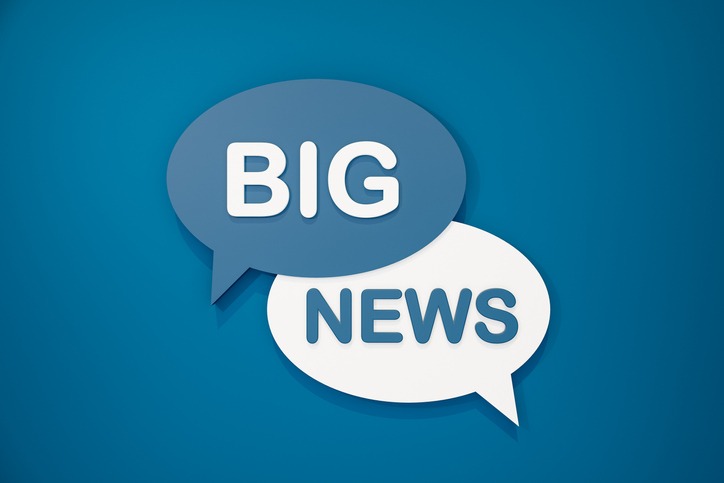 Do you have news to share with us?
If so, you might be featured on our social media channels. You may submit your news here.
August 31, 2023
---
Have you used the ATA logo in your marketing materials?
---
Previous Poll Results
Which of these industry trends would you like to know more about?
21% = Content explosion
29% = Large language models
4% = Language operations (LangOps)
46% = Quality management
---
ATA64: Get Ready!
---
ATA Member Benefits Meet-Up
September 5 / 8:30 p.m. – 9:30 p.m. EDT
ATA Webinars
---
Latest Post: How to Make More Money Fast – The 80/20 Principle for Freelance Translators
Latest post: 10 Lessons from Kitesurfing that Apply to Life and Business
ATA Newsbriefs provides executive summaries of noteworthy articles about the translation and interpreting professions. It is distributed every month to ATA members as an exclusive membership benefit. The editorial staff monitors nearly 11,000 newspapers, business publications, websites, national and international wire services, summarizing significant articles into easy-to-read newsbriefs.
For more information about ATA, please contact:
American Translators Association
211 N. Union Street, Suite 100 Alexandria, VA 22314
Tel: (703) 683-6100 ata-hq@atanet.org